HardDrive Live Tour. Bullet For My Valentine, Halestorm, Young Guns and Stars in Stereo at Riviera Theater in Chicago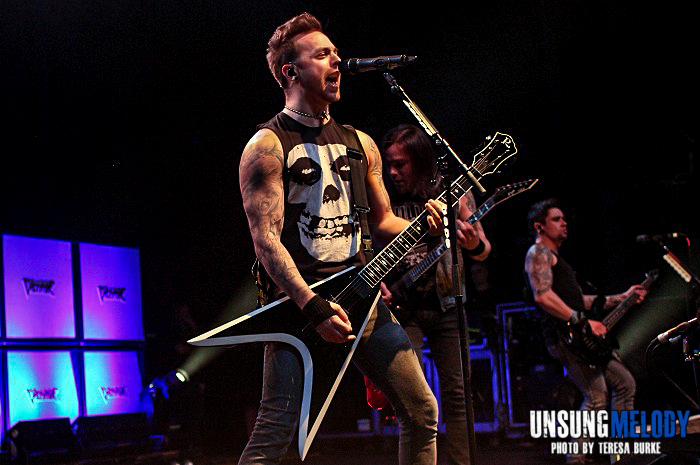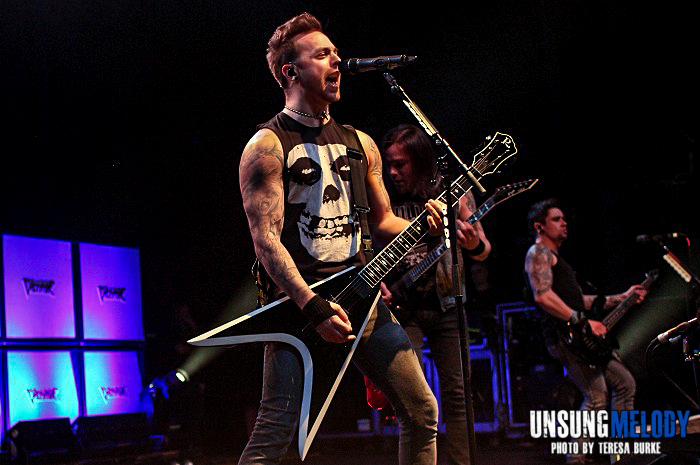 Even though I saw three of the four bands at Rock on the Range a few days prior to this show, I was excited to see them again. After all, seeing bands at a large festival compared to a hot, sweaty small venue are two very different things. That night in Chicago was no exception.
The night started off with L.A. based Stars in Stereo. The first of two female fronted bands of the night, they came to rock. Playing songs from their self-titled release, their 30-minute set had as much energy and they were in sync with each other as much as any seasoned band playing that night. It also didn't take long before the crowd was fully engaged. Third song in was a cover of Aerosmith's Dream On, a tough vocal for some, but lead singer Bec Hollcraft had no trouble. She even ended the song while bending over backwards.
Check out my Stars in Stereo photo gallery here.
Guitar player Jordan McGraw engaged the most with the fans. At one point he mentioned there were only two shows left on this tour and he wanted this crowd to the craziest. He even pointed to one guy in the crowd to surf to the front. Not sure if it was the same guy, but someone obliged. Not once, but three times with each attempt landing him in the arms of security near the stage. All night Jordan continued to get the crowd pumped up and would often stand at the edge of the stage to interact with fans. At one point I saw him lick a guitar pick and stick it to the forehead of someone down front. Not to be outdone, from time to time, drummer Drew Langan would either stand on his kit or come to the edge of the stage and stand on the monitors to get the crowd pumped up.
All during their set, there were nonstop visuals behind Bec. Different variations of stars and other colorful designs. This gave a great visual to go along with the intensity of her vocals. There was a powerful sense in every word she sang and she held her own and commanded attention with each and every lyric. During the last song, Jordan and rhythm guitar player, Frogs McCormack, switched places. Frogs helped with backing vocals during their last song while Jordan rocked out in front of fans on the other side of the stage. At one point, he and bass player Justin Siegel were jumping up and down to the beat of the song when I noticed a small group in front of them were jumping right along with them. By the end of their set, I'd say they had gained more than a few new fans.
Next up were Young Guns from the UK. Singer Gustav Wood came out on stage all fired up. Whether he was jumping around at the back of the stage, moving from one side of the stage to the other or standing near the edge interacting with fans, he was a nonstop ball of energy. On more than one occasion during their set, he would reach out and touch hands with the fans creating a dynamic between band member and audience that helped fuel the energy in the room. In fact, bass player Simon Mitchell, who also created his own ball of energy on stage, had his own moment. I noticed he tossed a pick to a fan, but she missed it. She seemed distraught over that when I noticed he was walking to the edge of the stage to hand her another one. The look I captured on her face was one of sheer joy. Attending a show is one thing, but to some, that interaction from a band member or that one memento from a show, is usually remembered for a long time.
Check out my Young Guns gallery here.
Also creating his own craziness on stage was drummer Ben Jolliffe. He showed as much expression on his face as he did with his aggressive playing. Guitar players John Taylor and Fraser Taylor appeared as two bookends of the band. Tied to their pedal boards, they seemed to contain the chaos projected by the other three band members on stage.
The band's 30-minute set included songs from their newest album Bones along with a few from their previous release All Our Kings Are Dead. The combination of these songs engaged the crowd and left them wanting more. After the third song I walked around looking for a spot to watch the rest of their set. I settled on the left side of the main floor where I was surprised to find a mosh pit had broken out. As the band played on, and the pit eventually died down, a Dad who was carrying his young daughter moved a little closer towards the front. Gustav called out for everyone to put their horns up, and with a careful eye, the daughter looked at her Dad and held up her small horns as well. Truly a unique moment during the show. They ended their set with title track, Bones, which most in attendance appeared to be familiar with.
Next up were Halestorm. Wearing his trademark marching band jacket and hat, Arejay was the first one to take the stage. Beating on a small drum, he got the crowd worked up before the rest of the band took the stage. They started off the night with two hits from The Strange Case Of…, Freak Like Me, which had Lzzy jumping up and down, in high heels no less, and Love Bites (So Do I). They launched into It's Not You showing that no matter the size of the stage or the crowd, Halestorm always give 110%. The Halestorm freaks were definitely present too, as they could be heard singing along multiple times during their set.
Check out my Halestorm photo gallery here.
The place was so packed I originally couldn't find a spot where I could actually see the stage. Eventually all I heard was Lzzy and a keyboard. I finally squeezed into a spot on the floor but I was too far to the right to see her, so instead I just listened. This was definitely a slow moment in a pretty rocking night, but was welcomed by the crowd. "I tell myself that you're no good for me." Eventually the band came back out and joined in for Familiar Taste of Poison. By the end of the song Lzzy was on her knees at the edge of the stage. The emotion on her face and the expression with her body language spoke volumes. Once the song was over, everyone but Arejay left the stage.
DRUM SOLO! It's no surprise why fans recently voted him Best Drummer at the 2013 Revolver Golden Gods Awards. With his red hair he is definitely Animal like and I swear I saw a third arm at one point. After a short tease of his drumming skills he brought out the big guns. I mean sticks. These things looked like baseball bats. You couldn't help but smile while watching him play. To me, the sign of a great musician is one that gets a reaction from an audience and Arejay and everyone in Halestorm definitely know how to entertain. Off and on during the night, guitar player Joe Hottinger and Lzzy traded off guitar solos. Both skilled in their craft, each one brought their own flair to the band presence on stage. Joe and bass player Josh Smith also took turns playing on opposite sides of the stage. Between the two of them and the smiles on their faces, they were definitely having a great night!
Another slower song moment came with current single, Here's To Us. With its catchy chorus that's easy to sing along to, Lzzy, sans guitar, had fans waving their arms from side to side in unison. At one point during the song, Arejay chucked a stick into the crowd, grabbed another one and kept playing. They closed out their 45-minute set with Miss the Misery and once again, fans were singing along. At one point I noticed a group of guys all jumping in unison. I think of the song as one females would be more into, but apparently these guys were enjoying themselves.
From the time I got to the venue it was clear there were Halestorm fans but even more so, the venue was full of Bullet For My Valentine fans. As the crew set up the stage, the look on the fans' faces was nothing short of eager anticipation. After three great performances, it was time for the main event. Once the lights went down and the intro song started, everyone was more than ready! BFMV came out guns blazing and didn't let up. They opened with Breaking Point from new album Temper Temper. Singer Matthew Tuck immediately had the audience in his hands with his rapid vocals and fast guitar playing.
Lead guitarist Michael Paget wasted no time getting into his trademark pose and all night played like there was no tomorrow. Next was fan favorite Your Betrayal and the crowd could be heard singing along loud and clear. They went straight into Waking the Demon before Matt spoke to the crowd and played another new song, and current single, Riot. This is such a great song live and you can't help but sing along during the chorus. Drummer Michael Thomas must have been having a great night because almost every time I looked at him he was smiling. Either that or he loves his job. Bass player Jason James, with his deep backing vocals, played with a ferocity creating a monstrous presence on stage.
Check out my Bullet For My Valentine gallery here.
I've heard bands say time and time again that they feed off the energy fans project during a performance. That night was no exception. BFMV and the fans were indeed feeding off each other. Between the fans singing, crowd surfing, moshing and jumping up and down alongside the band's fast paced music, the night was nonstop energy and seemed to fly by pretty quickly.
After a few more songs from previous releases, Poison and Fever, all focus was on Michael for his guitar solo. After his time in the spot light, and much to my surprise, Lzzy came out and sang on new track Dirty Little Secret. The crowd were very receptive and she rocked it as if it were her own song. Michael then had his turn at a drum solo, beating the hell out of his kit before they closed out their hour long set with another crowd favorite, Scream, Aim, Fire.
After the band left the stage, it didn't take long before people were repeatedly chanting, "BULLET!" That turned into "ONE MORE SONG!" then back to "BULLET!" A couple minutes later the band came back out for a 2-song encore of Pleasure and Pain and Tears Don't Fall. Once again, you could hear fans singing along. What a great way to end the night. The band threw out picks and sticks before finally leaving the stage. If by chance you missed this tour, keep your eyes open for future dates from all bands. After all, we're not even half way through the year.
Keep up with the bands below:
www.bulletformyvalentine.com
http://www.halestormrocks.com
http://www.younggunsuk.tumblr.com
http://www.starsinstereo.com