All I was. A concert review of Tremonti in Chicago!!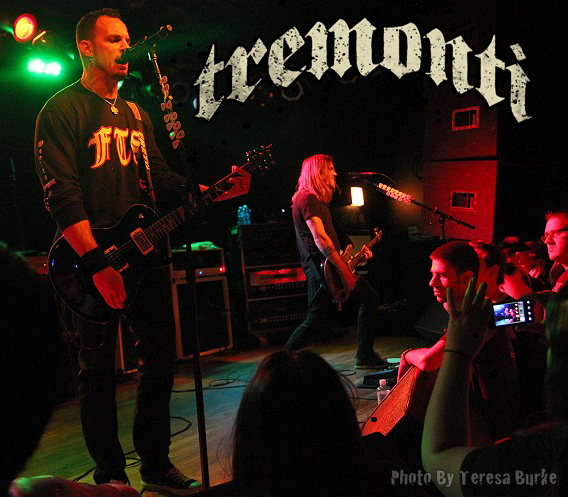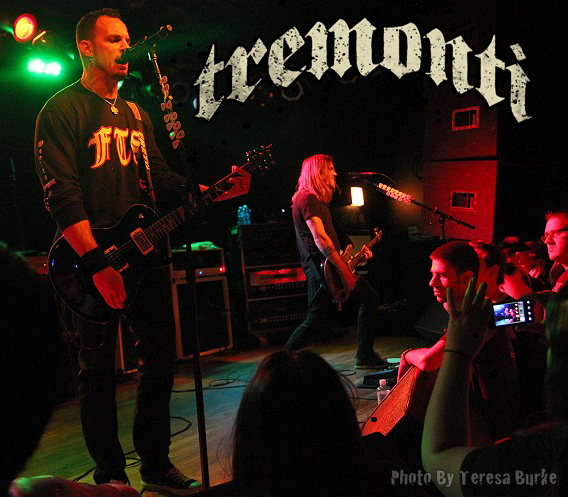 Be sure and check out my photos here.
Mark Tremonti, best known for his involvement with Creed and Alter Bridge, made a tour stop in Chicago for the debut of his solo album, All Is Now (now available). Originally, the show was supposed to be at the House of Blues, but when Prince asks you to move your show, you don't say no, right? (Prince wanted the venue for an intimate warm-up date prior to his three-night stand at the United Center.)
The venue change to the Bottom Lounge didn't appear to have any impact on the fans as they were lined up early in the day and the line was plenty long by the time doors opened. The crowd consisted of mostly males, but was pretty diverse age-wise. Not too surprising, given that there were probably fans of Mark's from the late 90's all the way through to present day.
The night started off with a band hailing from the Chicago suburbs, Man the Mighty. This four-piece came out and rocked the place with a 45-minute set consisting of all the songs on their new release I Am Icarus. Right away, you could tell that Mark Tremonti is a huge influence on both Derek Smith (vocals/guitar) and Tim Tournier (guitar) just by the way they played. With the addition of Tyler Nelson (bass) and Matt Harmoning (drums), you had a set full of nonstop guitar shredding, rapid fire drumming and low end bass. Whether or not the crowd had heard of Man the Mighty before, they were fully engaged. One fun thing to note; Towards the end of the last song, After Glow, Tim and Tyler stood close to each other and played notes on the necks of each other's guitars.
After a 30 minute set change, the time had come. The crowd was amped and ready to be blown away by the guitar shredding Mark Tremonti so clearly states on his solo record. I can't even begin to describe how amazingly awesome these songs are live. You may not believe it's possible, but they come across even heavier sounding live.
Wish You Well kicked off their hour-long set and they didn't stop until every song from All I Was had been played. While it's not the norm for a 'new" band to play all the songs on an album, no one left that building disappointed. Every song is worthy of hearing live.
Next up was the title track All I Was, which has some wickedly good guitar parts and Mark nailed every last one of them. Who am I kidding? He nailed EVERY guitar part in every song. This was followed by You Waste Your Time, the first single, and was definitely a crowd favorite.
All night, Mark did a phenomenal job handling lead vocal duties while playing lead guitar. Although at one point, he did mention he was sick and might need some help from the crowd on a chorus or two.
I should also mention, lending a hand on bass was none other than Wolfgang Van Halen. (Brian Marshall couldn't be part of the tour for personal reasons.) He looked right at home on stage as if he'd been playing with the band for years, not two weeks. Aside from playing bass all night, Wolfgang also helped with backing vocals on Decay.
As the night went on, hearing song after song, one thing was apparent; This band came to ROCK. Between Mark's shredding, Eric Friedman's guitar playing and head banging, Garrett Whitlock's animal-like playing and pummeling-sounding drums, and Wolfgang's bass skills, the rock never stopped. The crowd was engulfed in the musical magic taking place on stage and loving every minute of it.
They ended the night with Decay and a two song encore, consisting of New Way Out and Brains. Hearing the barrage of in-your-face sound found in Decay and Brains has left me with the memory of these songs permanently embedded in my brain.
Before the band left the stage, they took time to shake hands and throw guitar picks and drum sticks out into the crowd. When the show was finally over, I immediately wanted to see them again. As I mentioned before, this band and these songs are THAT good, you automatically feel the need to see them live again. It truly is awesome to witness the talent of great musicians with your very own eyes. Unfortunately for me, there are no other shows in my area. However, if you have not seen this band live yet, do yourself a favor and go. You won't be sorry you did.