Initial Thoughts. A review of The Crux by Hurt.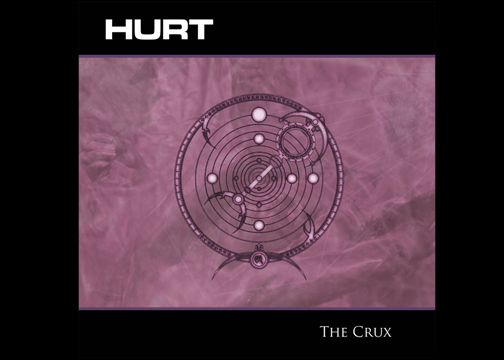 I can still remember the first time I heard Hurt's major label debut Volume I. They have left an indelible impression upon me. Crunching, progressive guitar riffing and the combination of violin (and banjo on Volume 2) with a thundering rhythm section has left me and other listeners breathless in the inescapable melodies and stories brought to life.
When Hurt first came to prominence, they were compared to Tool and even Days of the New on Volume I. Volume II expanded on those sounds and showed much more artistic maturity and a much more confident band. Their third effort Goodbye to the Machine saw the band move forward artistically, while recording to analog equipment. Thus, it had given the release a much warmer and imperfect sound, which gave the music more character. Between the massive, brooding choruses and the guitars balancing between thundering riffs and almost quiet acoustics, Hurt has created a sound all their own. Their latest album, The Crux, continues the sound that Hurt has found and continues to expand on the hard hitting, yet artistic material that they have become known for.
All that has left me, as well as many Hurt fans, waiting in great anticipation for the release of The Crux. The band continues to tenaciously deliver the most astounding, beautifully tense music on each release and thankfully, The Crux is no different. Hurt continues to push the envelope of their music by including instrumentation that most people may find unusual. A perfect example of this is the ending of the song Adonai. The song ends with J. Loren performing an almost gypsy-like violin that is so haunting, it will stick with you well after the song is over.
The Crux itself exudes a familiarity from the Volume albums, yet broaches the subject matter more meticulously like Goodbye to the Machine. The pain and sorrow is poetic, even to the point where the most stoic of people would sit back and think about the sufferings one can endure.
The album's lead-in single, How We End Up Alone, is simply chilling. You can feel the loss that the narrator is experiencing, how their life is missing what feels to be the most important piece of the puzzle of life. Deeper in, it questions why things happen as they do and expresses anger to those who do not care. Essentially, it's a look back at all the things that could have been done differently. It's definitely a strong single and should lead new listeners into enjoying more Hurt material.
Lyrically, the songs on The Crux are diversified. Although they tend to focus upon loss as a whole, they do deviate thematically. How We End Up Alone focuses on a loss in relationships and love. According to J. Loren, in the Rock. Nothing But… interview, 'It kind of deals with observations about the whole process of how you just ruin things for yourself and you see yourself slipping into it and then you know better, but you do it anyway." The songs all seem well constructed, as usual, and deliver their message leaving plenty of room for interpretation.
Overall, the album itself is deceptively heavy. Focused moments have an acoustic feeling, and almost a soft-rock delivery. That's before the gut-wrenching and emotional delivery of J. Loren's impeccable lyrics. His phrasing, word play and just his smooth and rough accentuation lend credence to the pain that is showcased on this album.
Hurt has never been more superb in their musicianship than they are on this album. Each member brought a tremendous amount of talent and experience to this album, putting forth an effort that is consistent and incredibly strong. A lot of their time, experience and life went into making The Crux. We are happy to say, it was well worth the effort. The band strived to produce a powerful and masterful album, and I believe they have. It's a must-have purchase for me and for all Hurt fans.
Highlights for me are Caught In the Rain, When It's Cold, Adonai, Cuffed and Eden.
★★★★★★★★☆☆ 8 out of 10 Stars. UnsungMelody.Com Approved!
The Crux was released on April 24th on Carved Records.
Check out the video to How We End Up Alone by Hurt below:

Track List:
1. So When
2. Eden
3. Links and Waves
4. Sally Slips
5. When It's Cold
6. Adonai
7. Caught In the Rain
8. Cuffed
9. How We End Up Alone
10. Numbers
11. The Seer
Hurt Members:
J. Loren Wince-Vocals, Violin, Guitar
Michael Roberts-Guitar
Rek Mohr-Bass Guitar
Victor Ribas-Drums
Keep up with Hurt below:
HurtBand.Com
Facebook
Twitter