Initial Thoughts. A review of Blood by In This Moment.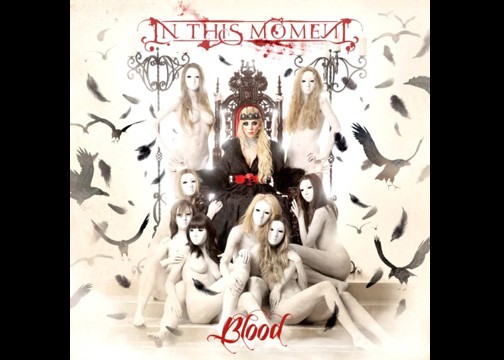 Certain bands for me, have just never really lived up to the hype. One in particular has been In This Moment. I'm not saying that I don't like the band or I haven't enjoyed the band, I'm just saying that I had felt that the critics had simply overstated the band in the past, and I was somewhat disappointed. With their new album Blood, I decided to give In This Moment a deeper look and listen. I've been spinning the new album for a few days now, and I have to say, this album has truly opened my eyes, or should I say ears. The intent of this album is meant to be more of a stripped down sound from the band, and to me, just like coca-cola, it's the perfect formula. I'll hit a few highlights on the release, but I can honestly say without pause, this record is going to be huge for In This Moment.

Blood is the first single off the record, and you've most likely heard it. It introduces a bit of electronics into the fold, and has all the aggression that has made vocalist Maria Brink an icon in her genre for years. She delivers a cadence like chorus, that will make you want to fight someone, or something. Love the tune, and I think it's a great choice to bust out of the gate with.
With a title like Adrenalize, you can figure this tune is all about energy. It reminds me a bit of The Deftones in style and structure. With a nice chunky guitar throughout the chorus, the melody lays nicely over the top, and creates one of the easier tunes to sing along with. It's a fantastic track to keep the album rolling in the right direction.
Whore is a track that is simply amazing. The simple riff behind things, absolutely overpowered by Maria Brink's anger filled delivery are a match made in..where ever matches are made. This song is my absolute favorite song on the album. The passion in this song, is absolutely mind-blowing.
Scarlet has a bit more of a poppy feel through the verses for In This Moment. With bassist Travis Johnson providing the driving bassline throughout, the song really shines in the chorus. Maria showcases her dynamic range, and hits some very impressive notes. The song has great momentum, and has possibly my favorite solo on the record. It just flows so well with the song.
From The Ashes has hit written all over it. This song is slick, thick, sick and dirty. It has one of the best grooves on the album, and the guitar tone is just plain nasty sounding. I love it.
I'm going to mention Beast Within for one simple reason. Drummer Tom Hane absolutely shines on this track. If you are a drummer, and you want to know how to use double bass as an accent, this track is one for the textbooks.
11:11 is a very difficult song to convey how I feel about it. It has a haunting feel, with an almost monk like backing vocals. The only instrument is a kick drum heartbeat, and voice. It's by far the most adventurous track on the album, simply due to it's simplicity. Make no mistake though, the way Maria sings this one, is anything but simple. I haven't heard a more impressive delivery this year. It's simply captivating.
Overall, the album has completely changed my mind about In This Moment, and has put them on my must see live list. I can not tell you how much you are going to love this album, but rest assured, I'll be able to say I told you so once you hear it.
★★★★★★★★★☆ 9 out of 10 stars.
Check out the video for Blood by In This Moment below: