Initial Thoughts. A review of Moving Forward by Annandale.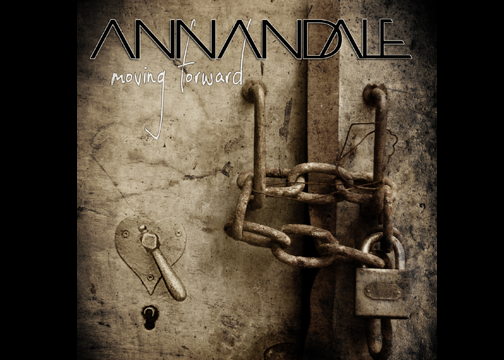 Knoxville, TN is the origin of quite a few influential acts and musicians. Artists such as Brent Smith of Shinedown, alt rockers 10 Years, Christian rockers Disciple, also metallers Straight Line Stitch and Whitechapel. The musical scene is as diverse, as the surrounding Smoky Mountains are beautiful. Recently, a new sound has been forming in the region. A dynamic duo (no, not Batman and Robin) of musical partners, Chad and Ashley Grennor, have created Annandale. They are produced by none other than Clint Lowery of Sevendust, and the band is all set to release their debut EP, Moving Forward, on January 22nd. Oh, that's not the only member of Sevendust involved though, Morgan Rose also plays drums on the EP. I recently received my copy of the Moving Forward EP, and I'm now ready to hit the highlights in our Initial Thoughts series. As always, buy it, don't steal it.
First up is the first single, This Fight. Ashley Grennor starts this one off, with an angelic vocal tone, reminiscent of Lacy Strum, formerly of Flyleaf. Weaving in high notes between the pounding drums and thick guitar riffs, Ashley is soon joined by Chad to create the sound that is Annadale. This song has radio hit written all over it. The melodies are perfect, the harmonies are true, the riffs are tasty, and of course you have one of the best drummers on the planet pounding the skins in Morgan Rose. What more could you ask for on this track? It's about as perfect a song as you will find.
Moving Forward is the title track off the EP, so you know it has substantial meaning to the band. It's a song about the choices and consequences we must make and take in life, but it also appears to be about previous musical decisions for the duo as well. They, like many other bands, have paid their dues. This band didn't just happen. It's taken years of hard work and dedication. The song itself is a rocker through and through. It's a song that continues to set the pace for the EP, and is a great tune full of more big melodies, and quick changing guitar chords.
Riff-wise, Step One is one of my favorites on the album. Vocally, Chad starts this song and delivers an aggressive, and a bit of a Morgan Rose style verse. Think Enemy by Sevendust, and you'll have an idea of what I mean. It's a much more aggressive approach than the first two songs, and a nice change-up. The bridge is my favorite on the album. Ashley delivers an absolutely stunning performance here. It's such a beautiful contrast to the heaviness of the riff. Excellent job!!
I'll end the review on the massive Broken Dreams. This song is a showcase of everything that Annandale has to offer. Chad can be heard with the most aggressive vocal delivery on the EP in the pre-chorus, while the choruses are still big, melodic and very singable. The guitar work is great, and Chad proves that solos will never die!
This duo has created something that will surely open a ton of doors for them. With the upcoming release, I'm frantically checking my calendar for tour dates. I'll put Annandale through the ultimate test, the live show. I'm betting, the band will pass with flying colors!!
★★★★★★★★☆☆ 8 out of 10 stars!
Keep up with Annandale below:
Bandcamp
AnnandaleBand.Com
Facebook
Twitter