Star City Meltdown and Throwing Gravity announce the "Winter Meltdown" tour.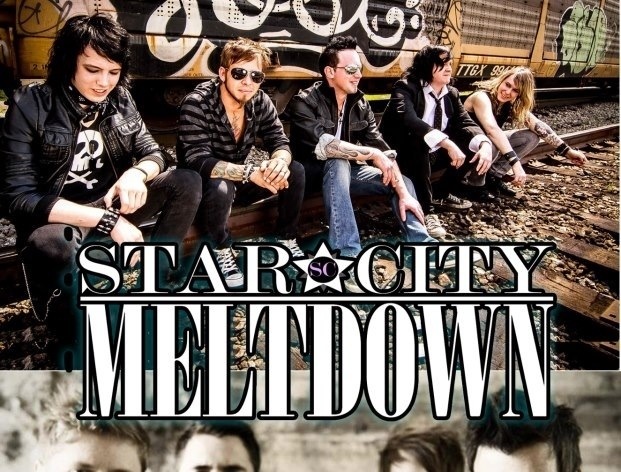 ANNOUNCING THE 'WINTER MELTDOWN' TOUR FEATURING STAR CITY MELTDOWN WITH THROWING GRAVITY SPONSORED BY SPIDER ENERGY DRINK
Star City Meltdown has announced their upcoming tour with Throwing Gravity kicking off on February 15th in Spartanburg, SC and ending in Nashville, TN on March 23rd, 2013.
With their explosive stage show, their uncompromising confidence, and a sound described as "Journey meets Avenged Sevenfold", Star City Meltdown from Johnson City, TN has been winning over audiences from Mississippi to Michigan. Produced by former Creed bassist ,Brett Hestla (Dark New Day, Framing Hanley, Tantric) , their sophomore full length album 'Music=War' reflects on the constant battle the band faced just to get label support, a solid release date, and for the album to get to their fans in the form and fashion in which it was meant to be heard. Star City Meltdown decided to "soldier up", after putting so much effort into a project that has gotten rave reviews from rock radio insiders, and they finally worked out an independent release date for 'Music=War' on Oct. 30, 2012. The first single, "Here's To Us!" is hitting rock radio nationwide on February 5th, 2013 and constant touring is on the agenda well into 2013.
Bursting on to the Rock scene with energy and conviction, Throwing Gravity is primed and ready to carve out their place among the best of the best. After releasing their brand new album "It's Not The End" in December of 2011, the band has been winning over fans and garnering attention from industry professionals alike. When it comes to the music, Throwing Gravity is no stranger to working with some of the best in the biz such as Josh Abraham (Linkin Park, 30 Seconds to Mars, Velvet Revolver), Ryan Williams (Paramore, Stone Temple Pilots, Rage Against The Machine), Jason Flom(Saving Abel, Paramore, Collective Soul), Chris Lord-Alge (Daughtry, Avril Lavigne, Switchfoot…) and Jon King (Augustana, Future Leaders Of The World, 3 Pill Morning). The guys have already had multiple accomplishments in their short career being featured on Kings of A&R, having a #1 song on iHeartRadio for 4 months, multiple placements with NHL, MLB, and TNA Wrestling with their song "Here We Go Again" and sharing the stage with 12 Stones, Chevelle, Red, My Darkest Days, Evans Blue, Safetysuit, Second Hand Serenade, Parachute, Ghosts Of August, Zach Myers of Shinedown, Chad Kroeger of Nickelback, and Evan Taubenfeld just to name a few. The band recently landed a sponsorship with Spider Energy Drink (http://spiderenergy.com/) who will be sponsoring the tour. Be sure not to miss out as Throwing Gravity is set to have an action packed 2013.
http://www.starcitymeltdown.com
http://twitter.com/starcitymeltdwn
http://www.youtube.com/starcitymeltdownband
http://stickam.com/starcitymeltdown
http://www.throwinggravity.net
http://www.facebook.com/throwinggravity
http://www.twitter.com/throwinggravity
http://www.myspace.com/throwinggravity
http://www.youtube.com/throwinggravity
http://spiderenergy.com/
'WINTER MELTDOWN' TOUR DATES
Feb 15 Ground Zero- Spartanburg, S.C.
Feb 17 TBA- Greenville, N.C.
Feb 19 House of Rock- White Marsh, MD
Feb 21 Aldo's Lounge- Altoona, PA
Feb 22 TBA- N.Y.C., N.Y.
Feb 23 The Room- Brookfield, CT
Feb 26 Dead Horse Cantina- McKees Rocks, PA
Feb 27 TBA- Columbus, OH
Feb 28 The Foundry- Cleveland, OH
Mar 1 ODP Productions Presents- Traverse City, MI
Mar 2 Planet Rock- Battle Creek, MI
Mar 3 Cheers Pub- South Bend, IN
Mar 5 Penny Road Pub- Barrington, IL
Mar 6 Bada Brew- Crest Hill, IL
Mar 7 Bobby McGees- Chicago Heights, IL
Mar 8 The Back Bar- Janesville, WI
Mar 9 Every Buddy's Bar- Chippewa Falls, WI
Mar 13 Nestor Tavern, Fargo, ND
Mar 14 O.N.E.- Bismarck, ND
Mar 17 Aftershock- Merriam, KS
Mar 19 Chameleon- O.K.C., OK
Mar 23 Rutledge- Nashville, TN
More dates being added!!!!!!