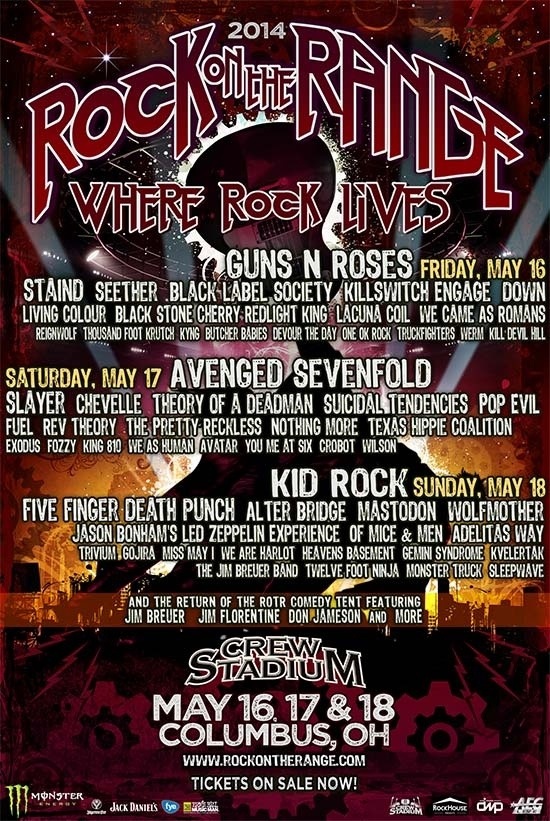 If variety is the spice of life, then things are gonna get pretty hot in Columbus, OH on May 16th, 17th and 18th. That marks the return of America's biggest rock and metal showcase, Rock On the Range!
Columbus Crew Stadium is transformed into a massive moshpit surrounded by multiple stages, vendors, autograph sessions with the bands and the Old Milwaukee Comedy Tent. See, I told you there was variety.
We decided to take a look at what's on our radar as we are only one week away from all the chaos, absurdity, selfies and awesomeness headed our way.
On Friday, we plan on taking in all the vendors, before sharpening our focus completely on the music for the remainder of the weekend. So if you're a vendor out there and you see us, feel free to feed us! Ha! In all seriousness, we thought we'd take a look at some of the things we're looking forward to. You know, the headliners, so this is more of a list of must-sees that we recommend.
First and foremost, on Friday is Black Stone Cherry's return with their new album, Magic Mountain in tow. Magic Mountain is a whale of an album and it should translate well to an already stellar live show. (Feel free to read our review here.)
Kyng also has a great new album, titled Burn the Serum. They've been on our radars since day one. In fact, they were winners of our Unsung Artist Award in 2012. So we certainly hope to see you there for their set.
Reignwolf has ALL the buzz going in. Many have pegged them as the future of rock and roll. After several legendary performances and an opening slot with Black Sabbath recently, you'd be wise to catch this band on their way up.
Check out this EPIC rainy performance from Reignwolf:

Obvious highlights are Zakk Wylde and his Black Label Society, Seether, Staind, Living Colour, as well as Phil Anselmo and Down.
One show you must watch is Guns N' Roses. Why? Because it has the chance to be one of two things; Legendary or a trainwreck. Either of which you'll want to say you were a part of.
Here's the full lineup for FRIDAY, MAY 16.
Monster Main Stage
Redlight King: 1:10 PM
Black Stone Cherry: 2:15 PM
Killswitch Engage: 3:35 PM
Black Label Society: 4:55 PM
Seether: 6:20 PM
Staind: 8:00 PM
Guns N' Roses: 9:30 PM
Ernie Ball Stage
Devour the Day: 12:00 PM
Kyng: 12:40 PM
Thousand Foot Krutch: 1:45 PM
We Came As Romans: 3:00 PM
Reignwolf: 4:20 PM
Living Colour: 5:45 PM
Down: 7:15 PM
Jägermeister Stage
Kill Devil Hill: 12:00 PM
Werm: 12:40 PM
Truckfighters: 1:45 PM
One OK Rock: 3:00 PM
Butcher Babies: 4:20 PM
Lacuna Coil: 5:45 PM
The Old Milwaukee Comedy Tent
Keith Bender: 6:20 PM
Sumukh Torgalkar: 6:35 PM
Chuck Zumock: 6:50 PM
Michael Harrisson: 7:10 PM
Jim Florentine: 7:30 PM
On Saturday, be sure and catch the return of Brett Scallions and Fuel. The alternative rockers are reunited with a new album, Puppet Strings, and they sound great.
Nothing More are one of those bands to keep a watch on as they set the stage for The Pretty Reckless to try their best to tear down the Ernie Ball Stage before Suicidal Tendencies has a chance to.
Crobot and Sweden's Avatar should make your list before the legends in Slayer show Columbus how it's done. Also, if you're a fan of Avenged Sevenfold, you can bet they have something memorable planned. At least they better have, following Slayer.
Here's the full lineup for SATURDAY, MAY 18.
Monster Main Stage
Rev Theory: 1:15 PM
Fuel: 2:30 PM
Pop Evil: 3:50 PM
Theory of A Deadman: 5:10 PM
Chevelle: 6:35 PM
Slayer: 8:15 PM
Avenged Sevenfold: 9:35 PM
Ernie Ball Stage
Stars In Stereo: 12:00 PM
We As Human: 12:40 PM
King 810: 1:55
Texas Hippie Coalition: 3:15 PM
Nothing More: 4:35 PM
The Pretty Reckless: 6:00 PM
Suicidal Tendencies: 7:30 PM
Jägermeister Stage
FOX Rocks Winner: 12:00 PM
Wilson: 12:40 PM
Crobot: 1:55 PM
Avatar: 3:15 PM
Fozzy: 4:35 PM
Exodus: 6:00 PM
The Old Milwaukee Comedy Tent
Brian Kenny: 6:35 PM
Bill Squire: 6:50 PM
Bill Crawford: 7:25 PM
Joe Howard: 7:25 PM
Don Jamieson: 7:45 PM
For Sunday, the must-sees are the reunited Wolfmother, Mastodon (Who are currently recording, perhaps you'll hear some new stuff), Gemini Syndrome, Heaven's Basement and Twelve Foot Ninja (These guys sound soooo much like Faith No More). In fact, the latter two present the hardest decision of the weekend, in our opinion. They both play at 1:50. Curse you scheduling gods!
If you like your rock balls to the wall, DO NOT miss Monster Truck.
These are 100% my thoughts, so I don't think it will be happening, but with Led Zeppelin releasing a ton of their back catalog, would it not be amazing if they took the stage with Jason Bonham? Whoa. Please make that happen! Someone? Anyone? No? Damn. Still, Jason Bonham's LZE is tremendous live.
The one show you really wish you would've watched if you miss it though, is We Are Harlot. This is one of the bands that you'll hear a ton of buzz about afterwards. Led by Asking Alexandria's Danny Worsnop, the band is busting out of the gate at ROTR, so you know very well he's looking to make an impression.
We Are Harlot – Denial:

Of the headliners, Alter Bridge released the best album of 2013 (See our list here), so you've GOT to catch them live. Of course you can't go wrong with Five Finger Death Punch, and even though Kid Rock isn't say Alice in Chains, Foo Fighters or Nine Inch Nails, he is still extremely entertaining live. Besides, we told you there was a nice variety. Sit back and enjoy!
Here's the full lineup for SUNDAY, MAY 19.
Monster Main Stage
Trivium: 1:15 PM
Adelitas Way: 2:25 PM
Wolfmother: 3:40 PM
Mastodon: 4:55 PM
Alter Bridge: 6:15 PM
Five Finger Death Punch: 7:45 PM
Kid Rock: 9:15 PM
Ernie Ball Stage
ERNIE BALL Winner: 12:00 PM
Gemini Syndrome: 12:40 PM
Heaven's Basement: 1:50 PM
We Are Harlot: 3:05 PM
Miss May I: 4:20 PM
Of Mice & Men: 5:40 PM
Jason Bonham LZE: 7:00 PM
Jägermeister Stage
Sleepwave: 12:00 PM
Monster Truck: 12:40 PM
Twelve Foot Ninja: 1:50 PM
Jim Breuer Band: 3:05 PM
Kvelertak: 4:20 PM
Gojira: 5:40 PM
The Old Milwaukee Comedy Tent
Darrell Dawson: 6:15 PM
Chris Coen: 6:35 PM
Aaron Kleiber: 6:55 PM
Jim Breuer: 7:15 PM
We have the privilege of covering every stage this year. It's going to be a workout for sure, but we are excited to bring you everything we can and we hope you'll join us for our coverage.
Tickets are available here, but you can bet they won't last much longer.