Rock On the Range announces daily line-up and the debut of the "Old Milwaukee Comedy Tent"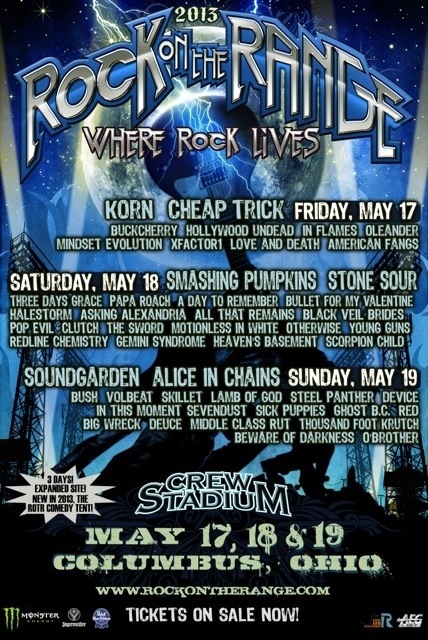 The daily band line-up for the 7th annual Rock On the Range has been announced. America's premier destination rock festival, Friday, May 17th through Sunday, May 19th at Columbus Crew Stadium in Ohio, will feature performances from some of rock's biggest names, including: Alice In Chains, Soundgarden, Smashing Pumpkins, Korn (reunited with founding guitarist Brian "Head" Welch), Cheap Trick, Bush, Stone Sour and many more on the Monster Main Stage, Pabst Blue Ribbon Stage, and Jägermeister Stage. The daily performance line-up is as follows:
Friday, May 17:
Korn, Cheap Trick, Buckcherry, Hollywood Undead, In Flames, Oleander, Mindset Evolution, XFACTOR1, Love and Death, American Fangs
Saturday, May 18:
Smashing Pumpkins, Stone Sour, Three Days Grace, Papa Roach, A Day to Remember, Bullet For My Valentine, Halestorm, Asking Alexandria, All That Remains, Black Veil Brides, Pop Evil, Clutch, The Sword, Motionless In White, Otherwise, Young Guns, Red Line Chemistry, Gemini Syndrome, Heaven's Basement, Scorpion Child
Sunday, May 19:
Soundgarden, Alice In Chains, Bush, Volbeat, Skillet, Lamb of God, Steel Panther, Device, In This Moment, Sevendust, Sick Puppies, Ghost B.C., Red, Big Wreck, Deuce, Middle Class Rut, Thousand Foot Krutch, Beware of Darkness, O'Brother, and the FOX TV winner TBA
Single-day tickets for Rock On the Range go on sale Friday, April 12th at 10:00 AM ET. Friday tickets will be available for just $39.50 plus service fees, while Saturday and Sunday tickets will be $69.50 each plus service fees. Weekend Stadium GA tickets (for Friday, Saturday and Sunday) are still available for $119.50 (plus fees.) Weekend Field GA tickets, Stadium GA ticket "4-packs," VIP Packages, Hotel and Camping packages are now sold out. For more details and to purchase tickets, visit: www.RockOnTheRange.com.
As part of the festival enhancements in 2013, festival organizers, in conjunction with festival sponsors Old Milwaukee and the Pabst Brewing Co., have added a comedy tent for Saturday and Sunday. "The Old Milwaukee Comedy Tent" will feature performances from Jim Florentine (from VH1's That Metal Show), Ari Shafir, Big Jay Oakerson, Bill Arrundale, Rod Paulette, Dan Swartwout, Bill Squire, and more on the Funny Bone Stage.
Click below for more information:
Official Website
Facebook
Twitter