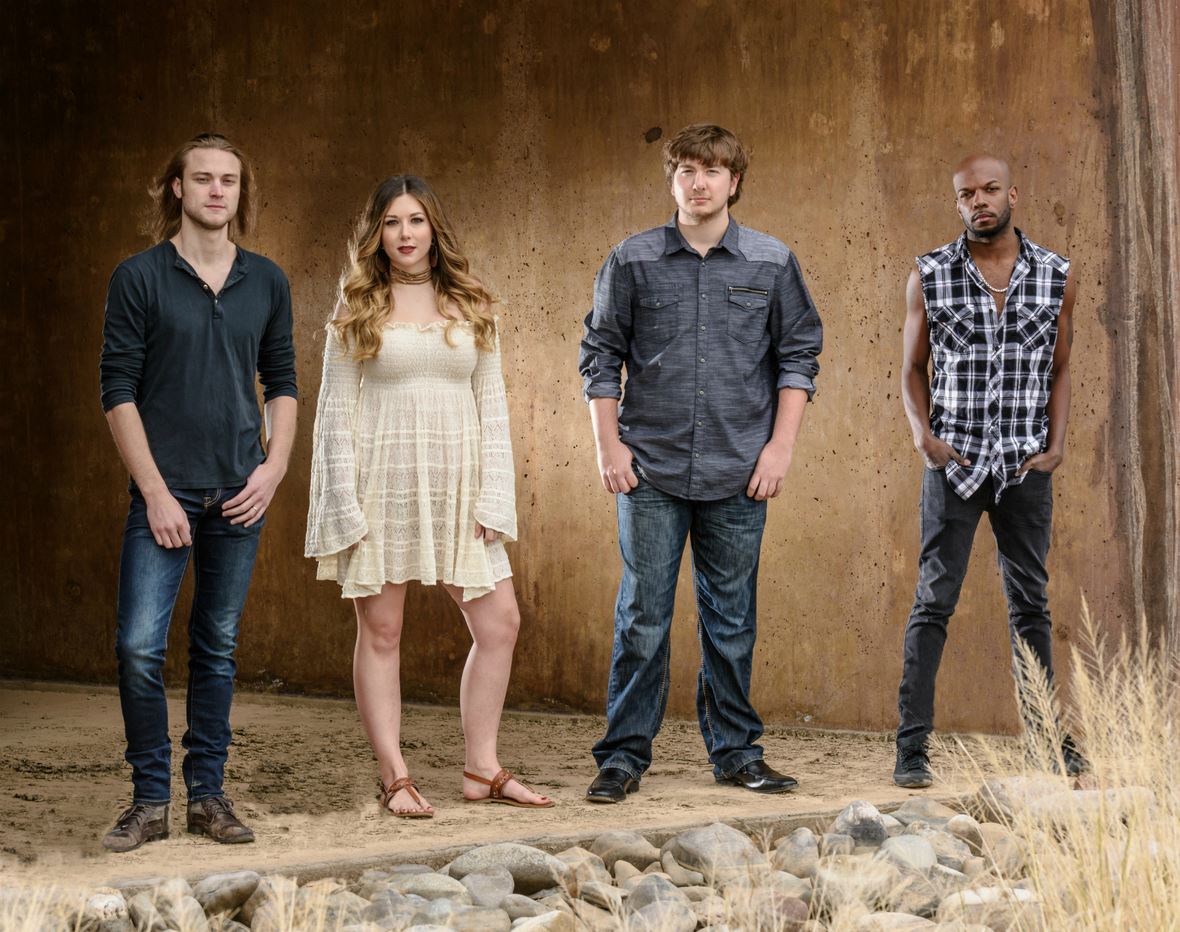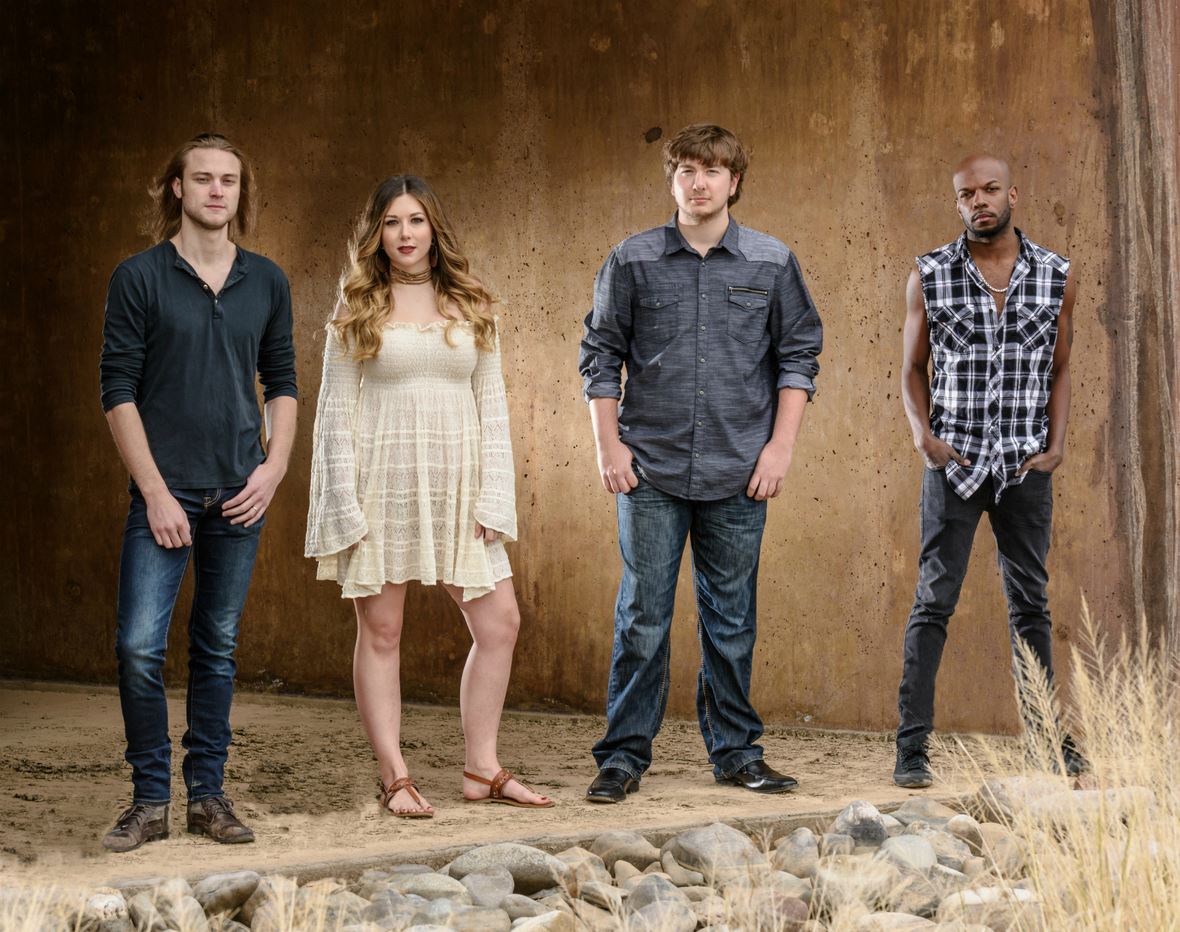 Phoenix, AZ based rock quartet Lane Change has released their 4 track EP, Rise. Out now on all major digital outlets, Rise was engineered, produced, mixed, and mastered by Michael Beck (Lydia, Jake E Lee) at SoundVision Recording Studios in Mesa, Arizona.
With our new EP, RISE, we really wanted to capture the raw energy and excitement of a LANE CHANGE live show. Of course, with two lead vocalists there are a ton of strong melodies and harmonies. We had a goal in mind and I'm thrilled with how we were able to accomplish that. – Jake Galambos, guitarist, LANE CHANGE
Click HERE to Buy LANE CHANGE's 'Rise' EP on iTunes

LANE CHANGE is a rock quartet from Phoenix, Arizona. Led by a dual vocal powerhouse in Myles Vann and Lizzie Shafer, the band's infectious guitar riffs, driving bass lines, and pounding grooves breathe new life into the rock genre. Straightforward lyrics are soulfully delivered, and their complex harmonies create a fresh yet familiar sound. Rounding out the line-up is guitarist Jake Galambos and drummer Cameron Holladay, blending a mix of influences into an exciting and eclectic musical journey.
The road to LANE CHANGE began in 2013 when four musicians came together for the one thing they had in common: their passion for music and performing. Although their musical tastes were as diverse as their backgrounds, they soon found that their commonalities would allow them to focus their efforts as one collaborative unit instead of four individuals.
Founding Member, Cameron Holladay was diagnosed with Autism when he was 6 years old. For years he unsuccessfully searched for activities and hobbies that would put him in a place to establish social relationships with others. When he was 10, he found that place…behind a drum set. Over the next 3 years, he would quickly hone his skills by studying the influences that came before him. Developing the techniques of John Bonham and Ginger Baker, and the mirroring the stage presence of Keith Moon, Cameron quickly became one of the most in demand drummers among his peers. However, he soon realized that his style of playing was not necessarily a good fit for their desired directions. "I'd played in a handful of bands, but I was never able to find a deep musical connection or common interest. I needed to be a part of group that was on the same page as me."
Ready to start a new project, a friend of the family suggested he check out another performer on the Phoenix scene, Myles Vann.
Myles had been involved in various musical theater companies around the valley, as well as filling in as a Karaoke host when needed. He was no stranger to the stage. His musical roots were planted in his hometown of Chicago, and were nurtured by his Father who sang in the local church choir, and his grandmother who introduced him to The Temptations, and Marvin Gaye. At the time Cameron went to go see him perform, Myles was singing in a popular local R&B group and he blew the scouting, young musician away! After the set, they made an instant connection, bonding over favorite bands, songs, and singers. "It was immediate," says Myles, "I knew we had to do something together, but I wasn't sure about being a rock singer. Cam was, and I decided to trust him."
So with a heartbeat and a voice in place, the two began their search for the sound. After, working with a few guitarists, the duo had not yet found someone who could accompany both the soulful stylings of Myles vocals with thunderous crashing of Cameron's Drums. They sent out an A.P.B. throughout the local music community to find their man.
Jake Galambos is a Georgia native who began his musical career in his school's orchestra playing the instrument that nobody else wanted to, upright bass. While in school his family decided to head west. Jake brought his knowledge of musical notes with him and decided to add 2 more strings to his education as he began playing guitar in college, where he graduated with a degree in composition. With a degree in one hand and a notebook full of half completed songs in the other, he returned to Arizona. "I was teaching lessons at a studio, and one of my colleagues handed me a flyer, and said, 'this sounds like you.' It was a list of influences, styles, desired experience, and what they were doing. It was me! Cameron recalls the "audition" as if it was yesterday. ""We made him learn three songs, and we plowed through all three, but we knew as soon as we finished the first song this was our guy."
After performing as a successful cover band around town with various bassists for some time, the trio was ready and eager to open up Jake's notebook and start working on original material. While there were some successes everyone agreed that they were still missing "The Hook."
While attending college, Jake took a musical and personal interest in one of his colleagues, Lizzie Shafer. Lizzie had left home to pursue her passion for singing. In the process of studying to become a classically trained opera singer, she was required to learn to play a wide range of instruments. Jake's confidence in Lizzie's musical ability convinced him to mention her to Cameron and Myles as a solution to finding a permanent bass player. "Jake and I were dating at the time, and while I sang, played guitar and piano, I had never picked up a bass. He asked me if I would be willing to learn. I was looking for an original project, and I'd seen these guys play live. How could I say no"? Lizzie remembers. "When I first mentioned Lizzie to the band they were hesitant to bring on a female with no bass experience. Not to mention bringing in a relationship is always a wild card, but when they heard her play and sing, they knew she was the missing piece."
LANE CHANGE had found its "Hook"!
The rhythm section of Cameron and Lizzie is as tight as it can get, which allows guitarist, Jake Galambos, the freedom to interpret or create songs as it best suits a 3 piece band. The band has found a way to maximize both Myles' and Lizzie's vocal talents in everything they do. Whether it be writing new songs or working up some of their favorite covers, that is the element that makes the LANE CHANGE sound. "Most bands are lucky to have one person strong enough to front the band vocally", says Myles "We have a double barrel aimed at you! The dynamic and diversity that allows really puts us in a unique position".
LANE CHANGE recently released an independent, self-titled debut album in 2015. They recently released a follow up EP, "RISE". "RISE" is a 4 song work that strongly showcases each member of the band and their individual contribution to the unit. "We utilized more production on this effort in an attempt to produce a fuller sound, but while still keeping it as live sounding as possible" admits Jake.
While the band continues to write and record new material, it is their live performance that separates them from others. Their live show is an engaging, high energy, concert-like experience that pulls you in and does not let go. "We have been accused of using backing instrument and vocal tracks in the past, because people can't believe we move around like that, and we can still hit our parts". Lizzie admits. "I guess that's a compliment"?
LANE CHANGE has performed nearly 200 shows for crowds of 50 to 10,000 people, and they have become one of the most in-demand and talked about acts in the Southwest United States. Audiences are not only buzzing about their musicianship and diversity, but also the energy and passion in which they deliver every performance. "No one ever leaves one of our shows without a feeling of W.T.F was that?" Cameron exclaimed. "We really believe that there is still a place in the industry for a kick butt rock and roll show with tasteful music and lyrics you can actually understand".
As the band continues to grow, their chemistry on and off stage is non-manufactured, honest, and undeniable.
"We are a family as much as we are a band" says Myles. "We know that we were meant to take this ride together, and we could not be happier or more excited!"