He Is We to Launch US Tour with Vendetta Red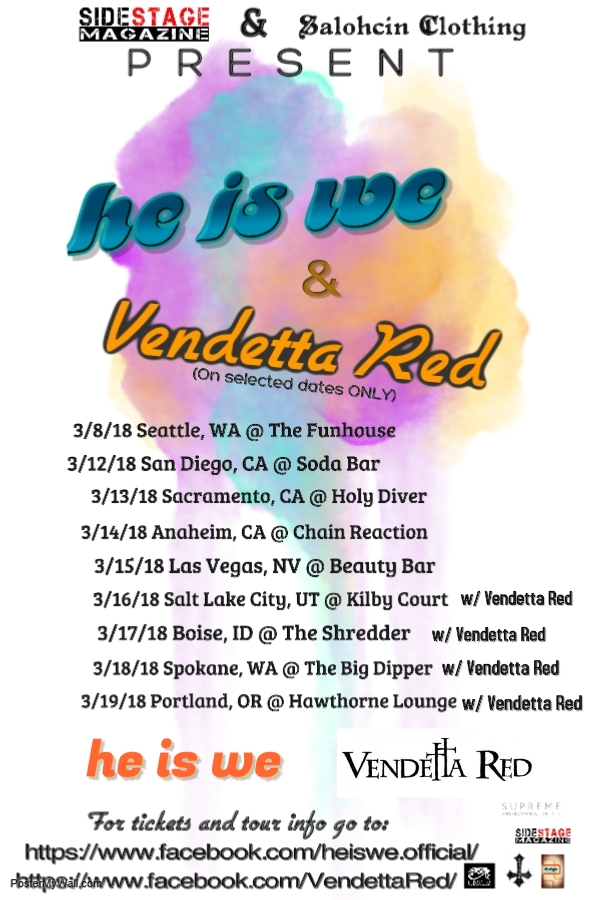 Washington alternative rock band He Is We has announced their North American tour with Vendetta Red launching March 8 in Seattle with dates throughout the West Coast and into Nevada and Utah before finishing up March 19th in Portland, OR.
Tour Dates
03/08 @ Funhouse @ El Corazon – Seattle, WA
03/12 @ Soda Bar – San Diego, CA
03/13 @ Holy Diver – Sacramento, CA
03/14 @ Chain Reaction – Anaheim, CA
03/15 @ Beauty Bar – Las Vegas, NV
03/16 @ Kilby Court – Salt Lake City, UT *
03/17 @ The Shredder – Boise, ID *
03/18 @ The Big Dipper – Spokane, WA *
03/19 @ Hawthorne Lounge – Portland, OR
* w/ Vendetta Rd
Rachel Taylor found inspiration for the name He Is We while growing up in the beautiful San Juan Islands of Washington State. Shy and awkward, Rachel found solace and empowerment through her love for music and God. She quickly learned to focus her angst into writing and singing. She took a risk and shared her music with others and discovered that the joy it brought them doubled the joy it gave her. This was the impetus for her extreme passion to use her music as a means to reach others like her. She teamed up with a Tacoma music store co-worker, Trevor Kelly, and shared her vision for He Is We. The duo drew the attention of numerous major labels after posting original songs to social media. Young and naive, Rachel signed a music deal, along with Trevor, with Universal Motown, and then with Universal Republic. She "birthed" the album, My Forever, and then the EP, Skip to the Good Part. He Is We found commercial success with songs like "Happily Ever After" and "All About Us." Early fan favorites also included songs, which pre-date the labels, like "I Wouldn't Mind" and "Pardon Me." Due to a myriad of unexpected events, Rachel and Trevor parted ways and He Is We subsequently became solely Rachel and the fans. Rachel maintains that her original vision for He Is We remains steadfast. Rachel believes that He Is We is about "dropping our pride and fear and recognizing that the person(s) on stage and in the audience is us." Rachel continues her journey to create music with a purpose.
Connect with He Is We online: