Korn Debuts Lead Single "Never Never" From Upcoming Studio Album 'The Paradigm Shift'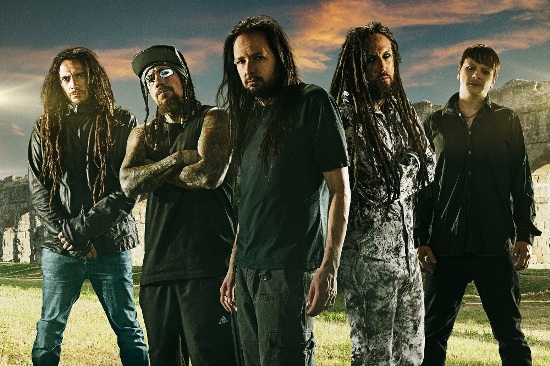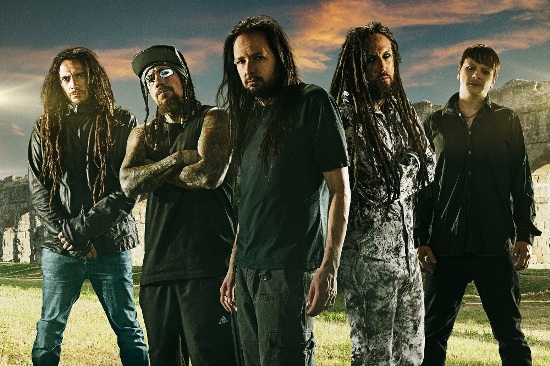 Grammy Award-winning multi-platinum hard rock innovators KORN have debuted the lead single–"Never Never," from their 11thstudio album, THE PARADIGM SHIFT–today (August 9) on their Facebook page. "Like" KORN on Facebook and stream the new track here.

Beginning Tuesday, August 13, fans will be able to pre-order THE PARADIGM SHIFT–in stores and via digital retailers on October 8, 2013 on Prospect Park–and purchase the single "Never Never." The album from KORN—Jonathan Davis [Vocals], James "Munky" Shaffer [Guitar], Brian "Head" Welch [Guitar], Reggie "Fieldy" Arvizu [Bass] and Ray Luzier [Drums]–will be available in standard and deluxe editions, with the deluxe showcasing two bonus tracks and a documentary DVD titled Reconciliation.
The first single "Never Never" features slow hulking beat stomps into screeching electronics before bleeding out on a bouncy chorus evocative of the swooping prowess of "Got the Life" and "Freak on a Leash." "It was an amazing night when we finished that song," says frontman JONATHAN DAVIS.  "It's a relationship song. You go through that shit and you get hurt so bad. Then you think, 'It's not worth it anymore. I'm not going to fucking love again.' You experience so many pressures to be a good dad, a good husband, a good lover, or whatever. Being in a relationship is a lot of work."
THE PARADIGM SHIFT marks the emotional return of co-founding guitarist Brian "Head" Welch for his first album with KORN since2003's Take a Look in the Mirror, and it serves as the follow-up to the band's 2011 critically acclaimed trend-setting dubstep metal hybrid, The Path of Totality, which debuted Top 10 on the Billboard Top 200 chart and was named Revolver Magazine's "Album of the Year."
THE PARADIGM SHIFT is also KORN's first time working with super producer Don Gilmore [Linkin Park's The Hybrid Theory, etc.] who recorded the album with the band at Buck Owens' studio in their original hometown Bakersfield and at Los Angeles's famed NRG Recording Studios. They initially announced Head's return via a captivating clip on RollingStone.com and went on to discuss the reunion together in this in-depth interview on ARTISTdirect.com.
KORN have come a long way since their iconic self-titled debut, and they haven't stopped challenging themselves or heavy music. Why is that? It all goes back to that irreplaceable and inimitable bond. "Our bond is at its tightest," concludes HEAD. "Munky, Fieldy, Ray, Jonathan, and I strengthen each other. It's incredible having my friends back in my life. The fans are amazing. This is all for them. We have a gift, and we're giving it to them. They're uplifted by what we do. That's the biggest thing. There's nothing better than that."JONATHAN leaves off, "These are my brothers. We're doing exactly what we want to do. Yeah, this is a new chapter. This is also fucking Korn."
Be prepared for another staggering, seismic and soaring offering from KORN.