Ernie Ball Announces 2013 Play Crossroads Contest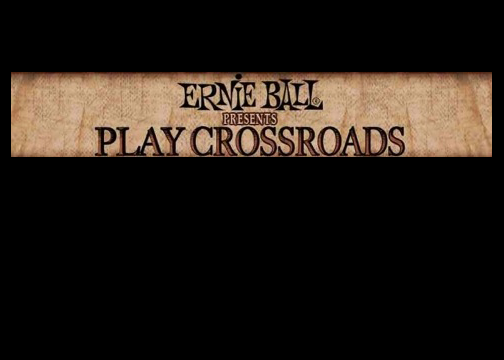 If you're a guitarist that has been waiting for the chance to show everyone what you're made of, then this should interest you quite a bit:
Ernie Ball Searches For The Next Best Undiscovered Guitarist For A Chance To Perform At Madison Square Garden
January 7, 2013 – Los Angeles, CA – Ernie Ball is proud to announce the 2013 Play Crossroads contest, where the legendary string company will be partnering up with Guitar Center, Guitar World, UltimateGuitar.com and ReverbNation.com in a global search to give the next best undiscovered guitarist a chance to perform live on stage at Eric Clapton's Crossroads Guitar Festival 2013 at Madison Square Garden on April 12th-13th.
Crossroads Guitar Festival 2013, presented by Chase, draws thousands of fans from around the world to witness live performances from legendary guitar players. Past festivals have included memorable sets by Clapton, BB King, Buddy Guy, Jeff Beck, John Mayer, Sheryl Crow, Steve Winwood, Vince Gill, ZZ Top and many more.
"Ernie Ball is thrilled to offer this incredible opportunity to undiscovered guitarists," says Brian Ball of Ernie Ball Inc.. "Partnering with Eric and his fantastic foundation is something we greatly look forward to. We're excited to find the next great guitar legend, and look forward to helping the winner grow and establish their career. Hopefully this opportunity acts as a massive springboard for the winning artist!"
Beginning today, unsigned musicians are invited to enter the Play Crossroads contest for free at www.playcrossroads.com by completing a short informational profile and uploading one MP3. Entrants are encouraged to use ReverbNation's promotional toolkit provided on each band/artist profile, to promote their entry all over the web and drive traffic to their profile.
The winning artist will earn the opportunity to perform live on the Madison Square Garden Stage (the world's most famous arena) at Crossroads Guitar Festival 2013, presented by Chase, in front of thousands of fans.
Prize pack for the winning artist also includes:
Performance Slot at the Crossroads Guitar Festival 2013 at the world renowned Madison Square Garden.
Ernie Ball String Package and Endorsement
Ernie Ball Music Man Guitar Endorsement
Guitar World Magazine Feature
Additionally, Ernie Ball has partnered up with The Crossroads At Antigua Foundation to release limited edition Eric Clapton Crossroads Collection Guitar Straps, available exclusively at Guitar Center, with a portion of the proceeds benefiting the charity. Inspired by the iconic design style of European automobile manufacturers, Ernie Ball's Crossroads Collection Straps feature premium Italian leather and hand-stitched threading for maximum appeal. Putting a primary on performance and comfort, these straps also feature a thin layer of padding and and an ultra-rich suede back. These limited edition straps are a must have for any Clapton aficionado, or any guitar player seeking a high-quality strap that's built to last.
For more information, check out these links:
http://www.playcrossroads.com/
http://www.ernieball.com/
https://www.facebook.com/ernieballinc
https://twitter.com/ernieball
http://crossroadsguitarfestival.com/
https://www.facebook.com/CrossroadsGuitarFest