Coheed and Cambria Land In Denver with Taking Back Sunday and The Story So Far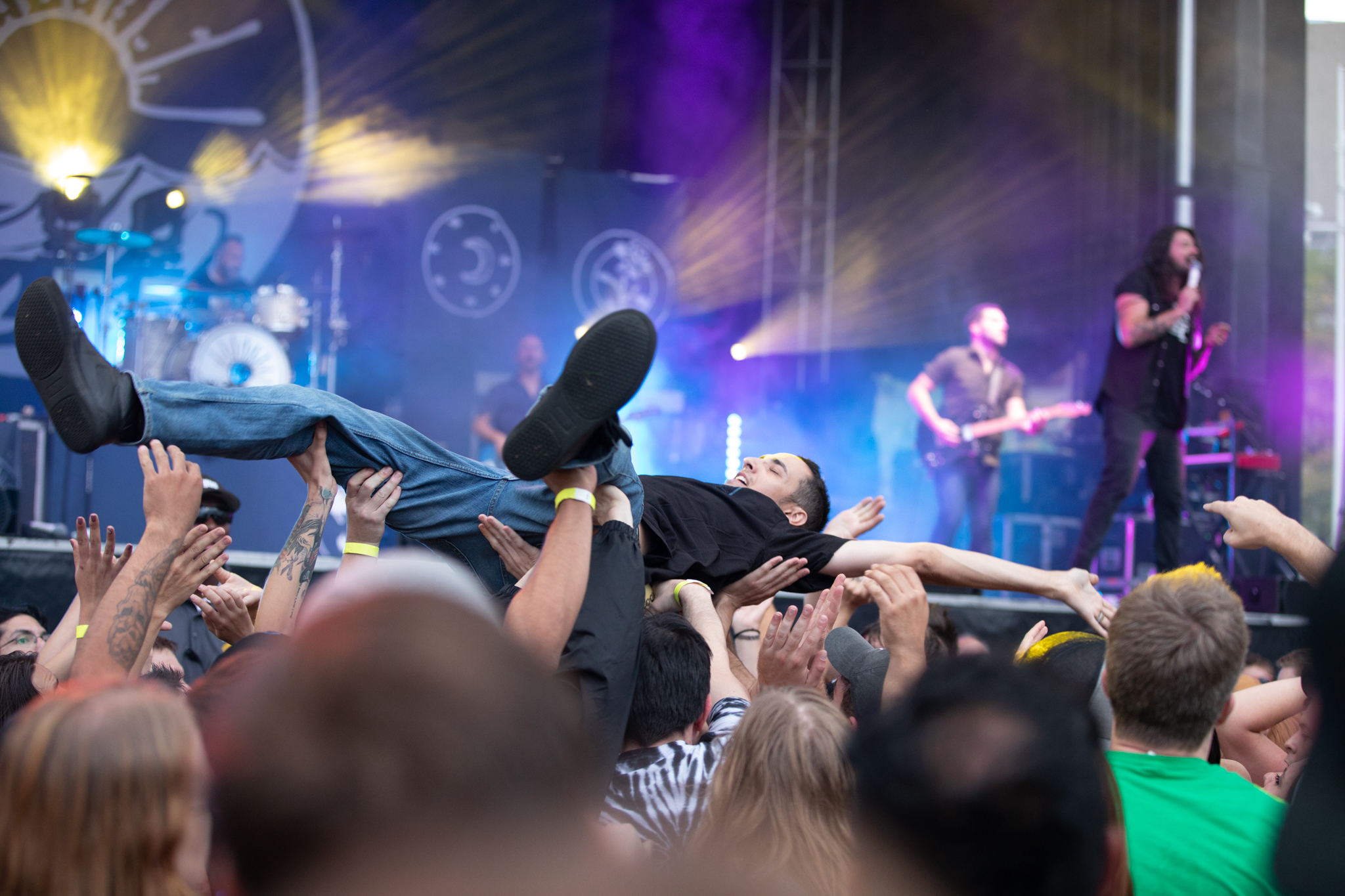 On August 6th, 2018 progressive rockers, Coheed and Cambria, teamed up with the alternative rock group, Taking Back Sunday, and the pop punk group, The Story So Far to perform at Sculpture Park in Denver, Colorado. If you've ever driven through downtown Denver, there's a chance you've seen Sculpture Park. There are a couple weird alien-like figures that stand 50 feet tall in the middle of a grass field outside of the Denver Performing Arts Complex. It's pretty much the perfect venue to host the three bands.
The Story So Far started things off. There were a lot of fans who offered their support by screaming, singing along, and dancing. Their songs were catchy and it was hard not to tap your foot along to the beat. A  few highlights from their set were when they covered "Black Dog" by Led Zeppelin and "I Wanna Get High" by Cypress Hill. The pop-punk(mostly punk) group set the stage for the rest of the night.
Next was Taking Back Sunday who came out with energy and enthusiasm. Lead singer, Adam Lazzara, expressed his love for Denver multiple times throughout the performance. He was hard to keep track of as he ran back and fourth on stage, not missing a note. They blazed through their hits "MakeDamnSure" "Cute Without The 'E'" and "You're So Last Summer". It must have excited the crowd because there were crowd surfers throughout the whole set. At most shows, you see one or two brave souls riding the wave of people but there were countless participants while TBS was performing. Towards the end of the set there was a torrential downpour mixed with lightning so the show had to be stopped. The crowd scrambled to find cover, mostly under concession stands where they could still order drinks. After a 30-minute weather delay, TBS came back out on stage with even more energy to finish their set.
Last was Coheed and Cambria. In June the band announced that they would be releasing a new album in October titled, "Vaxis – Act I: The Unheavenly Creatures". The stage was dark and beautiful, fitting for their new album. Their logo was backlit center stage behind the drummer and the lights were colorful and intense. Coheed and Cambria has always had a bit of mystery around them mixed with a hint of sci-fi that you get from the stories told in their songs. The band played their hits "Welcome Home" "A Favor House Atlantic" and "The Suffering" along with some new songs that will be on their upcoming album. The band meticulously played through their set, but their lead singer and guitarist, Claudio Sanchez, stole the show. He has a majestic presence on stage. His voice and guitar playing, accompanied by his hair (that is reminiscent of a lion's mane), made for quite the sight and sound.
Take a look at photos from the concert below: