Clutch reveal album artwork for Earth Rocker and announce initial North American tour dates.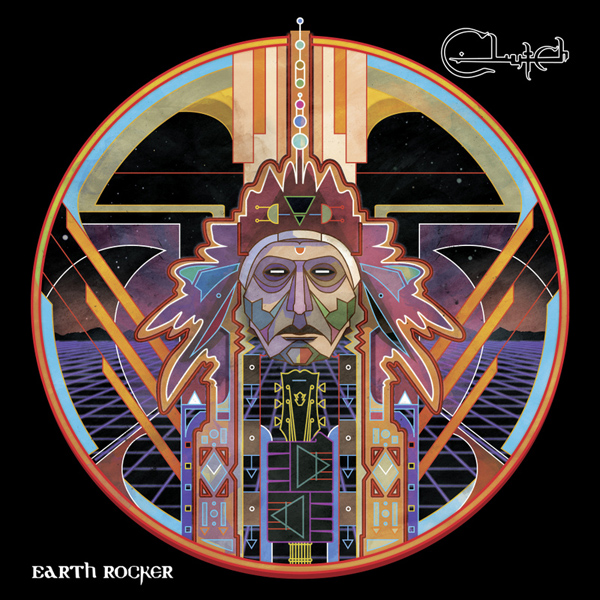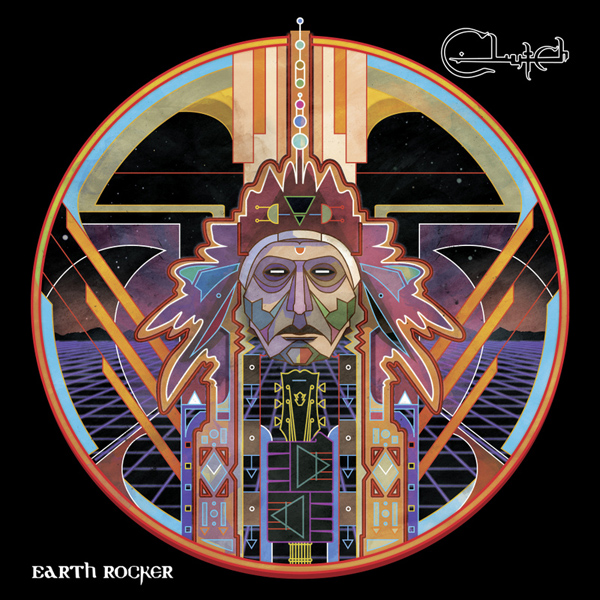 With a little bit more than three months left before the release of CLUTCH's highly anticipated new studio effort Earth Rocker, the band has officially unveiled the album's artwork and has announced the initial dates for the first leg of the North American Earth Rocker world tour.
The artwork was created by Nick Lakiotes, long time CLUTCH art director, who has worked on previous efforts including: Robot Hive/Exodus and Strange Cousins From the West.
CLUTCH has announced the initial dates for the first leg of the North American Earth Rocker world tour. The dates kick off March 8th in Cincinnati, OH and are currently slated to run through March 24th in Anaheim, CA. Support on these dates will be provided by Orange Goblin, Lionize and Kyng. Tickets for fan club members go on sale today via Pro-Rock.com and tickets go on sale to the general public this Friday December 21st. Look for more dates to be announced in the coming weeks.
Before they hit the road for their annual Holiday run, CLUTCH will be headlining the KBPI "When Hell Freezes Over" show this Friday night December 21st in Denver, CO at the Fillmore Auditorium. To get more information on the show and to purchase tickets visit here.
CLUTCH's Holiday tour dates kick off December 26th in Washington, DC and conclude with a special New Year's Eve performance in Worcester, MA at The Palladium.
Fans can keep up on the progress of Earth Rocker by visiting the new website www.earthrocker.com. The website is a hub dedicated to all things Earth Rocker. This Christmas Eve www.earthrocker.com will debut a live video of the title track Earth Rocker, which was recorded live at The Machine Shop. Fans can expect to see frequent updates including photos, videos from the studio, song title announcements and samples of new songs.
In addition to the new website CLUTCH has joined the world of twitter. Follow CLUTCH on Twitter @ClutchOfficial.
KBPI "When Hell Freezes Over" Radio Show
12/21: Denver, CO @ Fillmore Auditorium – Tickets
Holiday Tour With Mondo Generator, Saviors and Wino
12/26: Washington DC @ 9:30 Club – SOLD OUT!
12/27: Asheville NC @ The Orange Peel
12/28: Lexington KY @ Buster's Billiards & Backroom
12/29: Columbus OH @ Newport Music Hall
12/30: Allentown, PA @ Crocodile Rock
12/31: Worcester MA @ The Palladium
Earth Rocker European Tour
1/21: Press Day in London, UK
1/22: London, UK @ Koko – SOLD OUT!
1/23: Amsterdam, NL @ Melkweg
1/24: Press Day in Paris, FR
1/25: Paris, FR @ La Maroquinerie – SOLD OUT!
1/26: Stuttgart, GER @ Universum
1/27: Munchen, GER @ Backstage Club
1/28: Press Day in Berlin, GER
1/29: Berlin, GER @ Lido
1/30: Press Day in Cologne, GER
1/31: Cologne, GER @ Luxor
2/1: Brussels, BE @ VK
2/2: Hamburg, GER @ Logo – SOLD OUT!
2/3: Copenhagen, DK @ Amager Bio
2/4: Press Day in Oslo, NO
2/5: Oslo, NO @ Parkteaterest
2/6: Press Day in Stockholm, SWE
2/7: Stockholm, SWE @ Tyrol
Earth Rocker North American World Tour
3/8: Cincinnati, OH @ Bogart's
3/9: Nashville, TN @ Marathon Music Works
3/10: Sauget, IL @ Pop's
3/11: Little Rock, AR @ Juanita's Cantina Ballroom
3/12: Tulsa, OK @ Cain's Ballroom
3/14: Dallas, TX @ Palladium Ballroom
3/18: Colorado Springs, CO @ The Black Sheep
3/19: Salt Lake City, UT @ The Depot
3/21: Los Angeles, CA @ House of Blues
3/22: Tempe, AZ @ The Marquee
3/23: Las Vegas, NV @ Hard Rock Café Las Vegas
3/24: Anaheim, CA @ House of Blues
Follow CLUTCH on Twitter: @ClutchOfficial
Like CLUTCH on Facebook
For More Info Visit:
http://www.pro-rock.com
http://www.earthrocker.com
http://weathermakermusic.com/