Cage The Elephant Currently In The Studio Putting Finishing Touches On Third Studio Album Due Out This Fall On RCA Records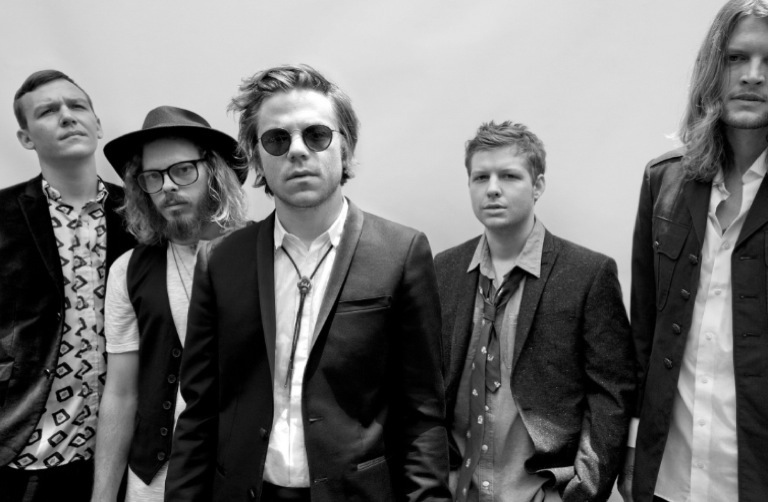 Cage The Elephant are currently in the studio putting the finishing touches on their eagerly anticipated third full-length album. Due out this fall on RCA Records, the new album was recorded in Nashville, TN and reunites the band with producer Jay Joyce who produced the group's prior two releases.
"When we set out to make this record we had a few different vague ideas for what direction we wanted to move in musically, but as usual the end result turned out nothing like what we had originally envisioned," said vocalist Matt Shultz. "There was an element of playfulness and swagger absent on our last record that unexpectedly began to surface. At the same time the songs had a more inner-directed and reflective sound. Finally, we started experimenting with combining the two polar elements."
"Every time we make a record we go to war with ourselves as individuals and as a collective," Shultz continues. "We try to remain true to our convictions and in the end, we have to let go and let the record speak for its self. Letting go is the easy part, getting to that point is the struggle."
The new album is the follow up to 2011's acclaimed sophomore album Thank You Happy Birthday, which debuted at #2 on the Billboard Top 200 Chart and has over 250,000 copies to date. Rolling Stone, New York Times, LA Times, USA Today, and Entertainment Weekly praised the release as "one of the best rock albums of the year". The album also spawned the hit single "Shake Me Down" which spent six weeks at #1 at Alternative radio. Their acclaimed self-titled debut album was released in 2009 and has sold over 550,000 copies to date. The album remained on the Billboard 200 Chart for an astounding 73 consecutive weeks and produced three Top 5 singles at Alternative Radio, including the massive hit "Ain't No Rest For The Wicked". In additional to numerous Sold Out headline runs, Cage The Elephant has toured with Black Keys, Foo Fighters, Queens of the Stone Age, Muse, Stone Temple Pilots, Foals, Silversun Pickups, Manchester Orchestra, and many more.
This coming September Cage The Elephant will bring their raucous live show to arena audiences across the US for a run of dates with Muse. See below for a complete list of upcoming dates.
Cage The Elephant consists of singer Matt Shultz, guitarist Brad Shultz, bassist Daniel Tichenor, guitarist Lincoln Parish, and drummer Jared Champion.
Additional information on the forthcoming release will be revealed in the coming weeks.
Cage The Elephant Live Dates
9/3 – Charlotte, NC – Time Warner Cable Arena*
9/4 – Duluth, GA – The Arena At Gwinnett Center*
9/6 – Nashville, TN – Bridgestone Arena*
9/8 – Pittsburgh, PA – Consol Energy Center*
9/9 – Philadelphia, PA – Wells Fargo Center*
9/11 – Washington, DC – Verizon Center*
9/14 – Maryland Heights, MO – Verizon Wireless Amph.
9/17 – Denver, CO – Pepsi Center*
9/19 – Salt Lake City, UT – EnergySolutions Arena*
9/21 – Oceanside, CA – FM 94/9 Independence Jam
9/27 – Kansas City, MO – 96.5 The Buzz Beach Ball
*with Muse