BrokenRail Release New Single & Music Video, "DEMON IN DISGUISE"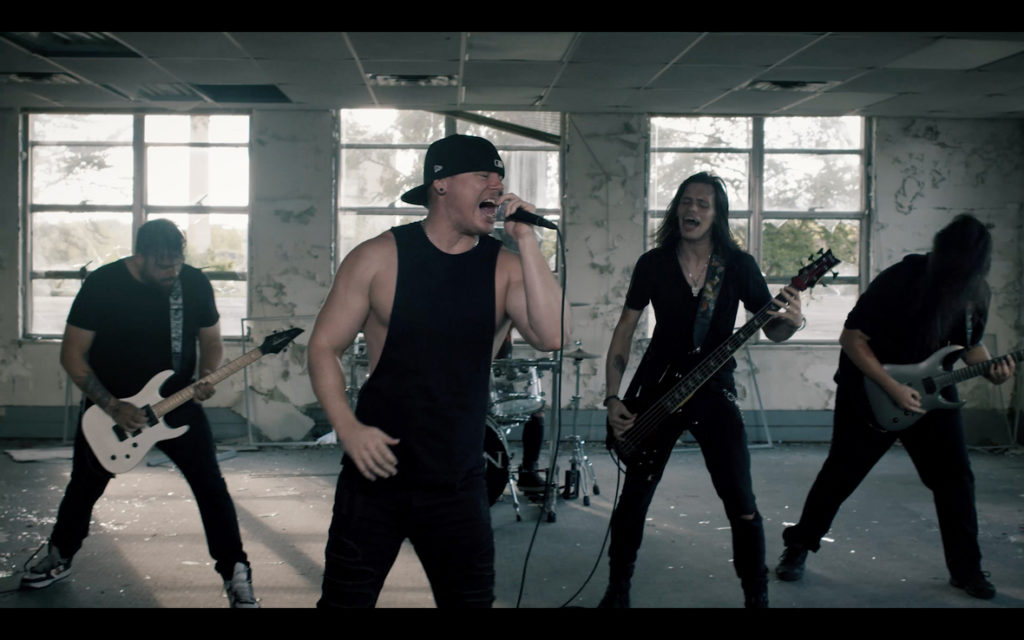 Birmingham, AL based , Hard Rock / Metal band BrokenRail has released the official music music video for their new single, "DEMON IN DISGUISE. "Directed by Alan Collins, "DEMON IN DISGUISE" off of the band's newly released album with Cleopatra Records, BEAUTIFUL CHAOS, which was produced, mixed, engineered, and recorded by Joseph McQueen at Sparrow Sound in Los Angeles, CA.
"We wanted to go in a different direction for the video for 'Demon in Disguise.' We chose an abstract theme for such a lyrically ambiguous song. Demon is a deep dive into the splinters of darkness that we allow to imprison us, enlighten us, or liberate us. Whether it's addiction, depression, toxic relationships, etc, sometimes we give in to the temptation of the easiest route in exchange for our own salvation. We enter into these scenarios thinking we can control them, but as is often the case we overstep our boundaries or abilities and fall into this ever revolving trap we just cannot escape from. At the time, the allure seems to be somehow worth the risk, but sometimes you find yourself in a directionless void. We're so excited to present to you our 2nd release off of our label debut album, 'Demon in Disguise'!" – Blake Clawson / Vocalist
"After a year-long journey navigating the uncharted waters as musicians, we left LA on top of the world in January only to fall like everyone else into the uncertainty and grinding halt of being thrust into a global pandemic. After sacrificing so much to pull this album off by walking away from day jobs, missing important events, living off savings, and time away from our families, this was to be our busiest year with so much on the horizon and then the world felt like it ended for us. 2020 has now become a story of adapting and learning to survive through the harshest of environments, to fight when it feels there's little strength left and yet somehow move forward. This album encaptures this spirit at every turn. Whether it's truthful tales of facing one's own demons in titles such as 'Beautiful Chaos', 'Nightmare', 'Demon in Disguise', & 'The Haunted', or overcoming extreme adversity in songs like 'On My Own', 'Reignite', and 'Never Be The Same' there's something for everyone on this album. The songs perfectly flow from one to the other telling a story of our journey and the ups and downs that have brought us to this very moment. Over the past couple of months we've released two singles, 'The Hate' and 'Creatures', introducing a new sound from BrokenRail showcasing our heavier side and a new direction, the evolution of the band. The album still captures classic BrokenRail through multiple styles, bleeding the lines between rock, hard rock, & metal along the way. We truly feel like fans of the new sound as well as fans from the past will collectively enjoy this album from beginning to end. We're so excited to finally release this to the world!" – Blake Clawson / Vocalist
Track List: 1) Beautiful Chaos 2) Nightmare 3) California 4) Demon In Disguise 5) Creatures 6) On My Own 7) Patterns 8) Never Be The Same 9) The Haunted 10) Reignite
Download / Stream BEAUTIFUL CHAOS Online:
BrokenRail are an award-winning rock and metal act currently making their mark on the global music scene. Their fresh fusion of hard rock energy to infectious metal rhythms has seen them amass a following in the tens of thousands worldwide. This exposure saw the fierce five piece featured on many major media outlets including ESPN, NBC Sports, MMA's World Series of Fighting, and more. Their 2018 album Til Death Do Us Part won top honors at the 2019 Independent Music Awards in New York for "Album of The Year", not to mention receiving streams in the tens of millions globally. The band has also acquired nominations in 2016-2020 for the Alabama Music Awards "Rock Band of the Year", 2018 IMAs for "Song of the Year", as well as 2018 Hollywood Music in Media Awards (HMMAs) for Rock "Song of the Year".