The Voice Rules Me. An Interview With Jill Janus From Huntress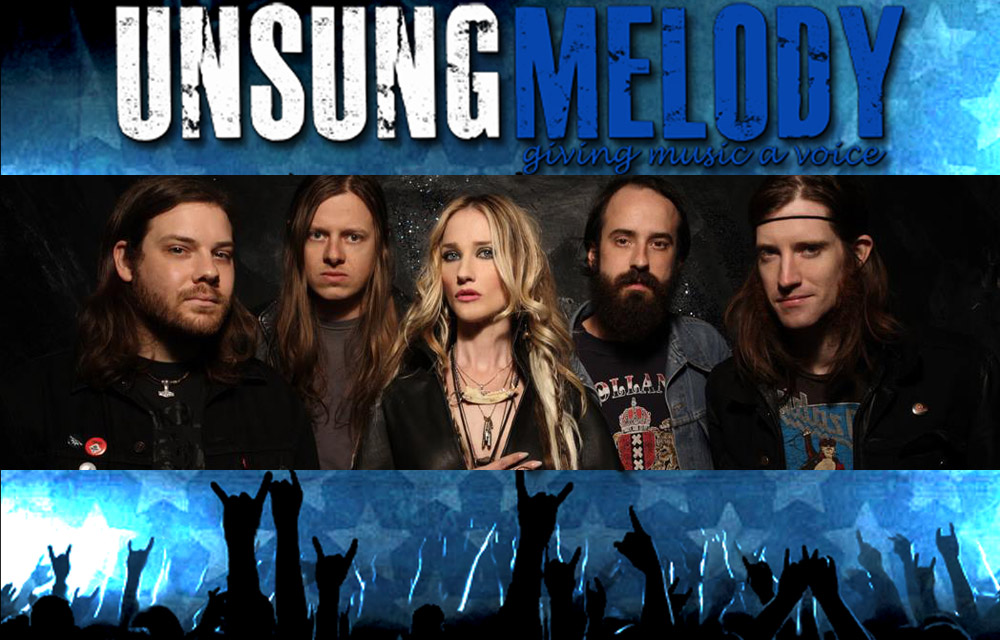 After a summer of covering some of the biggest festivals and concerts the US has to offer, I took a moment to reflect on who really stood out for ya this summer. Sure, there's your usual suspects here, but I wanted to shine a light on someone or something different. That led me to the female fronted metal band Huntress. Jill Janus has been said to have a four octave range. That. Is. Just. Incredible. The music is pure metal, the spirit is deviant and the touring is relentless for Huntress. In fact, they are about to kick off a tour with Lamb Of God, Killswitch Engage and Testament. Those aren't lightweights. We believe Huntress can and will hold their own on this tour.
Listen to the entire Jill Janus interview below:
[ca_audio url_mp3="http://www.unsungmelody.com/wp-content/uploads/2013/09/Jill-Janus-from-Huntress-Interview.mp3″ url_ogg="" skin="regular" align="none"]
Today I have the pleasure of welcoming one of the finest metal singers there is. I'm welcoming Jill Janus to the Unsung Melody family. Jill is the voice of Huntress. First off, thanks for taking the time to speak with us today.
No problem. Thanks for having me.
Alright, let's jump right in here. I want to ask about your range. There can't be many notes that you can't hit. I think I read there is some opera training there. Tell me about your range and the training that you have taken to get there.
Well thank you. I began singing as a 10-year old gal. Starting off in an opera and then progressing into musical theater. All the while still being very much involved in punk and metal. I was around 13-years old, so I was really deep into that as well and against Mom's wishes of course. She didn't want me to ruin the range, but I feel like that's what really allows me to maintain the voice night after night. It's because of that foundation that I have with classical training. I was blessed with a large range and I'm able to utilize multiple voices within Huntress and really sustain that night after night. Especially with the rigorous touring schedule we have. It's completely runs my lifestyle now. The voice rules me.
With such extensive training what made metal your preferred path?
To me, anything that I've done prior to Huntress, leading to this point, I knew that I didn't get along very well with directors and actors. There are constantly fights erupting and I just always felt this real sense of purpose and a real sense of knowing what I was going to be doing with my path. I knew it wouldn't be anyone else's script and it wouldn't be anybody else's music. I always knew that I wanted to do something myself, but it took me nearly a decade to find the musicians who I felt shared the same vision. With that said, it's taken me quite a journey, quite a long time to put it together, but with the pace that we are moving at now, I feel it was the right decision. My band and I, we all share the same vision, so it all came together.
Alright. Well that incredible voice of yours has led to working with some pretty amazing artists. One in particular that you worked with on your new album is Lemmy. How did that come about?
Lemmy and I have been friends for a few years. He's one of the most generous people I know and such an old soul. Just a wonderful person to work with because he really has this true sense of integrity and that is something that I choose to live by as well. I met him through a band called Chelsea Girls. This was my former band. It was with Samantha Maloney from Hole/Eagles Of Death Metal/Motley Crue on drums. Allison Robertson from the Donnas on guitar and Corey Parks from Nashville Pussy on the bass. So we put together this female all-star cover band and we would do rock and metal hits. Lemmy was friends with Corey from way back, so he would get up on stage with us. He actually performed Ace Of Spades. I remember that night, it was quite stunning. That's when you know you're living the dream. Then he also came up on stage and sang some Eddie Cochran with us. So, Lemmy and I became friends. Whenever he's in LA, we always meet up, at course at the Rainbow, for Jack and Cokes. So, I just asked him one night if he would write a song for the next Huntress album and he said sure. A few weeks later, I met up with him and he handed me two pieces of notebook paper with the lyrics to I Want To Fuck You To Death. As I've said many times before, I thought it was the most romantic thing a boy has ever done for me.
The new album from you guys, Starbound Beast, has had you playing some really big shows this year. You could say it's been the year of the Huntress. Let's talk about something specific that I know meant a lot to you. You recently sang with Danzig. That had to be a tremendous honor. What was that like for you personally?
Oh my goodness. As anyone knows, that follows the band, that I am completely obsessed with Danzig. It's not just me, it's my bandmates. All of us are. We were all heavily influenced by Misfits and Danzig growing up. So when he asked for us to come on the road with him, our minds were blown for sure. We all wanted to take a time machine back to high five our 13-year old selves and be like, "Everything is going to be cool. You're going on tour with Danzig." So that element of really feeling like a dream was coming true was awesome. Then, I'm watching Danzig from the side of the stage every night, as all my bandmates are, just because we're so enthralled with him. He's such a master of his craft. We learned a lot from him as well. I'm standing there and all of a sudden he turns and looks at me and kind of waves at me. I do the over the shoulder look of, "Who? Me?" The boys just push me out on stage and he goes, "Let's sing Skulls together." So I'm standing on stage, singing Skulls with one of my teenage idols and on top of that, Doyle was joining him because it was the 25th anniversary tour. So, Doyle, the axeman from Misfits also on stage. After that happened, I looked at him and I'm like, "I can die now." (laughter) Singing Skulls with Glenn Danzig and then with Doyle, I've had a pretty magical year.
We've got to discuss the video for Zenith. Phil Mucci really seemed to understand the band and totally nailed the video. I read where he was involved really early on, like pre-studio involvement. With the band setting their goals on recording and releasing an album per year, can the band feasibly do a video of such magnitude for each album?
We will absolutely do a video of the magnitude of Zenith, per album cycle. It's part of our legacy. It's much more than a music video. In a world that is so disposable, especially everyday when I wake up, I feel the need to battle mediocrity. In a society that glorifies mediocrity especially, I have quite a bit of venom towards it. So for me, I really want to have a larger than life image of Huntress. And my bandmates agree with me, so for us it is absolutely something we will plan on doing. Even if we are doing an album year. That is the goal, ultimately. We won't ever bend on our vision and that's what is so cool with Phil Mucci and he we hope to work with him again in the future. He doesn't bend either. We have a strong sense of integrity and of not compromising. So for us it's not very often yourself a Phil Mucci. He is an absolute visionary. It is almost telepathic when we work together. We brought him in, even prior to recording the album. We had a few scratch demos done, but we knew that this song Zenith was going to be a monumental sci-fi hallucinogenic trip to space and beyond. We instantly fell in love with Phil Mucci's video for High On Fire's Fertile Green. Through our management, we contacted him and it was just a mutual deal from the beginning. We were both fans of each other.
Speaking of recording an album per year. Are there any fears that you may dilute the end product by rushing it or even over saturation from so much material?
Here's one analogy for ya, if Judas Priest can do an album a year, if Iron Maiden can do an album per year early on, not comparing ourselves to those bands here, I still feel we have many, many years ahead of us and lots of respect to earn, it's going to be a long road, but for any metal band that has a lot of inspiration and is completely focused on one goal together, an album a year to me is very organic. It's what we feel we want to do. I don't ever fear over-saturation, that would be cool though. That would mean that we may be making some money at some point. (laughter) So bring on the over-saturation.
I was just curious. I like to see how the human minds works sometimes.
Yeah. For us, we just have so much in us that we want to express musically. For all the band members we are very inspired. As long as that inspiration remains and is never forced, we'll keep doing it. I think the moment when you are forced by a label or management to produce something, just for the sake of getting it out there. I think that's terrible. For us, we've only been shown such support from our label and our management to do whatever we want. As an artist, that's all we could ask for. So we hope to continue an album a year and just keep writing songs because this is what we were born to do.
I mentioned Zenith director Phil Mucci. He commented, speaking of you, "In a disposable world, she's very conscious of her legacy, as am I." When things are all said and done, hopefully 300 years or more from now, what is it that you want to leave behind concerning Huntress and your legacy?
I think the main thing and I've already said in this interview, is destroying mediocrity. Showing people that the level of musicianship now, it should be raised and it needs to be raised. So I think with our legacy, showing that people play their instruments and that there's still a craft that you should look at it as an art from. For me as a vocalist, that there is so many layers and so many interesting scientific aspects to the voice and the vocal chords that I really want to have shown through the music that it is again, to me it's much more than just screaming. Me singing is my purpose. With that, with the legacy showing that we live for our purpose and that we don't compromise. For others to see that you don't have to dumb it down to fit into a mold. You don't have to dumb it down to sell records. It's time for us to blaze a new trail, a new path for true heavy metal and to never compromise on your vision. So there is the true legacy of Huntress.
The band is headed out next month with Lamb Of God, Killswitch Engage and Testament. That tour runs the metal gamut for sure. Other than global domination, what can the fans expect from Huntress on this tour?
(laugher) We are preparing for the tour. We understand that this is the biggest tour in our young career so far. We do tour relentlessly. We've had some amazing opportunities, even this summer. We started off with Sweden Rock Festival, Download Festival in the UK. Then we spent all Summer on Mayhem Festival and then rounding that out with Danzig. So for this upcoming Fall tour, we're stepping up with the big boys. This is a monstrous tour. These are legendary metal musicians, so we are very conscious of this and we are putting a lot into our performance, the set design and all aspects, just making sure we are at the level of professionalism that we need to be on with this tour. I know we've had a lot of great training. Mayhem Festival was boot camp for us, so we are ready and I think what fans can expect a very upfront, no bullshit performance. We don't have triggers. We don't use samples. There's no backing tracks. It's me and my Sennheiser microphone and it's the boys plugged into amps that are genuine amps. We're not going straight to the board here. This is a true heavy metal concert. So I think that is what fans can expect and that's why they keep coming back to the live shows, because it is absolutely live. Everything that you hear on the album is actually, always going to be true. Whatever we produce on an album, we can duplicate precisely live. That's part of our jam, in that's what we do. So if you're coming to a live show, what you see is what you get. It's really exciting, that energy, that may be even lacking on the album a little bit, you're going to get a higher dose of that in person.
Alright Jill. I always end on a random question. It's a bit of a tradition here and for me, it helps portray us all as real people and most times, it's really just fun. So here goes yours. I thought I'd combine the sci-fi aspect of the Zenith video and the fact that you are referred to as a stoner witch to ask this one. In a cosmic event, you're thrown to a distant planet where your powers are magnified a hundredfold. What's the first spell you cast on the resident aliens?
I would love telepathic powers. That would be neat. To be able to read anyone's mind and make them do as I say through Jedi mind trick style.
Jill, you've been awesome and I can't thank you enough for speaking with us today. The site and myself wish you nothing but the best. You guys be safe and I hope we'll see ya on the road soon.
Keep up with Huntress below:
Official Site
Facebook
Twitter
Huntress – Zenith: