Rocky, England and Intensity. An interview with Ally Dickaty from The Virginmarys.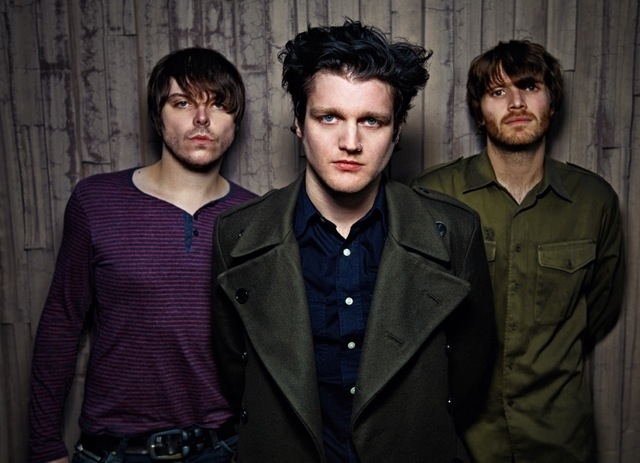 England has been very, very good to us musically, in the last year or so. There are so many great artists breaking through here in the States, it's an exciting time. Bands like Leogun and Young Guns have quickly became Unsung Melody favorites. Today, I introduce you to another band that has quickly found a spot in the ol' iPod rotation. Let me introduce you to The Virginmarys. Here's an equation to describe The Virginmarys: Grunge + Punk + Rock and Roll + Blues = Complete badass. That about sums it up for me. Drawing from several decades of inspiration, the band has created one of the more exciting debut albums that I've heard so far this year. The three-piece band has all the intensity of a young Screaming Trees, but the polish of the early Foo Fighters. Add in some killer tones, thunderous drums and a thick bassline and you have yourself a formula for kicking ass. The Virginmarys are led by the screaming banshee/axe-wielding Ally Dickaty, and he recently sat down with me for a few minutes. Below is our conversation. I hope you enjoy.
You can listen to the entire Ally Dickaty interview below:
[ca_audio url="http://www.unsungmelody.com/wp-content/uploads/2013/04/Ally-Dickaty-from-The-Virginmarys-interview.mp3″ width="500″ height="27″ css_class="codeart-google-mp3-player" autoplay="false"]
Today, I'm joined by Ally Dickaty. Ally is the vocalist and guitarist for the band The Virginmarys. First off, thank you so much for taking the time to speak with us today.
Not at all man. Thanks for having me.
I know you are on the road currently, so I won't take up too much of your time today. King of Conflict is the new album from you guys. I was asked by a friend what you guys sounded like. I said, you want the long story of the short story?
It's a bit of a difficult one to pigeonhole, I think. There's a lot of influences coming on there. I think we just stick by rock and roll. It has a punk and a grunge edge to it, but I think it's just intense rock and roll really.
I told my friend, I said short story is simply, intense. The long story; If The Screaming Trees and the Foo Fighters had a baby that grew up and formed a punk band that played rock and roll, this band would be it. Would you say that's pretty accurate?
That's a great way of putting it man. (Laughter)
The first Virginmarys song that I heard was Dead Man's Shoes. I was immediately drawn in by the driving backbeats and the gritty guitar. Then I was hit with your intense vocal delivery. I knew then and there, you guys were a band that I wanted on my site. How has the media received you guys so far here in the US?
It's been great. I don't think that we could ask for any better at all. I think we hit number 29 on the Alternative charts, which was cool. The Rock charts are starting to take it on. We've had all these great reviews. Online, free publications. We didn't know, being British, how it would come across over there, but we couldn't ask for any better I don't think.
I'm a huge Otis Redding fan and one of the things that I think drew me to your music was the mentality that Otis had. By no means am I saying your vocals are soulful like Otis, but he never took a note off. He seemingly pushed every single syllable for what it's worth and you seem to have that same quality. Was that a conscious effort or is it just where you feel most comfortable?
I really go for those soulful voices. I think Kurt Cobain had it going on as well. I grew up listening to a lot of blues from my dad. I really liked Greg Allman's voice from the Allman Brothers. I think that's a really amazing voice. Then there's lots of voices from the 70's. I think Roger Daltrey had a great voice. I really like to belt it out, really.
I hear a little blues influence on the album. Specifically, Ends Don't Mend. Are you a fan of the blues?
I'm a big fan man. I always get back to it. I've got loads of it on my iPod. I like Lightning Hopkins and Big Bill Broonzy and Robert Johnson. All the stuff that influenced the likes of Peter Green and Clapton and John Mayall, from that era. I think it's great to go back and see where it all came from. It's so raw and heartfelt. There's a lot of charm listening to those old records.
The record certainly doesn't sound like a brand new band. How long have The Virginmarys been together?
In it's current form, the three of us, it was about three and a half years ago. Me and Danny had been playing around, but more as a hobby. So, it's not like the wikipedia thing says that it's been going since 2006. It was more of like, we were just playing around the town. We quit everything about three or four years ago and just went on tour. So, it's probably been going for about four years.
Well the chemistry certainly shows. I read where the album was recorded live in the studio. Most times when a band says that, the music is live, but the vocals are dubbed later. The album certainly has the intensity of a performance. Was the whole thing recorded live?
The backing tracks were recorded live. We put some overdubs in, like some extra guitar parts to beef it out. We were just really following the same thing. Then we recorded the vocals separately and the backing vocals. The backing track was all done live in about two weeks. We did about 30 takes of each song. We just wanted to capture what we have live. We are a live band. We really come across live. Fans come and say, "We love the record, but it doesn't come close to how you are live." Which I don't think is a bad thing.
That's one of the things too, one of my favorite bands is Clutch and I've never really seen an album capture who they are live. It seems to be a difficult thing to capture the intensity.
I think Cheap Trick had that as well. I think that's a good thing really, because you've always got time to work on things and try to recreate that in the studio. It would be a lot worse if it was the other way around.
Definitely. (Laughter) The band is signed to Wind-Up Records. When you were looking for a label, what did Wind-Up offer that no one else did? What sealed the deal for you guys?
Just the fact that they actually got the music. They got who we were. They were willing to put a lot of time, money and backing behind us. We just got a really good vibe from them. I don't think we could ask for more than what Wind-Up has given us. They've been really, really cool to us.
Having never been to England myself, I'm really curious how tight-knit the music scene is in the UK. There are a lot of great bands coming over and making an impact. Did you know your labelmates Young Guns before landing on Wind-Up?
We didn't. We haven't properly met them yet. We look forward to doing so. We briefly said hello at SxSW. There's not much of a rock scene in the UK, sadly. Especially not the type that we're doing. So, we've grown the fan base organically and we just need to get in front of as many faces as we can, because people seem to really get it when we play live. It's just such an amazing thing to be doing a coast to coast tour of the US.
You're currently in the US making the rounds. How has the tour been so far?
It's been really, really cool. We're seeing such amazing sights and meeting so many cool people. There's not a place where we've been that we've not enjoyed or people have not been friendly and really cool to us. We've done some amazing shows and it's just been a massive pleasure for us and we couldn't ask for any more really.
I'm glad everyone is welcoming you with open arms. That makes me feel good.
It really is like that. It's incredible. We've not met anyone that hasn't made us feel welcome.
The band played SxSW this year. That's a huge deal for most any band. What did you guys take away from SwSW this year?
It was such a busy, busy time. We were taking a taxi like four times a day to each venue. We must have done like about 12 shows in four days. It was insane. I've never experienced anything like that. It's such a crazy festival. I've not seen anything like that in the UK or anywhere else. It's really, really special for a town like Austin to be doing it. It's an incredible place.
I don't think there's anything that could ever match SxSW.
I don't think we really knew what to expect, but I don't think we ever would've expected that. It was just so mental and hectic. Everywhere you turn, there is something going on.
I always end on a random question, so today is no different. I saw you guys played in Philadelphia recently. There were some scenes re-enacted from the Rocky movies it seems. Please tell me you ran up the steps with full on sound effects, emulating Gonna Fly Now.
I didn't quite get to that. I was listening to that on the bus that day. I had to do that. I had to do that for myself. I was quite worried about breaking a limb or something like that, (Laughter) and the tour would be put off. Luckily, I got to the top and started jumping about like an idiot. I think we've got some footage of it too. It's one of those things I wanted to do. I've been a massive fan of Rocky since I was a kid. I wouldn't have forgiven myself if I hadn't made a big deal about it when I was in Philadelphia. (Laughter)
It's all about enjoying yourself. I understand. Ally, I appreciate your time and the site and myself wish you absolutely nothing but the best, and hopefully we can get caught up at a show sometime soon.
Keep up with The Virginmarys below:
Official Website
Facebook
Twitter
Preview or purchase King of Conflict below:

Check out the video for Just A Ride below:

Check out the video for Dead Man's Shoes below: