On the Road with Joel King of The Wild Feathers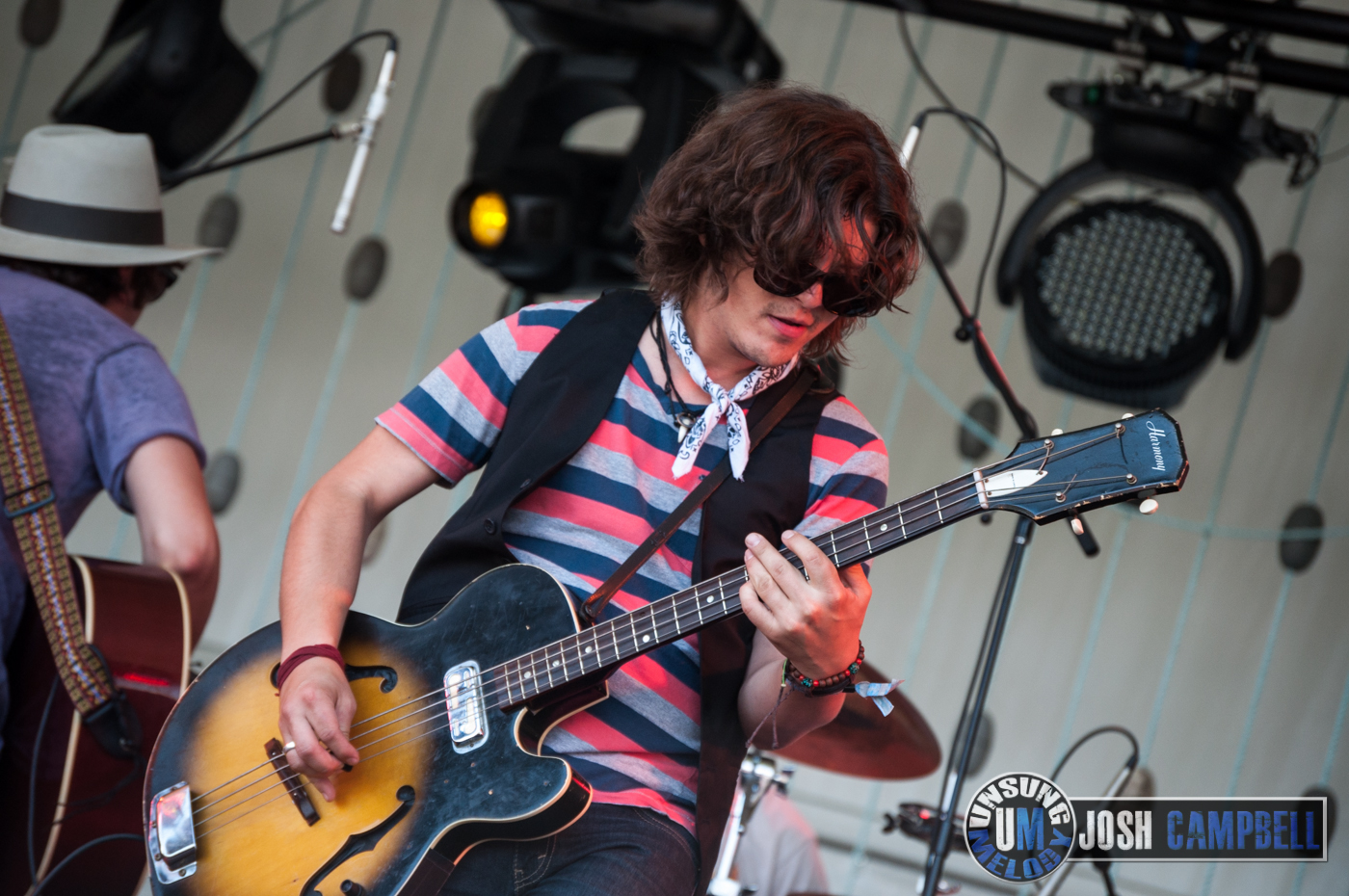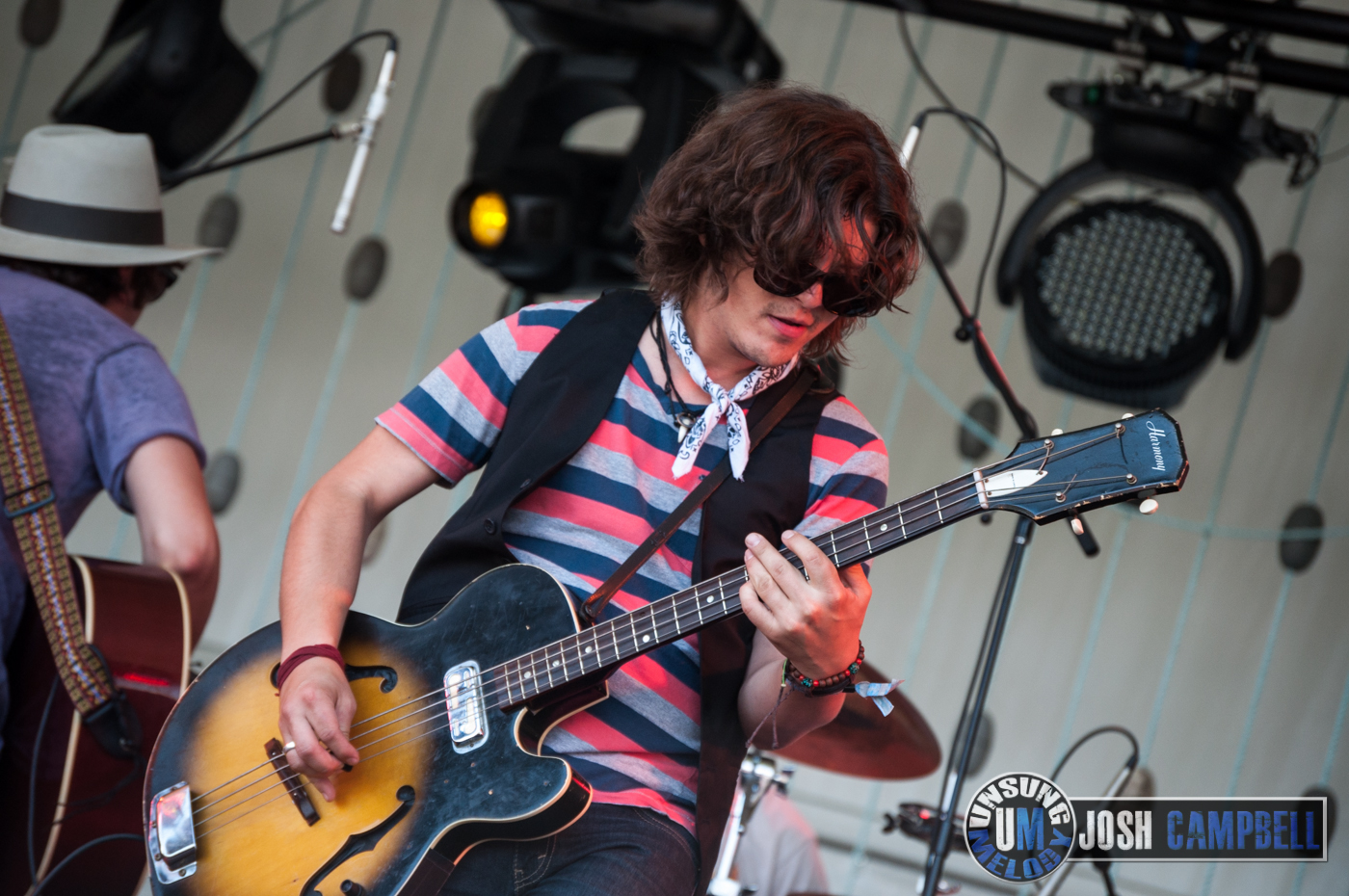 The Wild Feathers are a band that first fell in love with when I covered the Romp Fest in Owensboro, KY last year. It's been an interesting ride so far to say the least. Part country, part bluegrass, part rock and roll; The Wild Feathers are an eclectic mix that are probably best described by the quote on their Facebook, "They're like if Led Zeppelin & The Band had a baby in Joshua Tree that grew up listening to Ryan Adams covering the Stones 70's country influenced songs." That's how I felt when I heard them and I'm honored to finally get the chance to chat with bassist Joel King.
Listen to the entire Wild Feathers interview below:
[ca_audio url_mp3="http://www.unsungmelody.com/wp-content/uploads/2014/03/Joel_King-The_Wild_Feathers-Interview.mp3″ url_ogg="" skin="regular" align="none"]
This is Josh Campbell with Unsung Melody, and today I have Joel King of The Wild Feathers. How are you doing today, Joel?
I'm doing great man!
Wonderful! Now as a group, you guys have recorded four Truckstop Covers Series videos. Will you all record more, or was that more of a spur-of-the-moment thing?
When we did it before, we were just doing recordings with the radio, having to do a bunch of stuff. Our only job was to drive to the gig, so we had a lot of time on our hands. And now we're doing radio. Something to do every day, and we haven't done one in a while. It was kind of a fun thing, you know. It was easier than just jumping in and recording a cover, doing anything like that. Just something for people to check out, and like, hopefully.
It was a unique way of putting your name out there, and building a fan base up. You recently appeared on the TV show "Nashville". What was that experience like?
It was awesome, man! We had never done anything like that. It was pretty cool. We were there for what felt like 25 hours. The only difficult thing was that we had to pantomime playing, since it was the record. You couldn't even strum the guitar. It was new for us. It would have been easier to play the song 20 times in a row, rather than act like you're playing the song 20 times in a row. It was all new, and exciting for us. It was a blast.
It's exciting to see you guys getting recognized and put out there. The band has been featured on shows like "The Late Late Show with Craig Ferguson", and "Conan O'Brien". What was your favorite moment from all of that?
Yeah, man. Jimmy Kimmel, we did that one too. I think, coming up, we're going to do a Seth Meyers show. I'd have to say Conan, though. I've been a fan of his show for a long time. It was also, the music. They do some cool stuff with the sound, and the artists he has. You know, he had Jack White for like a week, and Conan also plays guitar. We really liked that one, and a little more nerve-wracking.
The Wild Feathers' sound has been described in a variety of ways. Folk rock, Americana, Laurel Canyon sound, and roots rock. What's your take on the band's sound?
I think it's just a timing thing. If we came out 30 or 40 years ago, we would have just been rock and roll. There's so many different kinds of music now, with people wanting to label it. Basic rock and roll is the best way to describe it. With rock and roll, you can do anything. The Rolling Stones were rock and roll, but they played blues, country, folk and everything. Even though it's a loose term, it gives us the freedom to do what we want to do. Just a rock and roll band.
The band has opened for legends such as Willie Nelson, Bob Dylan, and Paul Simon. What are some moments that have really stood out to you from these tours?
One of the most righteous things was after the second or third day on tour with Willie. He brought us up on stage. His daughter was like, "Hey, Willie wants to know if you want to come sing with him on a couple of songs." Before we even knew what songs he wanted us to sing on, we were like, "Yes! Let's go!". We wound up doing a medley of "I'll Fly Away", "Circle Be Unbroken", "Roll Me Up and Smoke Me When I Die". It kept on happening every night, and you'd be right up there with Willie and he'd just look and wink at you. It would be just heartmelting. That was probably the highlight of the last couple of years. Hell, all the years I've been playing.

There's that, then Paul Simon on his tour. We didn't get to speak to Dylan, of course. I'm not sure I'd want to, in case he said something weird, even though Dylan's one of the biggest influences in my life. Paul Simon gave us a lot of great words of wisdom and everything. Records to listen to, how to be. That was great, too.
The band has been hitting the road extensively, and last year, you played Hangout Music Fest, and Forecastle Fest, that I'm aware of. Are you guys planning on playing some festival dates this year, schedule another tour, or just take some time off?
I think we're pretty busy. We just finished this tour a few days ago. Now we have South by South West, and a European tour. We'll be splitting to Europe for a couple of weeks, and breaking them in. Then we're back home. We're doing Bonnarroo, Firefly Music Fest. We have a few festival dates, and book a week or so around those to round it out. Then, I'm not sure about the fall, probably another US tour. I don't see us stopping any time soon. I bet we'll tour until we're ready for the next record and then start it all over.
The album has been out almost a year now. Have you guys been working on a followup?
We're always thinking about it in the back of our heads. We're still on the uphill climb on this thing, getting our name out there, trying to work really hard and play as many gigs as possible. We've got like a million songs and ideas. We don't talk to anybody else about it, just the band. When the time comes, we'll be ready.
We usually finish up with a random question. Our little schtick to change things up and have a little fun. If you were to cover a song from ANY genre, what song would it be, by who, and why would you like to cover it?
Oh man, let me think for a second. Damn, dude. I'll have to think about it. That's a tough one. I've always wanted to cover "Radar Love" by Golden Earring.
I haven't heard that song in a long time. Was that on "Moontan"?
I don't know, it's kind of one of those one-hit-wonder things. I just love that drum beat, the guitar riff, and the chorus is fucking great. I just had to think of a good one that would be fun live to play, to get them pumped up.
Joel, I really appreciate the time speaking with me. It's been fun. Take care!
Keep up with the Wild Feathers below:
Official Site
Facebook
Twitter
Preview or purchase below:

The Wild Feathers – Got It Wrong: