Pleasure and Pain. An interview with Aaron Nordstrom and Rich Juzwick from Gemini Syndrome.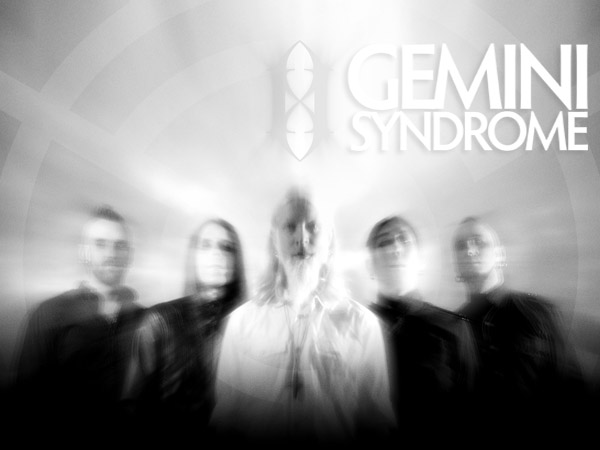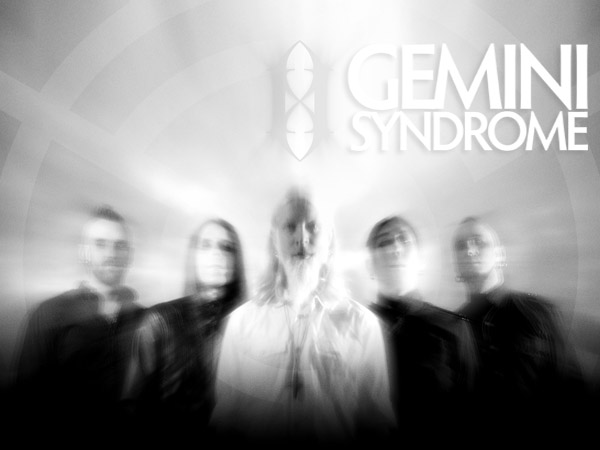 Los Angeles is the epicenter of modern music. That's where we found our next band. They are a band that has been on my radar for some time now. That band is Gemini Syndrome. With a writer in Los Angeles (Caren Spitler), it's a given that we keep an eye on the action that takes place on the Sunset Strip. After signing with Warner Brothers Records, the band has hit the road with Metal vets Mushroomhead. Gemini Syndrome features guitarist (formerly of OTEP) turned vocalist Aaron Nordstrom. His range is incredible and his delivery is fierce, add in his intimidating appearance and the band is one that you won't soon forget. This is a band that will make waves in the music industry, mark it down. From what I've been able to hear thus far, I'd say for quick reference they are 5% Static-X, 5% Mudvayne and 90% ass kicking Gemini Syndrome. They are slated to play tons of festivals this year, including Rock On The Range. If you are out there this Summer, keep an eye ear open for Gemini Syndrome.
Listen to the entire Gemini Syndrome interview below:
[ca_audio url="http://www.unsungmelody.com/wp-content/uploads/2013/02/Aaron-and-Rich-from-Gemini-Syndrome-interview.mp3″ width="500″ height="27″ css_class="codeart-google-mp3-player" autoplay="false"]
Today, I'm joined by both Aaron Nordstrom and Rich Juzwick. Aaron and Rich are the vocalist and guitarist from the band Gemini Syndrome. First off guys, thanks for joining us today and welcome to the Unsung Melody family.
UM: For most of our readers, this will be an introduction to your band. So, let's dive into the history of the band a bit. How did the band come together?
Aaron: It just happened through a perfect storm man. We met, the chemistry and we just started making music.
UM: So it was pretty much an immediate chemistry then, not a whole lot of settling in kind of thing?
Aaron: No, not really. This is the original lineup that we had put together since day one.
UM: There is an EP out there. I found it on Spotify. I particularly enjoyed the song Basement from that EP. I'm assuming that would be one of the songs that ultimately led the band to Warner Brothers.
Rich: Definitely. That EP was the original batch of songs that we had done with Mikey Doling He produced those. We put those six songs out and that's what we used when we were playing live. We were selling that EP. We played all of that original batch of songs. Basement has always been like a fan favorite. So, we played the song Basement and all of those other songs were the core of what translated us to Warner Brothers. It was the core of what we were sounding like and it was definitely instrumental in helping us get the deal then.
UM: What were some of the factors that led to signing with Warner Brothers?
Rich: As far as going with Warner Brothers, they are just part of our circle. Everything we do is kind of like a cultish family and they were a apart of the people that we were working with. So, just looking at what they were as a label and the history of the bands. It's just a good fit that made sense. Ever since we signed with them, it's been great working with them.
UM: Pleasure & Pain is the lead single that people can download for free at the moment. Give us a little insight into that song.
Aaron: That was the last song that we wrote and recorded with Kevin Churko in Las Vegas last year. I think we all just decided that it hit the spectrum of everything we do. It's got incredibly heavy parts to it, but there are parts to it that have incredibly melodic parts. Which kind of encompasses what we do overall when we write. Some of our stuff is really aggressive, but some of it really isn't. That was kind of a way to introduce ourselves to culture and not have them be surprised when we come down the road with some other sonically sounding music.
UM: Let's discuss your upcoming album. Have you settled upon a name and do you have a projected release date?
Rich: The title, we have different ideas, but nothing has stuck completely. We like to let things naturally, kind of organically evolve. We're not forcing anything. As of right now, there is nothing that is definitely sticking as a name. When it hits us, it's going to hit us.

As far as a release date, we don't have a concrete one. We just know it's going to be in the Summer. We're actually finalizing all those details right now. So, pretty soon we'll have the details about that.
UM: You mentioned working with Kevin, how was that whole experience for you guys?
Aaron: I thought it was fantastic. Kevin was a dream to work with. His work ethic is unparalleled, but at the same time he's very relaxed. So, it's not a stressful situation, but it's definitely an efficient situation. His personality is that he knows the ins and outs of recording and writing and it was a blast.
UM: You're currently out on tour with Mushroomhead. How's the tour been going so far?
Rich: Definitely. Mushroomhead fans have been awesome. Mushroomhead the band has been awesome. It's been a great experience. Every night, it's been bigger and better crowds, better energy. It's like you start off great and just keep getting greater. We couldn't be more happier being out with these guys.

We've been received really well by their fans too. So, that's always a good thing. I've had a lot of people come up to me saying, "I've never heard of you guys, but you've got another fan." That keeps happening night after night, so that's always very encouraging.
UM: I see you are playing some large festivals this year. Including Rock On The Range, what a freaking lineup this year. Congrats on that. Are you excited to play in front of so many, so quickly?
Rich: I'm sure it's going to be awesome. All those shows are going to be big. As far as us playing in front of that many people, we kind of tip-toed into that. We played the Aftershock Festival in Sacramento in September. So, we've had a little bit of experience playing outdoors and playing in front of big crowds like that. It's a little intimidating, but at the same time it's not like daunting. We're excited to do it. We feel very lucky to be doing it.

Aaron: It's a good intimidating.
UM: You guys made quite the name for yourselves in and around the Los Angeles area. How valuable or even invaluable is the experience you gained from playing the Strip?
Rich: It's extremely valuable. I guess the way to equate it possibly would be if you're playing Major League sports you play in those specific venues where everyone knows you are playing. A professional team doesn't just go play somewhere else and everyone else is expected to show up and understand what that game is. As for playing on the Strip, it's where people expect a certain level of bands and so we've kind of banded together with other bands in LA and we're having these shows at the Roxy. Doing all that on the Strip, it's like all the energy and everything just came together there. If we tried to do it somewhere else in Hollywood, it wouldn't be the same thing.
UM: So, that's definitely a route you would suggest to any up and coming bands.
Rich: Yes, definitely.
UM: Alright, I always end on a random question. So, today is no different. You can't escape it. Other than the obvious stuff, gear, phones, clothing and food; What's the one item you can not go on tour without and why?
Aaron: My fleece blanket. (laughter) It's got puppies on it and it keeps me warm at night. (laughter)

Rich: Laptop. I sound like a complete person of today, but there's so much that I've got to do on there. I'm handling emails, we run our show off of it. Every single aspect of what we're doing has to run through that and when I don't have wi-fi, it'd be my phone, because I try to get stuff done through that. I can't go anywhere without that.
UM: I thank you so much for joining us. The site and myself wish you absolutely nothing but the best and hopefully we can get caught up at a show some time soon. You guys be safe out there.
Keep up with Gemini Syndrome:
GeminiSyndrome.Com
Facebook
Twitter
Check out this video for Pleasure and Pain by Gemini Syndrome below: