Old Glory & The Wild Revival. An interview with Jared James Nichols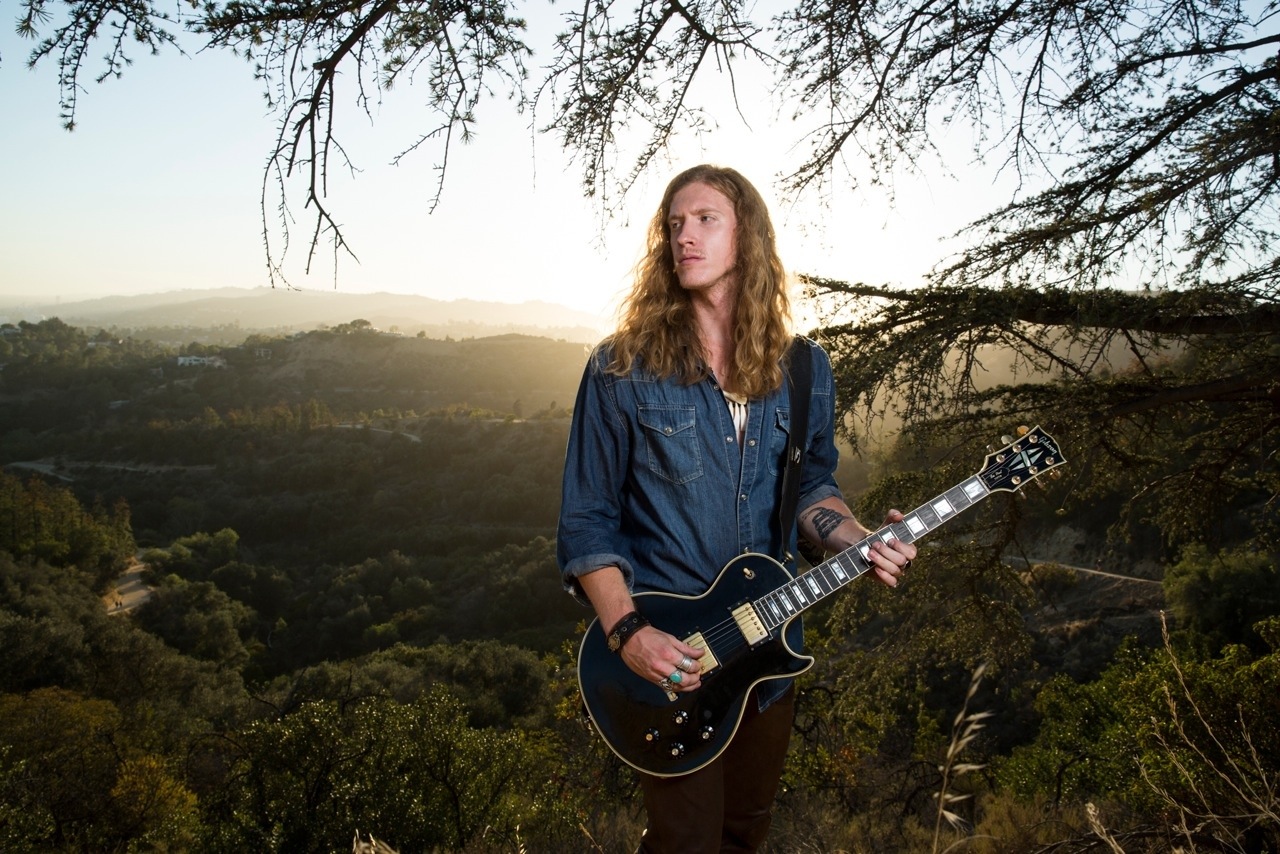 As I've said many times before, music is stale and it needs a swift kick in the ass it seems. Well, let me introduce you to a young man wearing shitkickers and he ain't afraid to use them. Jared James Nichols is a 22-year old blues guitarist that plays his Flying V like a man possessed. In fact, I'm not sure he hasn't found the crossroads where Robert Johnson supposedly made his deal with the devil. This kid can play. This kid can sing and he's poised to make a name for himself. We're honored to have him as a part of the site.
Click here to listen to the entire Jared James Nichols interview.
[ca_audio url_mp3="http://www.unsungmelody.com/wp-content/uploads/2013/07/Jared-James-Nichols-interview.mp3″ url_ogg="" skin="regular" align="none"]
Today I'm welcoming a young Unsung Artist to to the family. Jared James Nichols has been called a prodigy as a blues guitarist and he's been kind enough to join me today. First off, thanks so much for joining me and welcome to the Unsung Melody family.
Thank you so much. It's a pleasure and an honor.
For most, this will be an introduction to you and your music. So, I'd like to ask a few questions to kinda get to know you a little better. You've seemingly burst onto the scene from out of nowhere. Where are you from?
Originally, I was born and raised in Wisconsin. Near the Illinois border. That's pretty much where I lived up until about 2-1/2 years ago when I relocated to Los Angeles.
I'm not sure if you're aware or not, but Wisconsin isn't really known for the blues.
This is true. This is true. (laughter)
How did you discover that you loved the blues and wanted to pursue that genre as a musician?
Well, the thing that really struck me with the blues, when I first heard it I was say 14 years old. I went back to a tape a friend had given me of Stevie Ray Vaughn. Being from East Troy, Wisconsin, that is where he performed his last concert before he had died. He was very well known in the area and I saw this tape, I had been playing guitar for a few months, but when I saw him play it just clicked for me and it made sense. I was just like, "Wow. That's powerful and that's really expressive and soulful." I just got it right away. It was a really cool experience. Although you say there's not a lot of blues in Wisconsin, there is quite a few blues jams on weekends and that's where I got my start. I would have my Mom drag me out to all of these blues jams so I could play with all the old guys. Just to get up there. I was playing for a few months and I was already onstage playing with these guys who have been playing the blues their whole lives. So, it was a really cool experience.
Are you a self-taught player?
I was self-taught for most of my career, until I took a little bit of training in Boston at a school named The Berklee School of Music. I studied there for a year. I basically went there to learn more of the theory and knowledge of what I was playing. As far as the blues goes, and the music I play, I was definitely self-taught. I learned like so many others did. I had record collections from my parents. I just listened to those and through trial and error, I taught myself the kind of blues style that I wanted to play.
You're actually part of a trio, tell me where you found your bandmates and how you guys became a band.
It was kind of funny. The first week when I got to Los Angeles, I was bound and determined to figure something out right away. So, I entered a guitar contest that I saw. They were advertising on the radio, I saw some flyers around town and it was a a Les Paul Tribute contest. I thought to myself, "You know what? There's no better way to get in and start trying to do it by entering a contest." I ended up entering and there was 10 guys in the final round. Luckily and gratefully, I won. Through my experience, one of the judges, who is now my manager, I met him one of the first days I was here in LA and he asked me, "Do you have a band? Who are you playing with now?" I was like, "I just got here. I don't have anybody yet." He said, "Well find a band and then come and find me." Okay, alright. So, I found the first guy I saw playing a bass guitar and that turned out to be my bassist Eric. I said, "Hey man, do you know how to play any blues?" He's like, "Yeah, a little bit." I said, "Well, I've got to start a band right now. I have some songs ready and I want to start playing. Are you interested?" He said, "Oh yeah, that would be great. I've been looking to be in a band for a long time now." I said, "Okay. Do you know any drummers?" He's like, "Yeah. I have a friend who's really good." I said, "Yeah, but can he play like blues stuff and rock stuff?" He says, "Yeah. He can." So, that night, I met with the guys. These guys are Swedish, so they had just moved here from Sweden. There was a bit of a language barrier there for a minute. I walked into the room and I said, "Can you guys play blues? Can you play anything like that? Can you play a shuffle?" So, then we started to play like an old Freddie King song. I was like, "Okay, this might work out." Those were the first guys that I played with and I'm still playing with them now. So, it's a really cool thing to have us start up to literally like discovering it together. To now, where we just released this EP together. So, it was pretty cool.
Look at you making it look easy. Go out there and the first person you meet is your manager. Then you got a band right away. Awesome though.
Yeah, it was probably the best luck that I've ever had on that. That's for sure.
I've gotta say seeing someone play a slide on a Flying V isn't your everyday blues man. Was there something from a sound aspect that drew you to that particular instrument or was it simply the cool factor?
I started out with a Fender Stratocaster. Then I wanted something different. One of my favorites of all-time is Albert King and Lonnie Mac. I always felt that their tone was so great through a Flying V. Of course, it brings that edge to it with the way that it looks. Everybody is like, "What the heck is that thing?" It looks kind of wacky, but I love the Flying V's. Especially the older style ones. I feel like those have a great tone and I guess, it comes down to almost a mix of Fender guitars and a Gibson guitar. In the way that they are still really light and thin, but they still have a lot of the full sound from say a Les Paul. Lately, I've been playing more Les Paul's and going for that sound. So, I tend to switch around a little bit. Keep it interesting.
You literally just released your debut EP titled, Old Glory & The Wild Revival. I find the title intriguing. Old Glory I obviously understand, but what exactly is The Wild Revival?
Well, there is a few different ways that I look at it. Old Glory & The Wild Revival to me represents, a mix of everything great from the past meeting this new generation. This new excitement for the music. Almost like a new discovery. They had the blues boom in the 60's, then when Stevie Ray Vaughn came back in the early 80's. It's never gone away, but it's always came back with a little spice. Where it really blows up a little bit. The way I feel right now, is that people are looking for some real, authentic, honest music and I feel like there is no better time than now to have a Wild Revival and a little spark, in that old flair with all the excitement and freshness that it still has. Basically, just sparking another little boom in the blues rock world.
I was hoping you would say that. Because, I honestly feel pretty much the same way. We are sitting on the fringe or the verge of a rock and roll revival. There's bands out there that are some of my favorites. Like Rival Sons, Leogun, Vintage Trouble. Even more mainstream is The Alabama Shakes and The Black Keys. They still have that sound, but everything is seemingly cyclical in nature, so it seems like it's about time.
I think you're right on that end.
You have a tour starting up and I want to ask about a specific show. Being a Wisconsin native, how big of an honor is it to be playing Harley-Davidson's 110th Birthday Celebration?
It's kind of surreal. It's basically like a homecoming. I honestly haven't been home and played a show in like three years. It's like I left, I came here, I did all this stuff and now this for me is like a homecoming. To come back to everybody. To share this new music. To play for Harley. It's an absolute honor. I always dreamt of playing this Harley show. I remember when the 100th anniversary show came around, I was like, "Man, if I ever get to play a show like that, this is going to be amazing." To be invited back to the 110th anniversary, I had to sit down for a second and take that in. All I could say was, "Yeah. We will be there. Tell me when and we will be there." It's a great honor, because in a few weeks, we're going to be heading up to Sturgis to play at the Buffalo Chip with Kid Rock, The Doobie Brothers and ZZ Top. Basically, the whole same lineup from Sturgis will be at the Milwaukee 110th. It's just going to be a really cool few weeks. That's all I can say on that one.
Alright, I always end on a random question, so today is no different. What was your favorite playground game?
That's an easy one. Monkey bars all the way. I was one of those kids that could go on those monkey bars for hours. Flips, just turning around, basically until I broke my leg at one point just going crazy. So, if I had to answer anything it would be the monkey bars.
Sounds like the acrobatic career was put on hold with the broken bone.
Yeah. It'll be a few more years until I unveil the whole tight rope and the traveling circus act. (laughter)
Jared, I appreciate your time so very much. The site and myself wish you nothing but the best. You be safe out there.
Keep up with Jared James Nichols below:
Facebook
Twitter
Reverbnation
Purchase or preview Old Glory & The Wild Revival below:

Get to know Jared James Nichols a little better below: