Locked and Loaded. An Interview With Taki Sassaris From Eve To Adam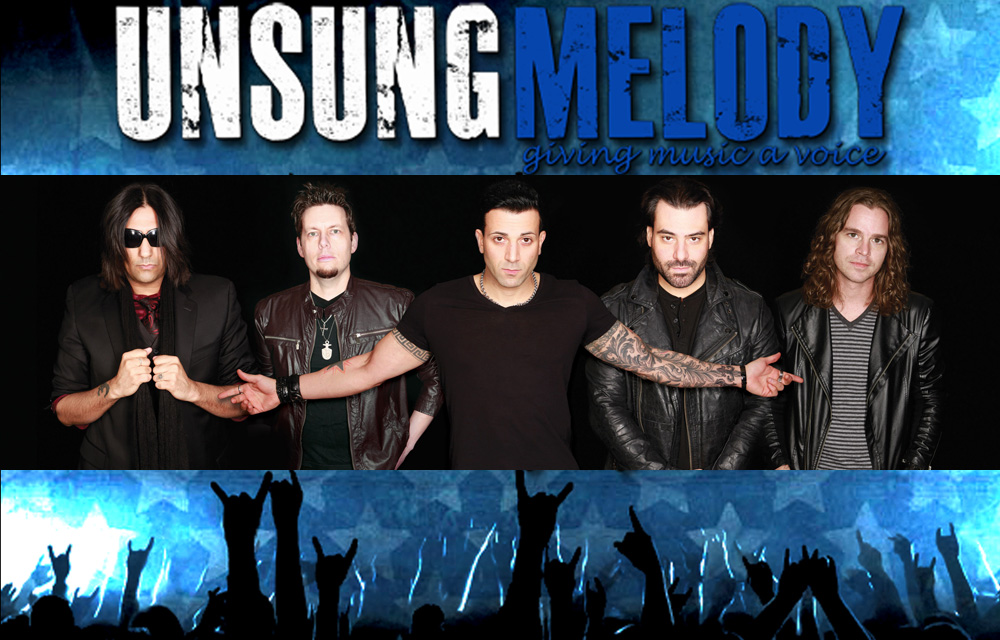 Eve To Adam is a band that's been around the block. A few times actually, but now they are armed with what it takes to reach the next level. They're about to release their newest album titled Locked And Loaded on September 17th. The band worked with some of the best producers around in Elvis Baskette (Incubus, Falling In Reverse, Alter Bridge), Eric Bass (Shinedown) and Dave Bassett (Shinedown, Halestorm) to create Locked And Loaded and they are more than ready to share their hard work with the world.
Listen to the entire Taki Sassaris interview below:
[ca_audio url_mp3="http://www.unsungmelody.com/wp-content/uploads/2013/08/Taki-Sassaris-from-Eve-To-Adam-interview.mp3″ url_ogg="" skin="regular" align="none"]
Today I'm joined by Taki Sassaris. Taki is the voice behind the band Eve To Adam. First off thanks for joining me and welcome to the Unsung Melody family.
Thank you man and thanks for asking me to do this. It's a real pleasure.
We'll jump right in here. You guys have a new album coming out in September. It's titled Locked And Loaded. Is the title a bit of a description of the band itself?
The title really describes the fact that the album is stacked with big song after big song. Hard hitting. Big guitar sounds. Loud. Big vocals. It's a big hard rock album stacked with a lot of big hit songs. Locked and Loaded was our opportunity to do an album with the biggest producers we've ever worked with. The most talented crew we've ever had and this is our fifth album and we're swinging for the fences on this one. This is going the album that's going to break this band.
For your fans clamoring for new music, how would you say Eve To Adam has evolved since Auburn Slip?
I mean, it's a difference to when you first start popping pimples and then you actually start banging hot chicks. (laughter) From going from being 13 years old basically as an adolescent, is what I would equate to us on Auburn Slip, just learned how to throw a punch. Then now, being in cage matches. It's an unbelievable evolution. A lot of which has come through touring and just pure dedication. Dedication to always wanting to get better. Dedication to want to write better songs. Dedication to learn how to be a better showman, frontman. Just constantly having hunger for becoming a better musician and a greater entertainer. I think what's great about Auburn Slip, is you can listen to the album and you can hear all the elements. If you took Auburn Slip, put it side by side with Locked and Loaded. You could actually hear the infancy of Eve to Adam in Auburn Slip and what you hear is also the seeds of the ingredients. The basic ingredients of the band. The song writing style. The formula in a sense and you could put it next to Locked and Loaded and you can actually see this is the kids before steroids and now this is the adult. Jacked up and ready to rock.
The first single is Straitjacket Supermodel and it's a barnburner. Let's talk a bit about the writing process for that song.
Yeah. It is. It's a real barnburner. Straightjacket Supermodel is the kind of thing you just douse it with gasoline, light a match and watch the fucker burn. That's the kind of tune we wanted to make. If you can't kick off an album with that? What are you going to do? It's like we made the video to match the tune. That's why we put the Playboy playmate Kristen Nicole in there. We put Juliya. It's like this, we grew up on big rock. Big rock, big metal. Metal videos always had a certain look and we wanted to bring a little bit of that back because we kind of feel like things have become so pc. We wanted to take a chance and some people, it rubbed them the wrong way, but the majority of the people that listen to this kind of music, they love that video. I enjoyed making it and I'm glad we did it.
You definitely had to enjoy making it. (laughter) How did the lovely Mistress Juliya become involved in this one?
It happened to be, we got lucky with that. Because the director we chose to direct the video, Frankie Nasso, he was really good friends with her and had worked with her before. My manager had just come into touch with her through some mutual friends and what not. It just all kind of worked out. We started putting together the theme for the video, we really thought that she could play the lead. I mean she's beautiful and she's has a sadistic kind of vibe to her and she's the high priestess of metal. So it all kind of worked out. She's a real pleasure to work with and we had a really great time.
For me, one of my favorite tracks is Forgive. If you wouldn't mind sharing a little insight into the song, I'd love to hear the backstory.
Yeah of course Jonathan. Of course. Look Forgive is one of the songs that we wrote in the studio with Elvis Baskette. It was a riff that Guarav walked in with and as we were building the song, I was in the studio and I had a breakthrough moment with the screaming part. The heavy, heavy stuff of the song. Forgive is definitely of personal nature, but really it's a song that touches on the fact that the hardest thing that I feel, in this human condition, is to actually forgive. To get past a grudge and get over the hate so you can move on with your life. I think it requires such an inner strength to do so that it becomes one of the hardest quests in life to do. I have friends that haven't been able to get over the hump. I've had situations in my life where I've had to, because otherwise I'd be stuck in the same place. So, I really wanted to write a song about that and maybe it could help someone else find the doorway out of that chasm of being stuck in the moment. That one moment forever. It drains you and it takes time from your life, so it was an important song for me to get out and as we've been playing that song live on this tour, I can see how important it's going to be for a lot of other people.
Very cool. I appreciate you sharing that.
Yeah. No problem.
Speaking of touring, you're finishing up a tour with Texas Hippie Coalition. That's an eclectic bill there. How was that tour for you guys?
We have our last show here in Texas. We did 30 shows with these guys. We traversed the entire United States. It's been amazing. The guys kick ass. We've got great comradery. It's a great mix between us. We're more hard rock, their style is kind of like red dirt southern metal. The crowd has been very receptive to both bands. I think we were a genuine surprise to their audience and I've got to be honest with you man, it's been wonderful. We're looking forward to doing more touring with him in 2014 when they have a new album coming out and we're firing on all cylinders with Locked and Loaded. We've made genuine friends with these guys. I respect their work ethic. I respect their sound and I respect what they do onstage. So, when you get that kind of comradery going on a tour, as hard as this has been, it makes things a lot easier.
You just mentioned playing forgive on this tour and I'm sure you've been playing the single. Did you test out much new material?
Jonathan, the truth is we played about 90% of the set is actually brand new material. Nine of the 11 songs on this record and we have had the opportunity to test out the material and it's been going over great. From Immortal, the next single, to tracks like Forgive Fortune Teller, Locked and Loaded. We open with Bender and it's amazing to watch a crowd transform through a set, that by the second chorus of the song they've attached themselves to, they don't know the exact words, but they're singing the melody along with you. For a first time listen in a live atmosphere, that's a real testament to the fact that we did the work. We went in and we wrote the right group of songs and the production, the arrangements. We pushed it as far as we could. The proofs in the pudding and I'm seeing it every night.
Alright I always end on a random question, so here goes yours. You're stranded on a desert island and a plane crashes. It's carrying hundreds of bottles of vodka. What brand do you hope is in the crates?
(laughter) You know I'm a vodka guy, so that's pretty good. I'm straight up an Absolut guy. I try to go too fancy and I don't want to try to slum it too much, but if you've got a solid jumbo bottle of Absolut for me, I'm ready to rock.
Nice. Welp I appreciate your time and want to wish you and the band nothing but the best. Be safe and we'll see you on the road.
Keep up with Eve To Adam below:
Official Site
Facebook
Twitter
Preview or purchase the single Straightjacket Supermodel below:

Eve To Adam – Straightjacket Supermodel: