I Can Feel it in My Bones. An interview with Gustav Wood from Young Guns.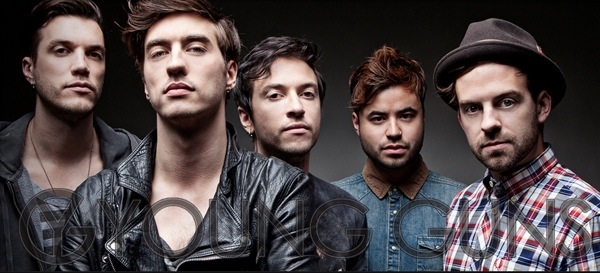 Active Rock has been abuzz with a band from the UK as of late. That band is Young Guns. Their single Bones has taken them out on tour with Seether here in the States at the end of last year. They are returning to the road with 10 Years starting on the 18th. You'll be hard-pressed to find a large festival this summer that the band will not be on. To say that they are well on their way to becoming a household name would be a massive understatement. The album Bones is out now. It is an absolutely amazing collection of songs and well worth your time to check it out.
Listen to the entire Gustav Wood interview below:
[ca_audio url="http://www.unsungmelody.com/wp-content/uploads/2013/02/Gustav-Wood-of-Young-Guns-interview.mp3″ width="500″ height="27″ css_class="codeart-google-mp3-player" autoplay="false"]
Today I'm welcoming Gustav Wood to the Unsung Melody family. Gustav is the vocalist of one the fastest rising bands out there. That band is called Young Guns. Gustav, thank you so very much taking the time to speak with us.
For most, your album Bones is the first time they have heard the band here in the States. Let me just say, I feel this album is an absolute monster. When writing this album, how long was the process from start to finish?
Well, without going into too much boring history, this album came together very quickly at home here in the UK. Literally, all we had written before was one EP with four songs on it. We just wrote enough songs to be able to play a show and things like that. We didn't think about anything else. The press kind of caught hold of that and gave us some favorable reviews and things happened very quickly over here. We ended up spending 2 or 3 years, most of each year, on the road up until the 2nd record. So, everything happened very quickly.

The first record was almost an afterthought. It was something that we needed to put out to continue touring. So, now we find ourselves in this great position where we do have a fansbase and we're ready to record the 2nd album, but we do not have anything. We had no material really to fall back on. Nothing pre-written or any library of riffs that we could go through or anything like that, so we went into the process a little bit naked. We gave ourselves about three months off from touring to write and record it. We spent 4-6 weeks of that unable to write anything. So, we ended up writing the whole record in about 6 or 7 weeks. Then we went straight into the studio and recorded it, which took about a month. So, I'd imagine the whole process took about three months, but a lot of that was us procrastinating and wasting time. Just butting our heads against a brick wall I guess.
The title track has been doing quite well for you guys. When you finished that song, Did you guys feel you had something special and was it sort of a surreal moment to hear the finished product?
Yeah. There was always something about it. I think we felt that we had kind of outdone ourselves maybe, on that song. Perhaps that song, was us realizing what we wanted to do for that record. To the greatest extent, we managed to nail that song. It was a really nice feeling. I stood back behind the desk in the studio after I finished up tracking the vocals, it was one of the first songs that had everything on it. It was one of the first songs that I did vocally. We stood back, it was like four in the morning in this studio in Thailand. We listened to it and everyone was smiling. The room was abuzz. It just felt right.

So, every now and again, you can almost accidently listen to your own music as an outsider. It just happens and you hear it as if it isn't your own band. That was definitely one of those times and I still liked it. I think if you are in a band, the greatest thing you can hope for, is to like the music and would listen to it if you weren't in the band.

So yeah, that was a real moment. That's definitely something I will never forget. I didn't really think that things would progress as far as they have though. With the American record deal and the way it has been connecting at the radio and stuff over in America is a surprise to us. It's fantastic. We're really lucky and I'm proud of that song.
The video for Bones is quite intense. Who did you work with in that video?
It's a friend of ours named Tim Mattia. He had done the last video that we'd shot on our first album. The album campaign on that record was finished at that point. So, we wanted to release one more single. We did a more artistic, creative black and white video. We got this guy Tim Mattia to shoot it and we really liked him. We wanted to use him on the 2nd record, but our budget was such that we knew we would only be able to have a big dramatic video from him once in the campaign, but we decided to save it for our 2nd video Bones and I think he did a great job. There's a lot of great movements, and shapes, and silhouettes in the video. It's not an overly complex idea, it's just about strong visuals and I think it suits the (song and) video really well. It has a bit of London in the background as well.
The young lady in the video for Bones, that's not the same lady who appears on the album cover, correct?
No. The whole idea I guess, is she's kind of mirroring the album art, but she's just a lady that kind of agreed to come and an extra in our video. I spent an afternoon or so watching her do that bit where she jumps and falling ass lots of times. Not great for her, but good for us I suppose.
Well it was a fun day at least. You had some humor going.
We did, we did. I mean I grew up dreaming that I'd be able to one day shoot a video for a band that I would one day join in my mind. The first time we did it, it was an amazing thing. Seven videos later, you're like okay, I get it. This is not fun. (laughter) That was one of the better experiences that we've had.
I love your song Dearly Departed. Is there a specific story behind that song?
Yeah, I guess there is. I mean, with the 2nd record, we wanted to write an album that had a little more to offer. A little wider range of lyrics. The first record was the result of being in a musical genre and niche of young UK rock bands.

The 2nd album, we wanted to be a lot more widescreen and just write big rock songs. I've never written a song about love and I thought, oh okay, I need to write a love song. I need to keep it fresh and challenge myself. Being a kind of a dark pessimistic bastard, I ended up running with the idea that love can be a destructive thing, as much as it can be a positive thing.

I just had this line, I want to be the last thing that you see my dearly departed. So, it's kind of the idea that love can smother, as well as be a positive thing. So, I suppose it's a love song, but in a very dark, twisted way.

I actually wanted the video to be all of us being killed and buried in different ways, but that didn't go down that well with the people I suggested it to.
Sometimes the end result isn't what you had in mind, but it turned out well.
Exactly, yeah. I think especially with videos, you must always balance what you see in your head with what you can afford and that'll be more often than not, things will be really different.
Personally, I feel you guys have a more Alternative sound mixed with Modern Rock. I did read in a few different places, where people are saying you guys are leading the New, New Wave of British Heavy Metal. What does that all mean to you and the band?
When we started the band, we would end up playing on bills, little all day festivals or in little bars or clubs to like 20 people. We'd play with like tech metal bands or pop punk bands and be stuck on all of these different bills and we just never seemed to find a group of bands that we sonically worked with. I mean this is about five years ago now. The musical climate was a little bit different then, but we always found that we stood out.

That's something that we found really unusual to us. So, people were always putting labels on us and we were kind of surprised by all of this, because as far as we're concerned, we're just a rock band. We're just a five piece rock band. We write melodic rock songs, it's not like we are re-inventing the wheel.

People have always struggled to kind of pigeon hole us I think. That seems to still be continuing. We've had a degree of connection at Active Rock radio and that's amazing, but I don't consider us an Active Rock band. I just consider us a rock band. I'm happy to be at the forefront of the New Wave of British Heavy Metal if that's what people say, but I don't consider us a metal band. I don't really even want us to be limited to being a British band. I just want us to be a band, but whatever anyone else wants to call us is fine by me.
You are heading out with 10 Years really soon. Fill us in on some details of the tour.
It runs for a month, starting on the 18th. We're hitting up a bunch of places that we've never been to before.

We start in Nashville, which is something that we're all really excited about. Obviously, there is a lot of musical history there.

It's mostly club size shows. Mostly West Coast and we finish up at SxSW. Which is something that we are really excited about. We haven't had the chance to do that before. Actually, we've never even been to Texas, so the band is about to embark on a lot of first time experiences in the United States. This tour promises a lot of that.

We're looking forward to coming back and playing some smaller club shows after the Seether tour, which were wonderful big theater shows and that happened at the end of last year. So, we're excited. We have a lot more work to do in the United States and it's a great tour to get to be able to come back on.
You'll be playing several festivals in the states this year. One in particular I want to ask you about is Rock On The Range. My goodness what a lineup. How excited are you guys to be on that show?
Oh man. I almost feel guilty to be honest with you. Because things have gone so well for my band, so quickly in the United States. It's funny, because everybody here in the UK, when things started to happen, our peers were like…"Ugh, America. That's a grind. Prepare, it's going to be hard. No one is going to give a shit." Then, we came over and everyone has been really good to us and radio has connected and we've been offered loads of great festivals. It's amazing, but we can't believe it really. We're just taking every opportunity that we can and try and take each day as it comes.

That is indeed a phenomenal lineup. We're also playing a whole bunch of other festivals and it's amazing that we are getting to play to so many people.
Alright, I always end on a random question. So, of course today is no different. If they made a movie of your life thus far, what genre and title be?
It'd probably be a comedy. A comedy of errors and as for the title, it would probably be something along the lines of, How the fuck did that happen? (laughter) That's the state that I exist in permanently now. I'm like, what? Are you serious? Okay.

Being in a band is something that I always wanted to do and it happened relatively late in the day. I met these guys like 6 or 7 years ago, while we were working, but this band has really come out of nowhere for us in the past 4 or 5 years. So, every day we are just asking ourselves, "What the fuck has just happened?" So, yeah, that's what it would be called.
Gustav, I thank you so much for your time. The site and myself wish you and the band absolutely nothing but the best. Hopefully we can catch up at a show sometime soon. You guys be safe out there on the road.
Keep up with Young Guns below:
WeAreYoungGuns.Com
Facebook
Twitter
View the video for Bones on Youtube below:

Click the album cover to purchase your copy of Bones from Amazon: