Bend Over America. We're Going To Kick You In the Ass! An interview with Nick Perri from Silvertide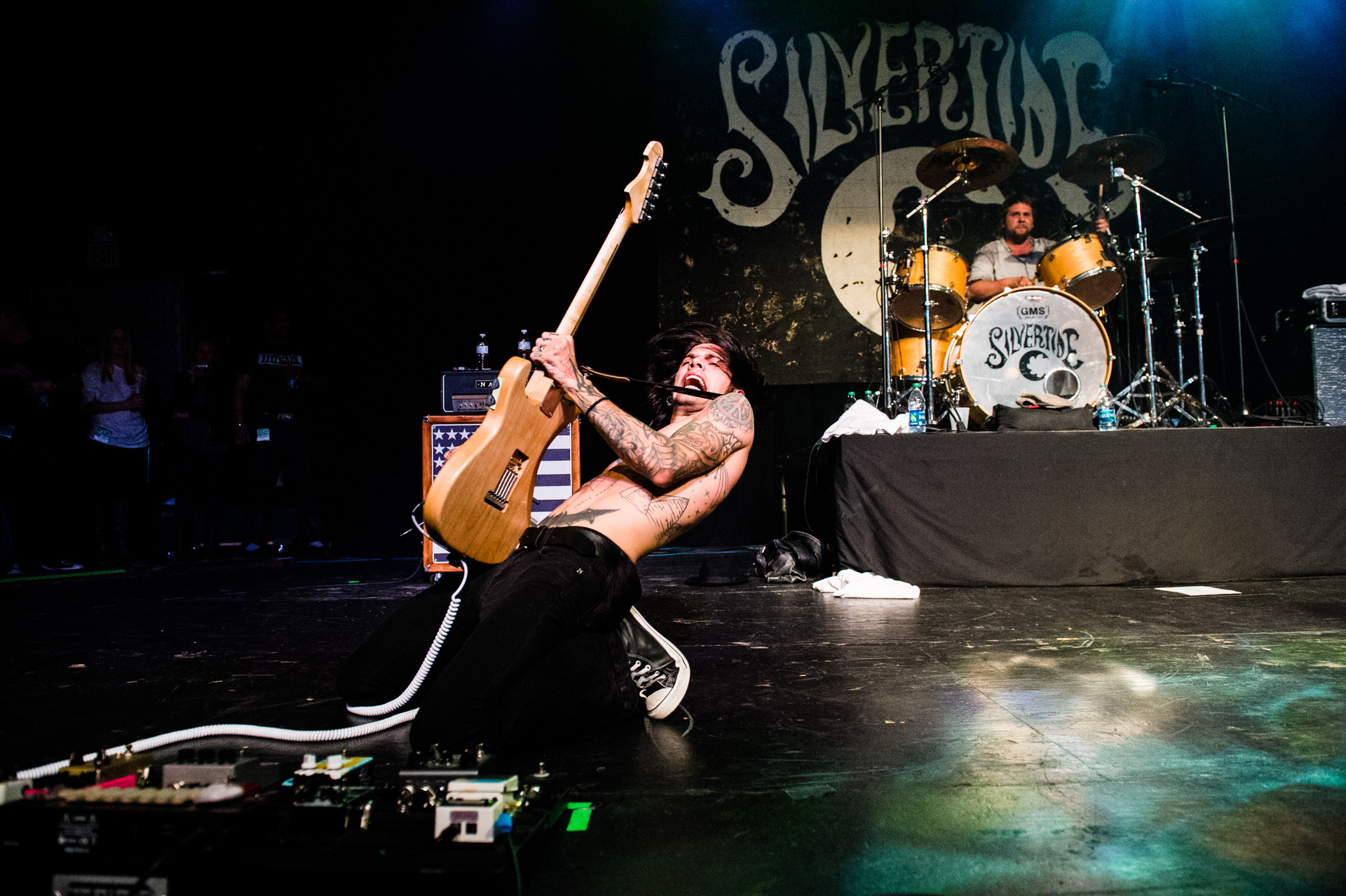 Recently, I had the tremendous opportunity to speak with not only one member of a band I've always admired, but the chance to speak with two members. That band is Silvertide and I was able to speak with guitarist Nick Perri and vocalist Walt Lafty. I asked them both a few similar questions to help us all fill in the blanks, but I think you'll quite enjoy both interviews. Up first is Nick Perri!
Feel free to check out the Walt Lafty interview here.
Silvertide is band that burst upon the rock world like few have in the last 15 years. Their sound was always classic. The hooks were massive and their talent was undeniable. They relentlessly toured the world over for nearly four years and built a fanbase that many bands would commit murder for. After being let go from their record contract, the band decided it was time for a hiatus. They'd seen enough of each other and they needed time to catch up on life. Hell, who could blame them? They were still just kids. Fast forward a few years and all the wounds have healed. They've explored other projects. They've gained life experiences are ready to once again deliver the goods. We here at Unsung Melody are strong believers that music is stale and that we are surely on the verge of a musical revolution. Perhaps we just reunited our leaders.
Listen to the entire Nick Perri interview below:
[ca_audio url_mp3="http://www.unsungmelody.com/wp-content/uploads/2013/07/Nick-Perri-from-Silvertide-interview.mp3″ url_ogg="" skin="regular" align="none"]
Today I'm joined Nick Perri. As you might remember, Nick is the guitarist for the reborn band Silvertide. First off, thanks for taking the time to speak with me today and welcome to the Unsung Melody family.
Thank you for having me man. I appreciate it. I'm happy to be here.
I want to say one thing first. Thank God Silvertide is back.
Thank you man. I appreciate it. I have to say, I kinda feel the same way. Silvertide was my baby years ago and we've all done different things since taking the break. I'm very proud of some of those other things. I got to play with some of my heroes and tour the world with a lot of other great artists, but Silvertide is still so close to home. Both literally and figuratively and it fits like an old glove. I mean, when we got in the room last February and started playing again, I remember the first rehearsal like it was last night. It was literally like five years had not even passed. It was just like the next day after the last show we did. It was amazing and really humbling and just a wonderful experience. Certainly having all five original members together has to be the biggest part of that. It's the same band, we're the same people. It's just a couple of years later. There's nothing new about it. it's the same old thing. We're doing the same deal, which is straight ahead, kick your ass, American rock and roll. So, why mess with a good thing. We're the same band.
Music to my ears Nick. (laughter) In the overall scheme of things, what made now the right time to reform Silvertide?
I think there is a lot of answers to that. Probably the most simple answer, is it just felt right. It's something that we've actually been talking about for a while. What you're seeing now, with us coming back out and recording, doing shows. That's kind of the fruition of a plan that was put into place about a year and a half ago. So the gears have been turning behind the scenes now for quite a little while. It just felt right. The band went through a lot. I dropped out of high school at 16 years old and started touring the world with these guys. It was the time of our lives. We were kind of handed the keys to every city that we were in. It was a free-for-all and it was a lot of fun. A lot of partying and a lot of drama, and all kinda crazy stuff. Walt may elaborate more on that. When we took a break, it was like wow. We really needed to take a break. Looking back now, I would never recommend to anybody to spend almost four years on the road straight with no break. It's bad for relationships. It's bad for different personalities, and just bad for your health. You can pick up bad habits. It was fun, fun, fun experience, but we were worked to the bone and when we took a break, we definitely needed it. Some years passed. We all did different things and regardless of the awesomeness of the thing, we all kind of knew that we'd all be playing together. We just didn't know when. I think last year, when we started talking again, I think we all felt it was right. Because everybody was able to have a conversation again and be honest and even be in the same room or on the same call and not want to kill each other. (laughter) As soon as we knew that we could do it, the five of us, we knew it was the right time. Plus, and this is the biggest thing, it's the fans. They are the most loyal, most awesome fan base in the world. They've gone almost 10 years without new music and they're so rabid and so alive and so hungry and fierce for music, that's like a huge motivating thing. It's like this, let's give them what they want and what they've waited so patiently for. We're really blessed, because without them, we'd have nothing. There'd be no reason to reunite, because we'd be playing in my Mom's basement again or something. So because of them, we can play sold out shows. We can put music out and have it be soaked up. So really it's a testament to them and for never stopping their faith in the group. Incidentally, they've helped it spread. Show & Tell has become like this cult record all over the world. Places like we've never been before or even played. People have discovered the record and that's quite an honor.
That's one of the things, you mentioned dropping out of high school to tour the world, you guys burst onto the scene with an album that just kicked everybody's ass and you guys were so young. You were playing music that was well beyond your years. Since you guys have came back together and you've been writing again, I realize you can't say a whole lot about stuff, but is the music and the passion as explosive as the first album? What's the overall feel like?
Honestly, and I've said this before, the first song that we have done, and I can tell you as a sneak peek, the name of the first song that people will probably hear is called Try, Try, Try. Honestly, to me, this is just my opinion, it feels like Devil's Daughter Part Two. It's right down the middle of what the band did and it feels every bit as explosive. I mean look, you don't have a group of guys here who are all kind of like lazy and just getting together for the wind that blows. None of us are sitting fat somewhere, we're still hungry and I think that comes through. The band was always hungry. I mean look at Walt, he's like 120 some pounds. Looks like the guy could use a good meal, back then and today. (laughter) So, it's like the same vibe. We actually had a conversation about it. We said look, what is this going to be? The unanimous decision, not like it was even a vote, but the unanimous decision was do what we do and not give a shit about what's happening. Back then it was the Backstreet Boys and NSYNC and Britney Spears and all that, and Limp Bizkit. Today it's whoever, but that doesn't effect what we do. We grew up on the Stones, and the Beatles, and Zeppelin and AC/DC. That's the stuff that we grew up on. Hendrix and Pink Floyd, those are the influences that we have and that's the music that we love. I still listen to it. I own a shop in Hollywood with my wife called Perri Ink, it's a retail store. You can walk in any day of the week and that's what you hear. You're on Melrose Avenue, you walk from one store where you're hearing like dance music, but when you pass us and you're hearing like Skynyrd or Johnny Winter, Muddy Waters. That's the stuff that I love and that I wear on my sleeve. It's not an act, it's what I actually, genuinely love and that's what I play. So, when I write songs and I'm writing these riffs, that's what's coming out. It's not a contrived thing.
I was going to say, you have quite the eclectic business in Perri Ink Cartel. Let me see if I hit it all; Tattoos and piercings, motorcycle parts and repair, and custom guitars. Most choose one business, but you said screw it and put it all under one roof. How did that come about?
Someone once said, and I forget who, but they said that when they walked into the shop, it looked like my brain exploded onto four walls. I think that's a pretty accurate statement. It's just really what's in my head. I love tattoos, I love guitars obviously, I love music, rock and roll, motorcycles. This is all stuff that I've been into my whole life. I just decided why not do like a one stop rock and roll shop? Why only have one thing, because if I have a tattoo shop, that's cool, but then it's going to be like every other tattoo shop. I love doing stuff that's different. I like standing out. I like making a lot of noise with anything that I do. It's just my type of personality. Just a loud personality. I'm sure if my wife was around, she'd attest to that and probably roll her eyes. (laughter) So, that's the vibe. I figured let's just do everything under one roof and see how it goes. Just the attention alone that it got for being so different, really helped the business right off the bat. Certainly all my musician friends, I've had everybody in that store, from pop stars to rock stars and everyone in between and they all love it. Because again, it's authentic. It's genuine. People who know me go, "Oh yeah. It's a no-brainer. Of course that's Nick's shop." Because that's who I am. It's not like I opened a shop and we're selling toasters. Now, if the toasters printed onto the bread, like maybe a rock and roll fist or a motorcycle, then I'd sell them. (laughter) It's gotta be under that roof man or rock and roll.
You need to add a coffee shop there too, because I love to people watch and that place sounds amazing for that.
Totally. Well we do offer, we are very lucky that we've been sponsored by Jack Daniels and Pabst Blue Ribbon since the first day we opened. We have that on top, as well as Monster Energy, so there's lots of fun stuff for patrons.
Back to the music, you mentioned the first song, Try, Try, Try, how much progress has been made since you posted a photo of that cd once it was mastered.
That was the finished mix, so basically we went into the studio and we cut like an EP's worth of songs. Maybe even a couple more. The recording was produced by the great David Ivory and he did our original EP called American Excess, which we released before Show & Tell. That came out, I believe in 2002. So, he's like an old friend and really a brother. We've always been great friends and stayed in touch with him. He's a fantastic producer. So really we just kept it all in the family and it just felt right. When it was just the five guys, plus him in a room, it was just like the old days. The studio's in the same spot, just outside of Philadelphia and was just really a trip down memory lane. I think that really captured the vibe and the essence of who the band was. We then passed the football to a really talented guy named Steve LaFashia. He mixed the song Try and he's going to be mixing the rest of them, one at a time as they're done. So really since I posted that photo, we're just one by one kind of getting these songs done. So we're excited. The most exciting part is I just want people to hear the first 30 seconds of Try because they're gonna smile man. It could be on Show & Tell and it's that Silvertide sound. I don't think we could've done something that didn't sound like that. Because this is what happens when you get us five in a room. It's chaotic. Walt always says this great line and it's something about how Silvertide was always a punk band disguised as a rock band. We were a rock band on the outside, but the attitude and the ferocity of the playing, was very much punk rock in spirit. I think he's dead on with that because our sessions, everything we do is chaotic in a beautiful way.
With this new music, what are you guys planning? Are you looking to shop the record for a big deal or a distribution deal or what?
I think that right now, that's to be determined. I'll tell you right off the bat, that we are having a ball finally being able to control exactly what we're doing without people putting their mitts all over it. So, I think, I'm unashamed to say all that, I don't care what people think. If someone is going to come aboard and help get this band back out there and someone wants to come aboard and do a deal, they're going to have to be, A) The right person/organization that gets it and gets what it is that we're trying to do. But B) they have to understand that this is not our first barbecue and that we have been through the wringer, we know all the pit falls, we're not going to be taken advantage of. We're not gonna be led astray this time. We're all smart individuals and we've learned a lot about the music business in the last 10 years. So we're going to do it our way. Like it or not type of thing. We'll see. The short answer to that question is we'll see. We're definitely open to everything, but we know what we want and we know what we don't want, more importantly.
I think you guys have a strong enough fanbase that you guys can pretty much do it on your own, but that's my opinion.
I agree with ya. The fans, they're there and like I said they're hungry and they're just awesome. I consider Silvertide fans to be some of the greatest people in the world. Again, I've said it before, they've waited almost 10 years for new music and they're still telling their friends and playing it for their brothers and sisters and their kids. The music is still spreading. Show & Tell is still selling, unbelievably. It's still selling all over the world. Places that we've never been to. We've been to a lot of places, but there still are a lot of places that we didn't get to the first time around and we're seeing record sales there. It's pretty crazy.
I think that, just like when you came out, again rock and roll needs a good swift kick in the ass. So, I'm all about it.
Cool man. Well we're ready. Bend over America. We're going to kick you in the ass! I like that man. I'm going to use that, if that's okay with you. That's good. (laughter)
For now, you have two shows at The Machine Shop. Which is the rock Mecca of the Midwest. Is there any chance that we could see some footage from these shows at some point?
Oh yeah. Definitely. In the first show we did in Philly. In March, I believe it was March 9th or something like that. We went way above and beyond. I think there were 12 cameras there. A 12 camera shoot. That's definitely going to be surfacing at some point. Hopefully a live DVD. We've also done a lot of documentary stuff. Stuff behind the scenes. Mark Melchiorre, our rhythm guitar player, that's what he does. He films and he's like a documentary guy. He's amazing. I think putting together some sort of package with footage is definitely in the near future.
You guys are also in another band together. Sinai is the name of that group and you just dropped a new song, which is gorgeous by the way. I Won't Walk Away From You is that track. Tell us a bit about that track.
Well Sinai was a band that Walt and I started in 2010. 2009ish, 2010. We did it only because we love playing together and even though it wasn't the right time for Silvertide yet, Walt and I we've always been best friends. We've always written songs together forever. Since the first day we met. We wrote a song literally yesterday. We write all the time and we just decided we just wanted to play. Shane, the drummer of Sinai, is such a phenomenal talent and such a force. He's probably the loudest personality, one of the loudest drumming personalities I've ever met. So we just decided that we were going to do this band and it was a lot of fun. So now it's become a bit of a side project thing. So if we have a tune that we don't feel is right for Silvertide, maybe it's right for Sinai. We'll put it out for Sinai. The song, I'd written when I first came back out to LA. We were in LA for a year and a half doing our record the first time around back in 2002. I loved it. I knew I was going to move here and live here. So, when I finally came out to live here, a few years later, 2006ish, the first song I wrote was I Won't Walk Away From You, the music. I had that as an instrumental with this melody. (mimics melody audibly) I was playing it on guitar as an instrumental. Then fast forward three years, to Sinai and Walt and I actually finished it as a song. Walt wrote the most beautiful lyrics and the most beautiful melody and I just thought it was phenomenal. We did a couple different versions that have come out over the years. One is like a full band electric version, another is an acoustic version, but I just felt like in my mind, it just wasn't right yet. So I called my good buddy Kevin Anders, who is a phenomenal Grand Pianist and I told him, "Hey man, I've got this song and I just feel like the right incarnation of it doesn't exist yet. What do you think about putting some Grand Piano on it?" So he took it and came back a month later with this arrangement that I just thought was friggin awesome. Then that upped my game, so I redid the guitars and Walt redid the vocals and we all kind of upped the game a little bit. Then we put it out. There's no strings attached. We're not really looking for anything to happen with it. We just wanted to share it with the world, because we believe in the song. We think it's a beautiful song and we just put it out there.
Alright, I always end on a random question. Who's personality within the band, would fit best if cast in a Quentin Tarantino film?
Definitely Walt Lafty. For sure. I can see him riding a horse or doing any number of things. He's always concocting some sort of scheme. There was a period in our lives, I wonder if he even remembers this, I'm sure he does, we were out on tour and you get really bored out on tour for a long period of time. Not you're bored of playing shows, but you've got the other 23 hours of the day to figure out what to do with yourself. When you're out for a year, it's one thing, but when you're out for three + years, you're really searching for shit to do. I took martial arts and all kinds of stuff, till I broke my ankle. Everyone remembers that I'm sure as I'm playing across the country playing sitting down in a cast. That was horrible, but we still did it. Anyway, Walt got into this thing, I don't even think it was legal, not much of what we did was. But, he decided he was going to learn how to break locks. Kind of like a locksmith, but not really like a locksmith. Kind of like a breaking and entering locksmith. So he got this kit and spent weeks with all these little picks and tools, figuring out how to crack locks. I mean, just talk about the most random things. When's the last time you heard about someone doing that? That's Walt Lafty.
I'll ask him to give us a title for the movie where he plays an eccentric, lock picking gentleman on a horse. (laughter) Nick, I can't thank you enough for your time and efforts. We wish you nothing but the best. Teresa Burke will be covering both Detroit shows, so smile pretty.
Keep up with Silvertide:
Official Site
Facebook
Twitter
Preview or purchase Show and Tell below:

Silvertide – Ain't Coming Home: