Rock You All Night Long. Royal Bliss at Freakster's Roadhouse in Pontiac, IL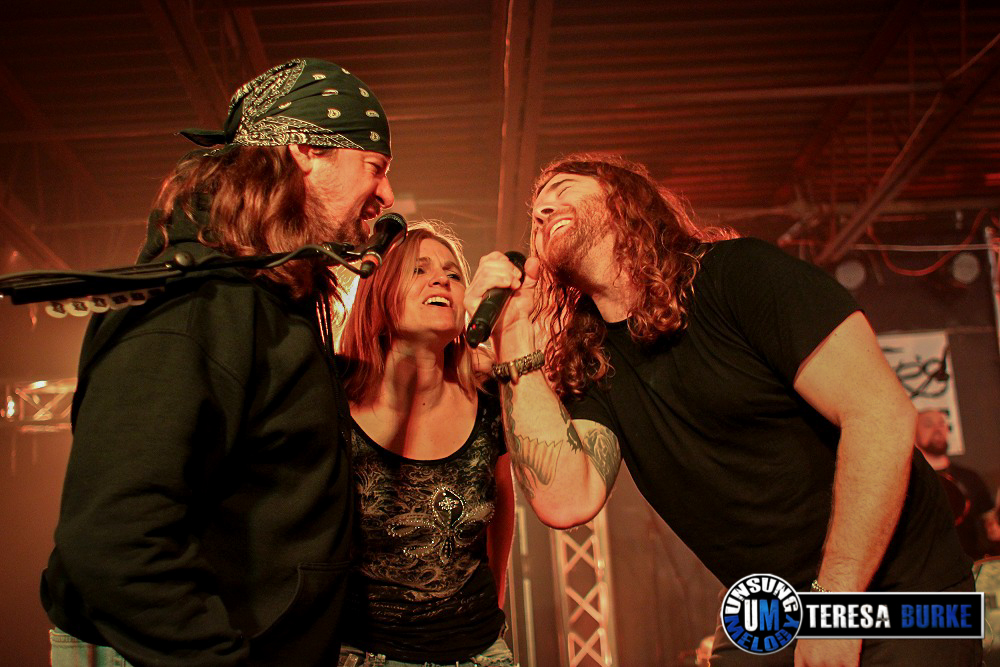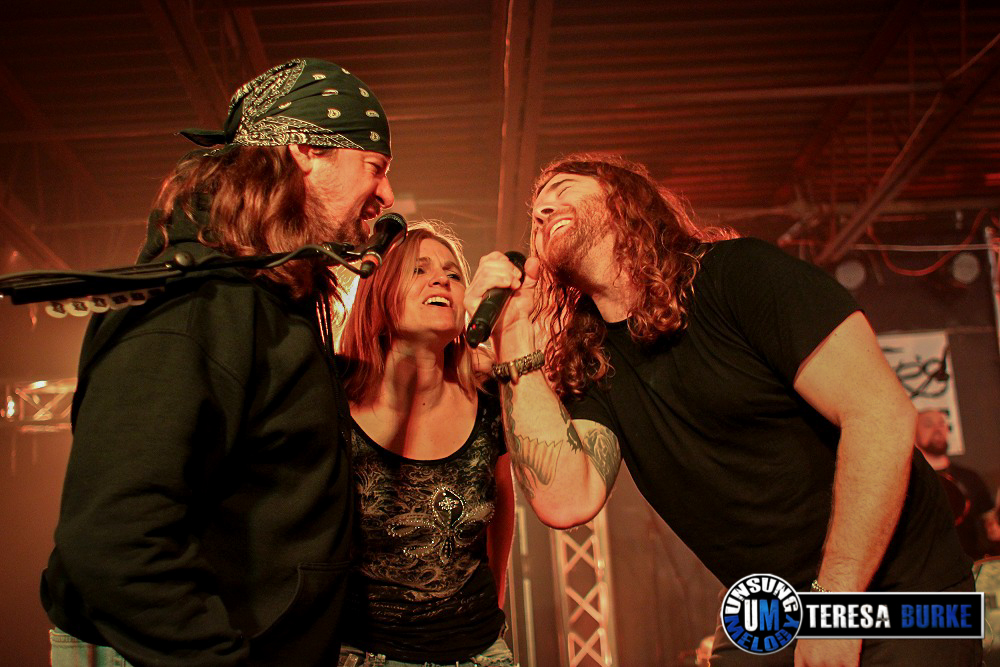 *Be sure and check out my photo gallery below the article.

Royal Bliss released their 8th album, or as they put it in my recent interview with them, official 4th album, Chasing the Sun, on February 18. Playing a week long run of shows to support the release, not to mention playing various radio and TV promo sets, I caught the band on the last day of this run before a much needed few days off. They were the main attraction at Freakster's Roadhouse in Pontiac, IL. Well, after the televised UFC fight was over anyway.
I didn't personally watch the fight, but apparently it was over much quicker than anticipated. The band took the stage around 11:15 p.m. and proceeded to give the crowd almost a two hour set full of new songs, old songs, a cover song and a song that lead singer Neal Middleton made up, on the spot, as he stood in front of the microphone while strumming his guitar. I had always heard about his knack for being able to make up a song based on any random subject, but until that night, I had never witnessed it for myself. However, that came much later on.
As their intro music started, one by one the band took the stage. Once the lights came up, they held nothing back and kicked the door of Rock 'n Roll wide open with the first track on the new album, Welcome. They played this song as if it were the first night of a week long run of shows not the last. There is a great verse in this song:
"You might not be made for glory
But nothing's set in stone
Fight until your arms are broken
and someone steals your throne
Don't waste time on the ones that hate you
Life isn't fair
Go prove to the ones that made you
It was worth their share"
If that isn't a call to inner strength, I don't know what is. The high energy and upbeat tone of this song really set the mood for the night as the band were moving around the stage as if they were on fire. This lead into Monster, from their previous release Waiting Out The Storm, with its one-two punch to let you know Royal Bliss came to rock your face off. Rounding out their opening for the night was crowd favorite, We Did Nothing Wrong from Life In-Between. Neal apologized to the crowd if he sounded bad due to being sick and joked about what a bad idea it was to tour during the winter but yet they still continued to do so. They played a couple more high energy rockers, I Got This and another new song, Rock You All Night Long. Personally, this is a major anthem of a tune. I dare you to not want to "clap, clap, stomp" during the chorus not to mention sing along. This is another new song that has a chorus that gets stuck in your head. The backing vocals from guitarist Taylor Richards and bassist Dwayne Crawford really bring the song to another level. I have to say, overall, this record has a really big sound, massive vocals and some very thought provoking lyrics. All night there was a great flow of old and new songs and even their ballads seemed to have an extra pep about them. Playing 7 of their 10 new songs brought some really great energy to the stage.
Dwayne, with his jumping, head banging and overall craziness stage right helped to keep the energy of the songs at a high level. Many times he got up close and personal with those in the front row. In fact, pretty much most of the night, the only time he stood still was while singing backing vocals. Quite a few times, he'd face drummer Jake Smith and they'd locked into a groove together. Other times they just made faces at each other. You have to love a band with a sense of humor. Jake's playing all night was the perfect fit for each song. Whether he was beating the crap out of his kit and breaking sticks (He chucked a broken one out towards the crowd but it dropped short of hitting anyone. However, someone in the front row walked away that night with a badly bent stick.) or slowly grooving to the slower tempo songs, eyes closed, getting lost in the moment, he kept perfect time.
New song, Dreamer, was the first of the more mellow songs. With the band plugged in and Neal playing acoustic, he showed every ounce of passion that he has over his love of music as he sang and Dwayne really belted out the backing vocals on this one. You have to love when a band really makes good use of everyone's talents, whether vocally of musically. I also have to wonder how many long time fans, hearing the song for the first time, caught the lyrical reference to older song, Devils and Angels. Next was It Haunts Me, which just so happens to be one of my favorite songs on the new album. How can you not love that opening steady drum beat and heavy bass line? If you were not bobbing your head along to the rhythm, you were in the wrong place.
The most real moment of the night came with the lyrics in Drink My Stupid Away. When I first heard this song on the CD, I could feel the pain Neal was expressing about being torn in two directions. To hear this song live is absolutely amazing. If they were to ever play it live with a string section, it would be even more epic since it's such a beautiful song. Neal's emotion could clearly be seen as he sang each verse and chorus, often times singing with his eyes closed, as if he was remembering a moment or possibly thinking about those closest to him. His passion for music emanates from his soul and is transferred vocally for all to hear.
Also present that night was the mic stand used in the Cry Sister video. I'm guessing it has to be one of the most dangerous mic stands in history, but the crown and wings sure looked cool as hell. Often times Neal would rest his arms against the back of the wings while singing a slower song and other times he was rocking back and forth during a more upbeat song. Something else I noticed, compared to previous live shows, Neal was playing acoustic guitar on more songs and on songs that were not specifically played unplugged. It's nice to see the guys' changing it up and trying something different. Plus it adds volume and a fullness to their live sound.
Crazy, their most popular song from Waiting Out The Storm, lead into an awesome intro of Devils and Angels and once again, Neal played acoustic guitar while the rest of the guys were plugged in. The biggest sing along of the night came with I Was Drunk. Club owners Freak and Betsy joined them on stage to sing along, but not before Betsy poured shots into the band members' mouths. They both shared Dwayne's mic so he initially moved over to Taylor's side of the stage. A funny moment came when Dwayne stood under Taylor's mic, looked up at it, shrugged and smiled. There is quite a height difference between those two. At one point Neal jumped off the stage and sang from the crowd. Once back on stage he walked along the edge, holding the mic out for fans to sing along.
Cry Sister, the first single from Chasing the Sun, with its catchy, get stuck in your head chorus, had everyone singing along, not to mention an awesome solo from Taylor. They closed out with the always popular and super energetic Save Me from Life In-Between and another one of my faves from their last album, Bleed My Soul. Neal played acoustic again and Taylor was urged to play slide using a beer bottle. He was a little reluctant, but Neal kept telling him to play, mentioning he had emptied the bottle just for him. Taylor humored us all for a little bit before setting the bottle down. He really should play slide more often.
By 12:30 a.m. the band left the stage. However, it didn't take very long before Neal and his acoustic guitar were back on stage for By & By. Eventually the entire band joined him and were ready to go into the next song. As Neal started singing, it became quite apparent rather quickly what was happening. As Neal continued, half of the band left the stage when they realized he was making up an ENTIRE SONG about the Daytoga (Daytona + Toga) party the venue was having the next day. His rhyming skills were amazing and his lyrics brought on lots of laughter from the crowd and band members. Neal surprised us all when he started beat boxing at the end.
When the song was over, the crowd wanted more. The band motioned for him to play Home, the only acoustic song on the new album. Once again, while playing acoustic guitar, he started the song and eventually Dwayne came back on stage to sing backing vocals. When the song was over, the crowd still did not want the night to end. As Neal started playing guitar again, and right before it looked like he was about to sing the next song, someone yelled out, "FREEBIRD!" Neal stopped playing and started laughing, noting that had been the perfect moment to yell that. He said he would play the next song but he needed some help. He started playing the opening notes of Simple Man and once again Dwayne joined him on stage to play tambourine. Much to my surprise, Jake also joined them and cleverly played a shaker egg. Between the three of them, it was an awesome version of the song. While Neal sang and played guitar, Dwayne and Jake provided an extra musical element that was missing from plugged in instruments. As if on cue, they hit every note exactly as it should have been played. Based on the smiles from the band members on stage and from the fans in the crowd, this was definitely a great moment during the night.
It was close to 1 a.m. when the band left the stage and headed to their merch table to meet with fans. That's almost 2 hours of music folks. For as many shows as I've seen from this band, one thing is always certain. Royal Bliss put every ounce of their being into their playing. Music is in their veins. It's in their blood. I'd bet money that they will be playing until their dying day. But until then, get out there, support Rock 'n Roll and support Royal Bliss and other bands sharing their heart and soul through their love of music. If by chance Royal Bliss is new to you, well, they may just be your new favorite band and you don't even know it yet. They currently have dates through March, but I'm sure it wont be too long before they roll back through the Midwest or possibly your area.
Keep up with Royal Bliss below:
Official Website
Facebook
Twitter