Rock Allegiance Tour featuring Volbeat, H.I.M., All That Remains and Airbourne at the U.S. Bank Arena in Cincinnati, OH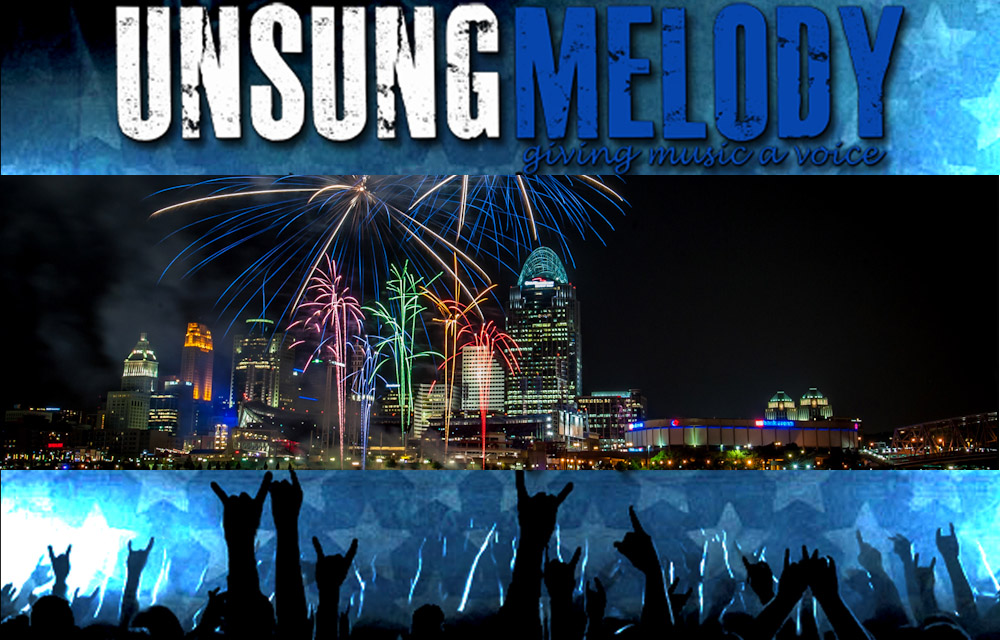 Lately Cincinnati has been on fire when it comes to great concerts. They've hosted Warped, Jimmy Buffett, Muse, B.B. King, Buddy Guy, Heart, Rush, Bad Company, Lynyrd Skynyrd, and most recently Carnival Of Madness. Not bad Cincy. Not bad at all. Rolling into town next is the third date of the Rock Allegiance Tour. The tour features four bands and they are all certainly unique in their own ways. Headliners Volbeat are joined by H.I.M., All That Remains and Airbourne. That's quite the musical smorgasbord of international bands. On this night, I was catching the stop at the U.S. Bank Arena. It's nestled right along the Ohio River, next door to the Great American Ballpark, which is home to my favorite baseball team, the Cincinnati Reds.
First up were the Australian rockers Airbourne. If fellow Australians AC/DC had illegitimate children who grew up to form a band, I swear it would be Airbourne. Certainly not afraid to wear their influences on their sleeves, the boys from down under provided their rough and raucous brand of rock to the Cincinnati crowd. How do you ignite a crowd? If you answered playing a solo riding through the crowd on the shoulders of a crew guy, well you've seen Airbourne before. Otherwise, THAT'S how you do it. What was the response to Airbourne you ask? I'd say a resounding, "HELL YEAH!!" Cranking the siren for rock and roll, Airbourne destroyed Cincinnati with crowd favorites Ready To Rock, Chewin' The Fat, Back In The Game, Too Much, Too Young, Too Fast and Runnin' Wild.
Next up were the only American band on the bill. Springfield, Massachusetts own All That Remains took to the stage with an onslaught of riffs and aggression that would be hard to top as the heaviest on the night. Their sound on this night was really great except a few songs where the clean vocals were a bit low in the mix. That's more of a personal preference than anything though. I was certainly impressed and they are on my list to see in a more intimate venue for sure. The crowd surfers made their first sighting of the night and there were a few pits that got started. All in all, All That Remains played a fantastic, heavy set. Favorites were The Last Time, the massive Stand Up, Down Through The Ages, Asking Too Much, and the fantastic Two Weeks.
Finland was the next country to be represented. The Helsinki produced superstars of H.I.M. were about to take the stage. Going into this show, this was the band that I had personally felt that their hype had always outweighed their music and substance. The world music played between sets certainly didn't set the mood for a rock show either. I felt like I should be doing yoga instead. Check out this guy and you'll see what I mean. He slept through the entire set, and was as sober as they get. On this night though, I was hoping the band could make a believer out of me. Busting out of the gate with All Lips Go Blue was a great start in trying to influence me, but I still wasn't convinced. Both Airbourne and All That Remains had come out with a vengeance and immediately made an impression. I was certainly expecting more. As the set progressed, I'll be honest, I found myself a tad bit bored. It felt more like it was about the light show than the musicians and the music. The band was pretty limited on their movements and the intensity was lacking for me. I prefer a rock show over a tree show. Watching the crowd barely moving, I felt I wasn't alone in my thinking. There were a few impressive tunes though. Musically, they were fantastic, but the show was simply mundane. Songs like The aforementioned All Lips Turn Blue, Rip Out The Wings Of A Butterfly, The Kiss Of Dawn, Wicked Game, Hearts At War and Into The Night got quite a few people singing, but the bands movements were mimicked by the crowd. Hardly anyone was moving. I unfortunately came away feeling as if I was right all along.
With loud chants of VOLBEAT! VOLBEAT! VOLBEAT! in between sets and loud cheering as each piece of the stage was unveiled, especially the huge backdrop, it became abundantly clear, this was gonna be a Volbeat crowd. As the lights dimmed and the crowd rose to their feet, it was finally time for the Danish metal juggernaut known as Volbeat. What happened you ask? I'm glad you asked, the arena absolutely exploded. It was one of the warmest, loudest receptions I have experienced in some time. Cincinnati was in the house to rock and rocked they would be. Vaulting straight into Hallelujah Goat, it was on. The band was astonishingly perfect and I was completely entranced. I've seen a TON of bands in my day, but I honestly can't say I've seen a better band onstage. The humble swagger was catching and Michael Poulsen is an absolute rock star. As the crowd chanted VOLBEAT! VOLBEAT! VOLBEAT! once again, Michael jokingly said, "We're not Volbeat. We're Anthrax with three new members." The crowd was eating out of his hand. The Nameless One was the first song from their new album Outlaw Gentlemen and Shady Ladies. That album, as I said in my review here, is a strong candidate for our top 10 list of albums. Volbeat did not disappoint with this one, as they were absolutely spot on.
Next up was Sad Man's Tongue. The song is a punked up metal song mixed in with the rhythms of Johnny Cash's iconic Folsom Prison Blues, with Volbeat lyrics of course. Talk about fun. Holy crap that was awesome! I nearly forgot what song was next. Thankfully, I remembered it was a super fun version of the first shady lady of the night, Lola Montez. Rob Caggiano played fantastically and believe me when I say the band followed right along. After Fallen and midway through 16 Dollars, the crowd surfers popped up like weeds and the party was in full effect. Next came the intense riffage of Dead But Rising. Bringing a young man onstage who had been dancing all night, the band broke into The Mirror And The Ripper. For what was undoubtedly the highlight of the young man's life, he danced, jumped and moshed like nobody's business. It was an awesome gesture and a moment the crowd won't soon forget either, as bassist Anders Kjølholm joined in on the dancing…err hopping…or whatever that move was. Heaven Nor Hell and Maybelline/Hofteholder paved the way into The Hangman's Body Count. Which drew one of the largest sing-a-longs up that point. That is until Volbeat ended the main set with the massive Still Counting. That sing-a-long was deafening!
With guns ablaze, Volbeat stormed into the encore with a Warrior's Call. By now the Cincy crowd should be exhausted, but ya know what, they were in a fury and it was awesome. Throwing fuel onto the fire, Volbeat hit us with the thunderous Doc Holliday and the pits went insane! Cape Of Our Hero was up next and it was brilliant, but what came next was perfect. Pool Of Booze, Booze, Booza was the soundtrack as Michael invited all the kids in the audience onstage. While the band performed, the kids stole the show and rocked out like we'd all hope the future generation of rock and roll would. I can sum this up pretty easy for ya. Since this edition of the Rock Allegiance Tour had a decidedly international flavor to it, you'll pardon my French when I say, that minus H.I.M., that was a great fucking rock show.
Click here for more Rock Allegiance Tour dates.
Check out the Rock Allegiance Tour promo below: