My Shame Is True. Alkaline Trio featuring Off With Their Heads and Bayside at the Best Buy Theater in NYC.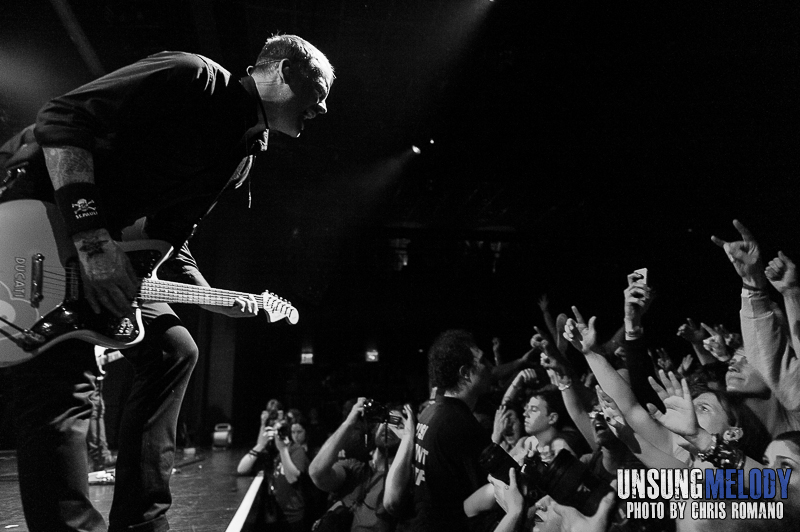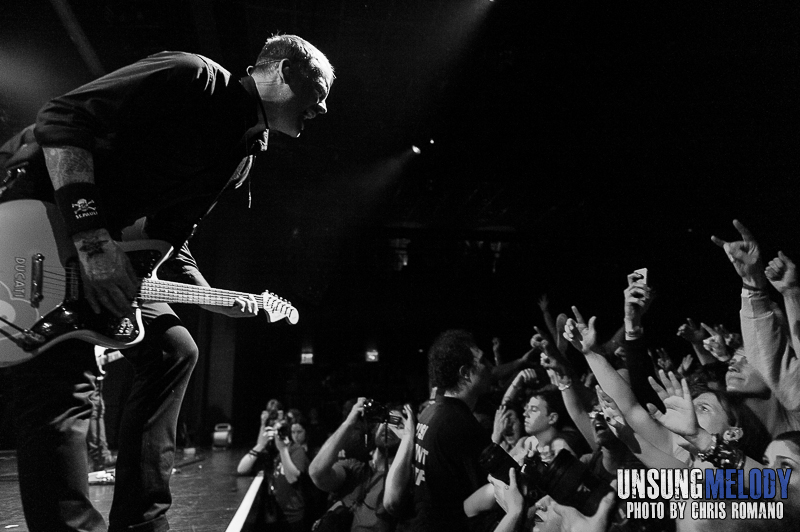 I'll admit it, I love pop punk. I may be a pretty huge metal guy, but bands like The Offspring, Blink 182, and Sum 41 were what got me in to music in the first place. The catchy hooks, the steady beat, the drinking jokes and the fart references were all really fun to me when I was younger, and are even more relevant and fun now. So when I heard that three of the biggest names today in pop punk, Off With Their Heads, Queens New York's own Bayside, and Alkaline Trio, were headed to The Best Buy Theater in New York City, I jumped at the chance to see them.
It's been mostly a cold and rainy spring in the New York City area, and this night was no different. Hiking from Penn Station to the Best Buy Theater in Times Square, I arrived at the venue with more than enough time to catch the opener of the night, Off With Their Heads.
Led by front man and vocalist Ryan Young, Off With Their Heads is a four piece consisting of just four normal looking dudes who like to play music about drinking and hanging out. As they casually walked out to the stage with no introduction, the four immediately broke in to their first song, Start Walking.
Most of of OWTH's songs are the punk-standard less than three minutes long, which allowed the band to rip through a wide variety of selections from their latest studio release, Home, and older songs in their short set time. If I had to describe their sound in comparison to the other groups of the night, I would say Off With Their Heads was easily the most "punk" sounding band musically, with the least amount of "pop." When the band started, I could see that much of the younger crowd was not sure to expect from Off With Their Heads, and even seemed hesitant. By the time they arrived at their final tune of the night, Trying to Breath, the crowd was warmed up enough to give the band a hearty and much deserved positive ovation.
Check out my Off With Their Heads photo gallery here.
To say that there were a lot of excited female fans ready to see Bayside, the next band on the bill, would be an understatement. Once the lights dimmed low and Ozzy Osbourne's Mr. Crowley began to play over the PA, I could hear an eruption of hundreds of screaming girls of all ages from the crowd. Beginning with Devotion and Desire, front man Anthony Raneri immediately had hands reaching out at him over the barrier and voices singing along with him. Lead guitarist Jack O'Shea gathered plenty of attention as well, jumping up and down immediately from the start of Bayside's set and shortly following his athletics with a shredding guitar solo. I also caught that as drummer Chris Guglielmo beat away at his skins, he causally chewed on a toothpick, remaining calm and collected.
"So who is here? Is Long Island here?", asked Anthony, who was greeted with cheers and screams. "How about Brooklyn?," he then asked, which received less screams, but still plenty. Then asking, "Queens? The Bronx? I'm not going to ask about Staten Island, nobody lives there", Anthony joked, before starting We'll Be OK. Mid-song, Anthony simply backed away from his microphone, and let the crowd sing an entire chorus for him. For most of Bayside's performance, I found it difficult to even hear Anthony, not because of sound problems, but because of how loud the crowd singing Bayside's songs were.
Check out my Bayside photo gallery here.
The final two songs of the night for Bayside, Montauk and Dear Tragedy, drove even the most excited audience members into a craze. Crowd surfers flew over the barrier as if it was a hardcore or metal show, and the music pulled whatever energy remained out of the audience. Passing his guitar to a member of the crew, Anthony Raneri walked around the stage with just a microphone in hand for Dear Tragedy, finally getting the chance to reach out and touch those fans who had been reaching to him for so long. As they left the stage, it was clear the crowd was still hungry for more.
Once the stage was set for the night's headliners, the lights dimmed one last time and smoke billowed behind the drum kit on stage. Atomsphere by Joy Division played as the three members of Alkaline Trio took to the stage to roaring applause.
Opening up with the lead track from their new album My Shame Is True, She Lied to the FBI was the first song in the trio's pop punk assault. With lead vocals on this particular track coming from guitarist Matt Skiba, (he and bassist Dan Andriano frequently trade off lead vocal duties, with drummer Derek Grant often providing backing vocals), the audience happily sang along with him for much of the song.
Matt and Dan stood tall in their places as they played and sang through a set consisting both of new songs and plenty of old fan favorites. Hell Yes and Clavicle, both older tunes, were up next and as fan favorites, and gained plenty of screams and cheers. For Cooking Wine, Matt and Dan stepped away from their microphones, instead allowing the audience to sing much of the song for them.
"This one is for you New York City, whether you drove here in a car, in a truck, or took a train. This one is called Trucks and Trains!," exclaimed Dan. There was very little stage banter and talking between songs from Alkaline Trio during their time at The Best Buy Theater, preferring to spend their time playing the music that people had come to the hear and see.
This Could Be Love had the crowd really moving and singing along, even with a small moshpit going on the lower floor. From the side of the stage, a few members of Bayside even stage dove into the crowd, crowd surfing to the moshpit.
Check out my Alkaline Trio photo gallery here.
Returning after a short stage absence with Cringe, '97 and finally, Radio, Matt Skiba changed his shirt, and the band really began to rock out. With a final chord for Radio, the band thanked the New York City crowd one last time.
Alkaline Trio and Off With Their Heads both put on great performances, but I would say Bayside really took their hometown fans by storm this night. Perhaps it was just a case of a New York band coming home to a New York venue, but I felt they were the most on fire. I just wish all three bands moved around a bit more on stage, as I felt the large Best Buy Theater stage was left underused. When all was said and done, however, I was left with my craving for pop punk mostly satisfied.