Heilung Perform Their Ritual at Red Rocks Amphitheater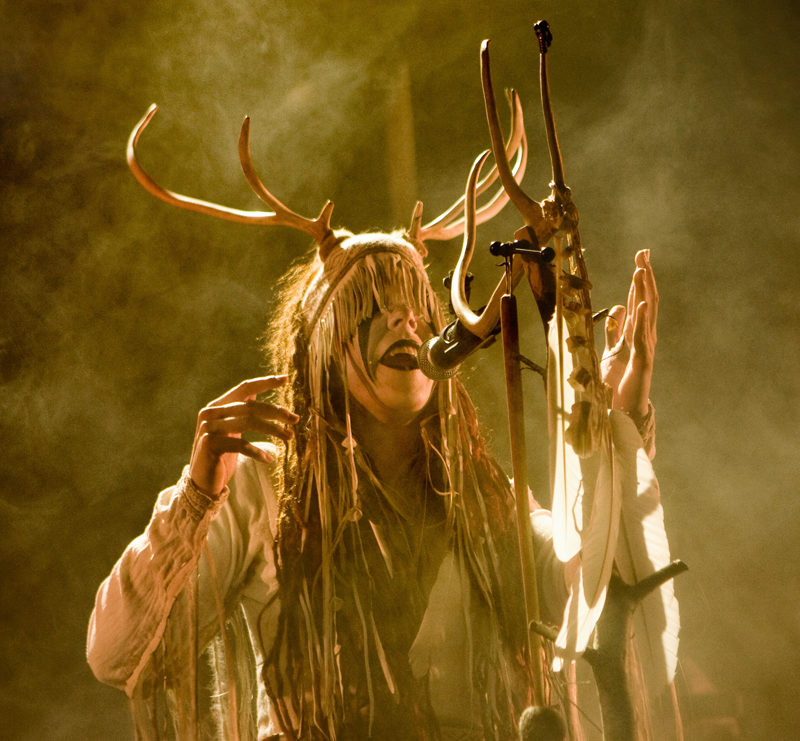 Over the years, I've had the opportunity to witness a diverse and varied group of acts performing at Red Rocks Amphitheater in Morrison, Colorado. The acclaimed, and gorgeous venue has hosted some of the most popular and prestigious acts over the years. Despite that, witnessing Heilung on stage here was an experience.
I think the hardest part about this review is finding a place to start. As I pulled into the parking lot at the venue, one would expect to see the requisite metal head or rock fan tailgating for the show. However, I saw much more than that. I saw typical hard rock fans, metal heads (of all the various subgenres) and, of all things, a group of hippies hanging out together sharing beer and food before the doors opened. To me, that was definitely an eye opener about how music, no matter how different, can bring together various groups of people.
As Heilung took to the stage, it was obvious that this wasn't just a performance or concert… it was a ritual, to its core. Their entire performance was an amalgam of primal energy, a drive of our human core to return to and be with nature, and a profound thread that weaves throughout the various cultures in human history, all while the music, message and stories tied it all together. The music, being driven by a plethora of percussive instrumentation, conjured a wish- no, an urge to bring nature to prominence in our lives.
Many instruments during the ritual were historically available during the Iron Age. Various drums, bones, horn rattles and clay rattles, and various ancient style stringed instruments. Kai Uwe Faust's vocals recalled a Mongolian or Tibetan throat singing, while Maria Franz's vocals were more European/Nordic traditional, and Christopher Juul performed in more chirping or whispers.
Every one of these elements evoked a spirit of nature, or of Norse mythology and Nordic history. Earlier, I stated how their music ties together a thread of elements from various cultures in human history. As they closed out the ritual, they had several Native American dancers join the performance during Hamrer Hippyer, which drove the message home, entirely. We are all brothers and sisters, and we shall celebrate together.
This being their only US performance this year (and originally scheduled for 2020, but postponed due to the pandemic), and at one of the most acclaimed venues in the United State, one can only say that it was truly an experience, if not an awakening. Despite sound issues during Galgaldr and Elddansurin, it was one of the most enlightening and powerful concert experiences I have ever witnessed. If you ever get the opportunity, PLEASE, go see Heilung perform.
Editor's Note: The featured image is from their 2020 show in Denver, photographed by Tina Hagerling for Unsung Melody.