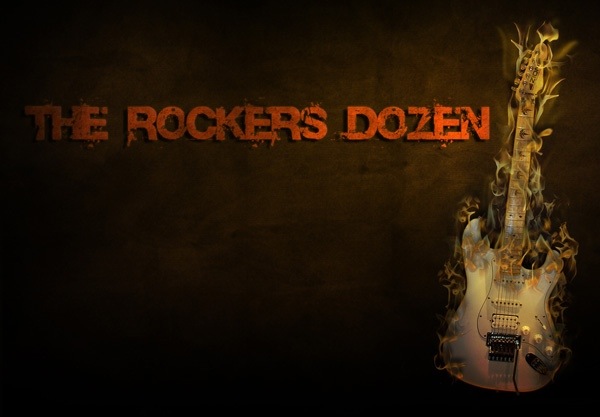 We love all music here at Unsung Melody, but rock and roll has always held a special place in our hearts. I thought it would be cool to take a look at 13 bands that are carrying the torch for rock and roll. A Rocker's Dozen, if you will. Bands that wear their influences on their sleeves as a badge of honor. These bands have that certain style, that edge of the bands that laid the foundation for the music we know and love today.
13. 68-75 – Now this is a band that most haven't heard. They are based in Atlanta and are led by the Janis Joplin re-incarnate Suzanne Sledge. Bluesy, aggressive, groove oriented rock topped off with an exceptionally sexy, gravely, snarling cadence from Suzanne. Their music screams the era they are named after.
12. Black Stone Cherry – Southern rock will always be associated with Lynyrd Skynyrd. Black Stone Cherry is on tour with the Skynyrd boys, as well as the legendary Paul Rodgers and Bad Company. While Black Stone Cherry's sound certainly has a modern rock feel to it, their roots are strong in southern rock and their style is a beacon of light on mainstream radio.
11. Taddy Porter – Never have I seen such an abrupt change from a band as I have Taddy Porter. After their debut release that was mostly modern rock, the band fully embraced their roots and released an album titled Stay Golden. The album is pure unadulterated, unapologetic 60's rock and that makes us all smile around here.
10. Dead Sara – This LA based quartet are full of the spirit that makes rock and roll so great. While their music is perhaps better labeled as a grungesque style, their spirits, live performances and attitude scream rock and roll. The band may be led by female vocalist Emily Armstrong, but the band's music has more balls than most any band out there today. Look no further than their singles "The Weatherman" and "Lemon Scent".
9. Alabama Shakes – These three men and one woman have been media darlings, as of late. Their bluesy, rootsy rock is strongly accentuated by Brittany Howard's powerful, soulful voice. In this world of image over substance, Brittany and The Shakes concentrate on the most important thing and that's their music. Having been nominated for three Grammy Awards in 2013, this band is putting bluesy rock back on the map in a big way.
8. Joe Bonamassa – While Joe is certainly a well established act, his guitar work, not only on his albums, but side projects Black Country Communion, Rock Candy Funk Party and his collaborations with Beth Hart, show his knowledge of the genre and his willingness to continually churn out tremendous riffs makes him a no-brainer for this list.
7. SIMO – SIMO is a band that a lot of you may not be familiar with…YET!! The band features guitar prodigy turned blues frontman JD Simo. Their sound, their vibe, their attitude harkens back to a time when music had a message and it's power was undeniable. After their recent performance at Bonnaroo, I don't think they'll be little known much longer.
6. Vintage Trouble – What can you say about a band that has vintage right there in their name? Their sound is more of a soulful rock, ala Motown or Stax Records and is undeniably catchy, real and absolutely fantastic. If it's any indication, the band has toured as the openers for the legendary band The Who.
5. Clutch – Clutch began as a much heavier band than they are now, but the bluesy element was always there. What they've become over the years is a band dedicated to blues infused rock that harkens to the days of jam bands. With their prominent use of the wah-wah pedal, fictional stories and groove oriented rock, Clutch carries a ton of weight when bridging musical generations.
4. The Sword – The Sword is a little on the heavy side to simply be rock and roll, but when you listen to songs such as Cloak of Feathers, it's very easy to spot the Black Sabbath influence and see that their roots are deep within rock and roll. Look no further than their cover of ZZ Top's Cheap Sunglasses to see where they come from.
3. Monster Truck – This band…holy shit. Where to begin? These Canadian rockers have taken a no-frills approach to their sound. High energy, catchy riffs from Jeremy Widerman are the frame of this Monster Truck, and the aggressive, yet melodic vocals of Jon Harvey are the 454 that pushes it. This band deserves your full attention.
2. Leogun – Leogun is a band that we've been behind since we heard their first note. Having just released their debut album By The Reins, Leogun is poised to make their mark in the music industry. Their sound just oozes coolness and Tommy Smith's guitars and vocals will conjure up many a memory of the mighty Led Zeppelin. To fully understand the power of this band, seeing them live is an absolute must. You will never experience as much power from a trio onstage, as you will with Leogun. The God of Thunder has smiled upon them and they are amazing. You can catch them on tour with Queens of the Stone Age, as well as KISS later on this year.
1. Rival Sons – This band has been around a few years trying to make their mark. Finally, Europe discovered Rival Sons and the band has been on an incredible ascent since. Rival Sons, much like Leogun can conjure up Led Zeppelin comparisons, but make no mistake both of these bands know who they are and how to deliver. Jay Buchanan is the ultimate rock and roll frontman. From his flowing locks, to his powerful presence, to his incredible range, you'll be hard pressed to find a more talented voice on the planet. Couple that with Scott Holiday's epic facial hair slide guitar prowess and you have the most explosive rock band touring today.
If you want to hear more from any of the bands on our list, click the album artwork below to preview or purchase from iTunes: