Scanning The Scene. Day One from the Orion Music and More Festival on Belle Isle in Detroit, MI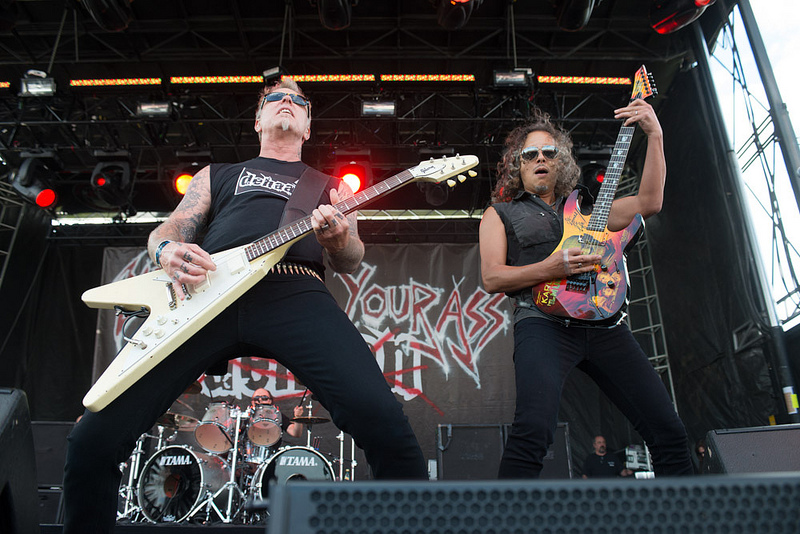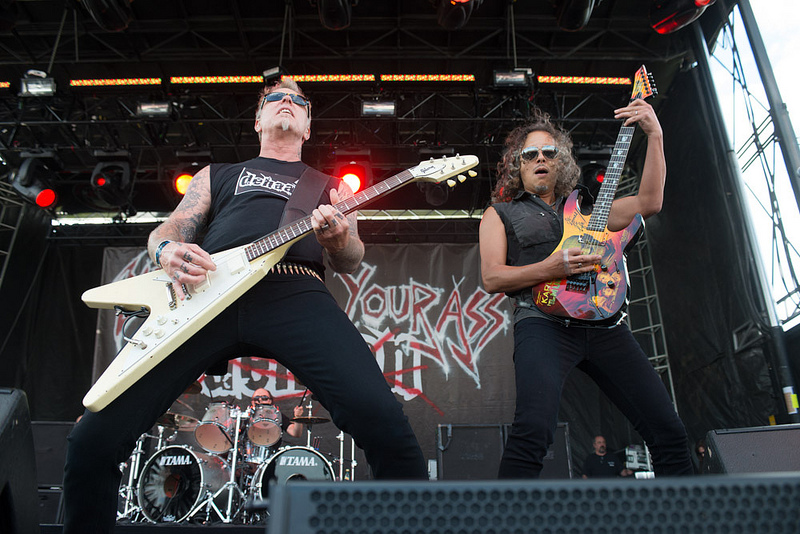 Metallica's second annual festival, Orion Music and More, took place at a different location from last year. This time they moved the festivities to Belle Isle in Detroit, MI. This year's destination, once again, brought people not only from all over the U.S. and Canada, but from other countries as well. Obviously Metallica fans are aware of other Metallica fans, but I thought it was funny when a lady in the elevator at my hotel asked me if there was a Metallica convention in town. (I'm guessing this was brought on by all of the Metallica shirts everyone was wearing all weekend.) When I told her no, that it was their own festival, she was quite surprised over that. Regardless, there were plenty of people in attendance to take part in a weekend full of music, including 30+ bands on five stages, not to mention the various forms of entertainment PLUS a surprise that would leave people shocked and beyond excited at what they were witnessing before their very eyes.
The 2-day festival started off with some bumps and inconvenient set backs, long delays at will call and long lines for the shuttles taking everyone to Belle Isle since no one was allowed to drive there, but once on the grounds, the vibe was very laid back. While the gates opened at Noon each day, no bands actually started playing until 2:00 p.m. This allowed everyone the opportunity to check out the "and More" part of the festival which included all the various lifestyle areas (there was one interest specific to each member of Metallica), plus there was the Metallica Museum, the Metallica Fan Club area, and a whole lot and more.
Check out my photo gallery from day one of the Orion Music and More Festival.
For those entering the grounds, the one area that immediately stood out was James Hetfield's Custom Car & Motorcycle Show. On display were various custom cars, muscle cars and custom motorcycles. Not only did James and Rob Trujillo have their own cars on display (James' 1936 Ford Custom "Iron Fist," a 1953 Buick Skylark "Skyscraper" along with a West Coast Chopper, plus Rob's 1964 Buick Riviera), some of those that submitted applications prior to the festival were allowed to bring their cars to also be on display. Awards for Best in Show for each car category, including Fan Favorite, as voted on by those in attendance, were given out on Sunday.
Another perk of the weekend, that was sometimes more "right place, right time" than anything, was the off chance that you would actually see a member of Metallica interacting at their particular lifestyle area. On Saturday I was checking out the custom car art in the Motorbreath Alley Gallery, when I heard clapping and cheering. After further investigation, it indeed was James Hetfield, within the ropes, talking with owners of a particular car. Before leaving the area, James took a few minutes to bump fists and take a couple quick photos with fans before heading out to another area blocked off with a drag car inside. My first thought was that James would talk with the owners of the car, interact with the fans and then be gone. Boy was I wrong. Well, James did do all of that, but then he got in the car. Then they started the car. Not only was it loud, the exhaust fumes were strong. James' expression every time the engine revved with nothing short of a kid excited to be in a hot rod candy store. It was definitely a cool moment to witness that day, even though I walked away with Motorbreath.
Another exciting attraction was the Globe of Death. Attendees were able to watch as motorcycles raced in circles and upside down inside an 18-foot tall steel ball cage. The fear that they could possibly crash left everyone on the edge of their seat. The Motorbreath Alley Gallery included various pieces of car and motorcycle inspired artwork. Some for sale and other just for show (including one done by James), each piece was definitely an inspiration.
A huge part of Metallica's 30+ history was on display in the Metallica Museum. This included Kirk's Flying V which was used on the recording of their first three albums, original Pushead artwork, old road cases and amps, Lars' Damaged Justice drum kit, the double neck ESP James was using when he was burned on stage in Montreal in 1992, the famous Doris head, old show posters, the very first Metallica flyers, James'Flying V that was used on the recording of Metal Massacre and Kill 'Em All, lyrics for The Thing That Should Not Be, and the one item that I heard the most reaction over, the last bass Cliff Burton ever played, a black Aria Pro II.
Aside from the drifting sounds of EDM music spilling out from the Sanitarium stage near the car show, Dead Sara was the first of many bands I'd see that day. Their set at the Damage Inc. stage, along with a couple other bands on different stages, had been bumped up by 15 minutes. The band came out and Emily Armstrong's voice sweetly sang Sorry For It All. Their set included songs from their self-titled 2012 release, and their style was everything from melodic to aggressive. Emily's raspy, sometimes intense vocals carried out over the crowd and from where I was standing, everyone was engaged in their set. The entire band played and sang with an intensity and passion that helped to feed the energy of the crowd. However, the biggest reaction came when the band launched into their last song, Weatherman. During a high point of the song, daredevil Emily also climbed atop the bass amp and jumped off before jumping down off the stage to sing to the crowd from the other side of the security rail.
Check out my interview with Dead Sara: http://www.unsungmelody.com/interviews/the-essence-of-rock-n-roll-an-interview-with-dead-sara/
By the time Dead Sara's set was over, some fans were aware of the clues posted earlier by James Hetfield on Instagram. Others, well, they had no idea what was coming. In fact, I'd say, A LOT of people had no idea what was coming. Off and on during the weekend, various members of Metallica would introduce particular bands. Now I'm sure some didn't even think twice when James walked out on stage to introduce dehaan. But this wasn't just any introduction. Now, for those that didn't have much cell service that weekend or who didn't have Instagram, maybe the backdrop was another clue. The band name dehaan had been crossed out and above it written Metal Up Your Ass.
James asked if anyone knew who dehaan were. The crowd cheered and James said the band was from Baltimore. He continued, "The total mystery band. No one knows anything about 'em…except us." At this point you heard someone beat on a drum. But it wasn't just any drummer. You then heard the opening notes to a song. A familiar song, but again, it wasn't just any band that was about to play. As James put on a guitar, Rob, Lars and Kirk were already on their way to playing the intro to Hit the Lights. Dehaan, aka Metallica, had just pulled off the biggest surprise of the weekend. Later on I would see footage someone had captured of people running to the stage from other areas of the grounds as dehaan started playing. I had heard from someone else later on that day, that during Dropkick Murphy's set, they even announced Metallica were playing.
Check out the photo gallery of the bands from day one.
Needless to say, it only got better from there. Not only did dehaan, err, Metallica play a surprise set, they played ALL of Kill 'Em All, including full versions of The Four Horsemen and No Remorse, to celebrate the album's 30th anniversary. Aside from hearing all of KEA, another amazing moment came during (Anesthesia) – Pulling Teeth. When Rob started playing the bass solo, made famous by one Cliff Burton, I immediately had goose bumps. Also knowing Cliff's dad, Ray Burton, was on stage during the set made for an even more moving moment.
Another cool thing was watching the lady signing the lyrics for each song as the band played. She even signed the guitar solos. That lady rocked! For those wondering where the name dehaan comes from, it's the last name of the actor who stars in the upcoming movie Metallica Through the Never. James played the part as a member of this "new" band all the way through to the end. Before playing Metal Militia James thanked everyone for supporting dehaan and couldn't keep from laughing as he said, "Hope to see you again somewhere, like tomorrow." As the song ended, James yelled out, "Thank you! We are dehaan!" and the crowd began chanting "dehaan!" over and over. Lars came to the mic and said, "Next up, ReLoad." Always the comedian. I will say, all throughout the set, the band was having a ton of fun. I'm not sure if it was part nostalgia, part pulling off the biggest surprise of the weekend or the fact that this band just has a damn good time every time they're on stage, whatever it was, it was awesome to see, awesome to hear and awesome to be able to say, "I was there when." Some may even say this was the best 53 minutes of the weekend!
Another cool feature of the Damage Inc. stage was that Robert's lifestyle attraction was the 30-foot wide Vans Vert Ramp. All during dehaan's set and during other sets of bands playing the Damage Inc. stage that weekend, professional skateboarders took turns doing tricks and flying high up and down the vert ramp. Right after Metallica's set, three skateboarders all went down the ramp at the same time. Luckily no one fell or crashed into each other. It was a great ending to a great set! When they weren't skating, attendees had the opportunity to meet the skaters and get an autograph and check out the limited edition Vans x Metallica footware. Also nearby was the FYI Record Store and Autograph tent. On both Saturday and Sunday, fans had an opportunity to purchase CDs, DVDs and even vinyl which would give them access to meet their favorite bands and have their items signed.
After dehaan's set I stopped at the Frantic stage to check out Death Grips. I had no idea who this part punk, part metal, part rap and Hip Hop band was, but I was captivated by frontman Stefan "MC Ride" Burnett with his dramatic body movement and intense singing. The small crowd was into their set whether they were observing or engaging in jumping up and down or dancing. After about 20 minutes, which include me moving two feet from my original spot and receiving a text message from my phone provider stating "Welcome to Canada," I headed to the Orion stage to check out Rise Against. Always an energetic band, this time was no exception. With intense singing and fast playing, this band thoroughly engaged the crowd. Guitarist Zach Blair doesn't know the meaning of the words stand still as he was constantly jumping and running around on stage. After another 20 minutes, I headed over to the Sanitarium stage to check out BASSNECTAR. Much to my surprise, the place was packed all the way back to the soundboard. These people came to party and dance. The biggest name on the EDM bill that weekend, clearly these people were no strangers to this style of music. Playing beats that either made you want to move, dance like there was no tomorrow, or jump around and get crazy, BASSNECTAR had these people in his grasp.
On my way to the Fuel stage I stopped in an area called Ktulu's Rock 'N' Roll Emporium which were various tents of vendors selling anything from T-shirts to unique art to random items you'd find in a general store. William K. Stidham and Tony Squnido were artists whose work definitely captured my attention. From musician inspired paintings by William Stidham, including some amazing depictions of Metallica, not to mention other artists like Dave Grohl, Bruce Springsteen, Jimi Hendrix, David Bowie, I could go on and on, to hot rod and monster inspired art from Tony Squindo, (who has also created many pieces for Metallica) both were on hand to talk with people throughout the weekend. Tony Squindo even had his own ride on display in the weekend's car show.
Of all the members of Metallica, I'd day Rob Trujillo had the most going on over the weekend. Not only did he play with dehaan Saturday afternoon and with Infectious Grooves Saturday night, he played with Trujillo Trio and Metallica on Sunday. I hadn't seen a funkier set from any other band like the one put on by Infectious Grooves in a while. The level of lead singer, Mike Muir's energy on stage during their entire set made me tired. It was also a surprise to see Jim Martin, of Faith No More fame, on guitar. Of course with Rob on bass, along with all the other guys on stage, their hour long set was fun and did I mention, all kinds of funky?
Be sure and check out the photo gallery of the atmosphere at the Orion Music and More Festival.
The last band of the night, Red Hot Chili Peppers, started around 8:00 p.m. while it was still light out. The crowd was ready and they came out holding nothing back. They started their approximately 1 hour and 45 minute, 18-song set with Monarchy of the Roses before going into Dani California, which was met with lots of cheers from the crowd. After the song was over Anthony asked everyone to give it up to the signer on stage. Song after song, hit after hit, Anthony, Flea, Chad and guitarist Josh Klinghoffer came to rock. To the person that had the idea of showing all the live video footage in B&W for a good portion of their set, KUDOS to you. It gave such a cool vibe for the visual portion of the show. Not only would they show the individual guys on the side screens, there would be a collection of everyone on the main middle screen. Once it started getting darker, the B&W turned to color and colorful stage lights gave another cool visual to keep everyone's attention.
Another great aspect of the weekend was all the great people watching. From where I was standing, there was a girl with a hula hoop who spun and twirled and spun some more giving those around her a mini show during RHCP's set. Later on that night, as it got darker, others appeared in the same spot to dance and twirl their light sticks.
RHCP got funky during Higher Ground and afterwards Flea thanked Detroit for the love and the support. They also thanked Metallica for having them and then Flea said, "And I wish for you all to have peaceful days full of love and kindness." He then started quoting several lines from The Tiger, a poem by William Blake. As the night went on, they played a beautiful version of Under the Bridge and the crowd could be heard loud and clear singing along during the opening verse and throughout the whole song. Suck My Kiss, Californication and By the Way ended their set as they left for the encore break.
When they came back out Flea walked across the stage on his hands and the band jammed a bit before Flea went into an awesome and funky bass solo. They ended the night with a 3-song encore of Around the World, Soul to Squeeze and Give It Away. Fans began the long walk back to the shuttles and just as the day started, there were extremely long and slow moving lines to get everyone on the shuttles and back to the designated drop off point. Everyone was crowded together, most patiently waiting, and every once in a while people would break out in song. Whether it was a Metallica chorus or Journey, people tried to keep their sense of humor about them.
*Be sure and check out our coverage of day two here.
Click here for more information about the Orion Music and More Festival.