Monster Energy Outbreak Tour Featuring Bullet For My Valentine, Black Veil Brides, Stars In Stereo and Throw The Fight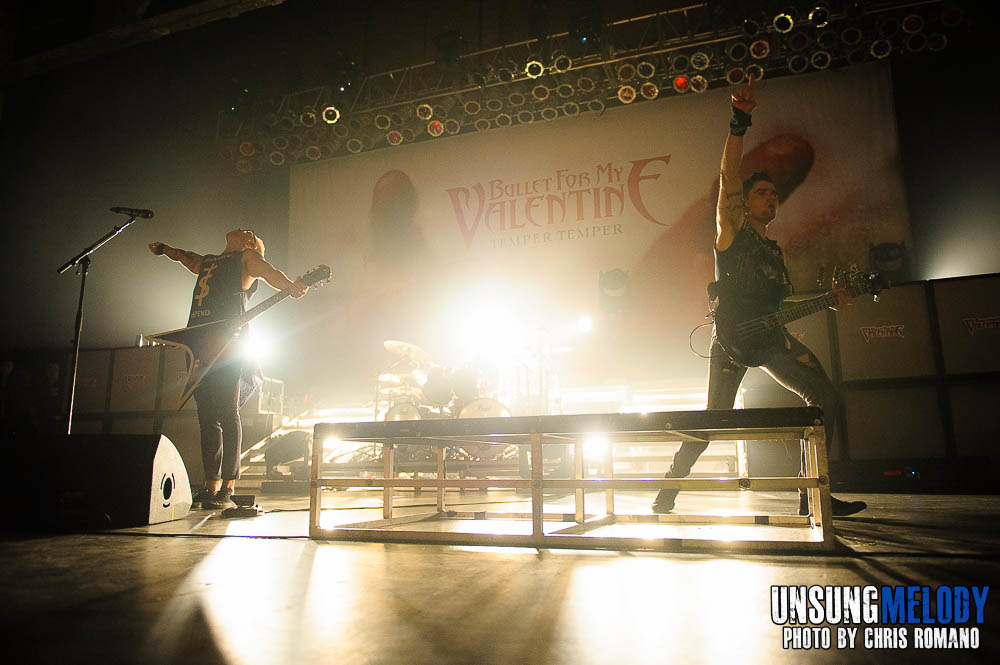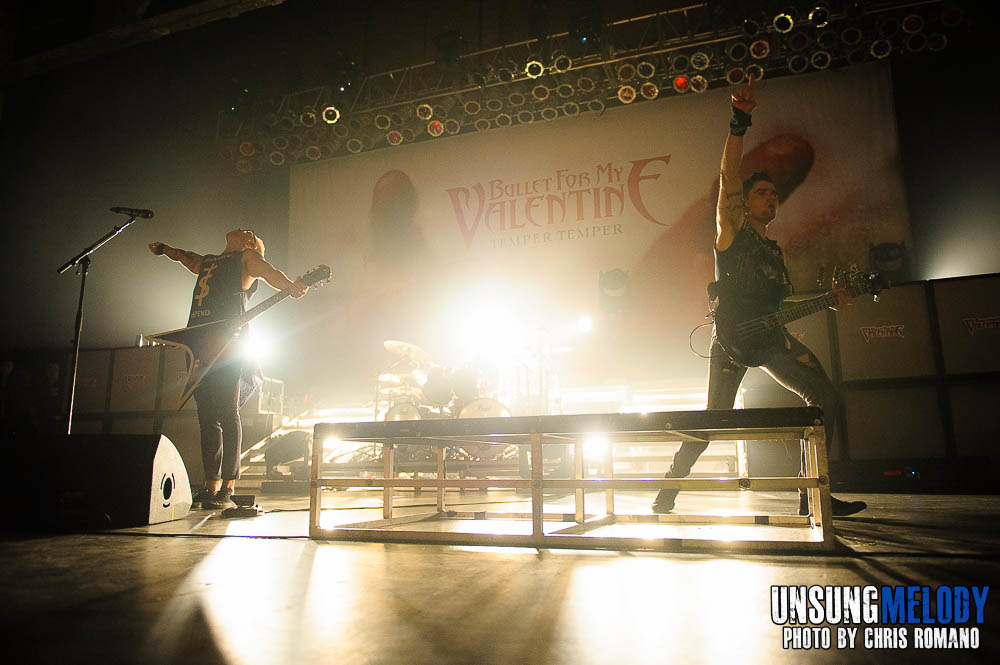 The midway point of this year's Monster Energy Outbreak Tour arrived at The Paramount in Huntington, NY. Featuring four bands who are a little bit metal and a lot of hard rock, the package is a pretty diverse one, with only a few fans who seemed to be there for both of the two primary bands.
Kicking things off for the night was hard rock group Throw the Fight. As the crowd began to fill up The Paramount, I could see a lot of head banging was already underway, which is always a positive sign for a show opener.
"Are you ready for a rock show?" announced front man James Clark. The vocalist, who mentioned during the show that 3 years ago he had cancer, and he was able to kick it. His short speech about never giving up, never letting anything stop you, and following your dreams, brought a great amount positive energy to the crowd. The song "Not so Hollywood" really had the crowd moving and even had many hands waving in the air along with Clark.
Up next was the female fronted rock group, Stars In Stereo. I caught SIS back in February of this year when they were opening for Flyleaf and Drowning Pool, so this was my second experience with them. One major difference this time however, was they were now playing with one less guitarist. It did not seem to take too much away from their sound though, and it allowed the 3 standing band members even more space to move around.
"I want to see the biggest fucking mosh pit this place has ever seen," announced guitarist Jordan McGraw, driving a frenzy of fans in to a circle, something I know did not happen last time I saw Stars in Stereo. Many of the younger fans who were just enjoying the show and waiting for the next band seemed pretty thrown back by the chaos, I found it pretty humorous.
Personally, I couldn't help but feel that while musically Stars in Stereo sounded great, and vocally Bec Hollcraft sang magnificently, especially during "Queen of Catastrophe" and "The Broken", but the band just didn't look that interested in what they were doing. While they were moving all over, twisting, turning and jumping, I can't remember one time I saw any of the band members actually smile while they were performing. They just didn't seem that in to it, and more like they were running through the motions. It could be that they have been touring and are just in need of a break.
Whoever was in charge of the songs playing over the PA at The Paramount this night… I commend you. A nice mix of Slayer, Pantera, and Iron Maiden filled the air between sets, with even a mosh pit breaking out during Slayer's "Raining Blood". It's always amazing to see what that song can do, even when its not being played live.
Say what you will about the next band up, but I think Black Veil Brides put on a killer show. While they were once known for wearing lots of leather, makeup, and having ridiculous hair, they've since toned down on the theatrics, at least in two times I've seen them.
Opening up with "Shadows Die", once BVB took the stage, I could hear the hundreds of screaming fans behind me. Thank goodness for ear plugs. Vocalist and front man Andy Biersack is quite a monument in their eyes, garnering screams and tears the second he walked out.
My favorite thing about Black Veil Brides is how well they cover the stage, as any good rock band should. Bassist Ashley Purdy even keeps a microphone strapped to him, rather than moving towards one to provide Andy with backing vocals. Meanwhile, guitarists Jinxx and Jake Pitts often will go back to back with one another, be it during a solo or just during a dominating riff.
In the middle of the set, they played a cover of the Misfits song "Fiend Club," which perhaps went over the head of some of the fans, but paid a great tribute to a band that clearly has an influence on them. This was followed up with "Perfect Weapon", which Andy mentioned was the second song they made a music video for. Surprising to me, part of the crowd erupted in to a massive circle pit during this song, showing that even Black Veil Brides can get pretty heavy at points.
The most solid performance from BVB was easily during "Fallen Angels." With much of the crowd singing along, it was almost hard to hear Biersack during this one, as he conducted the crowd like an orchestra.
I feel like toning down on the heavy makeup will only help Black Veil Brides in their future. While I only watched them for a brief time when I saw them at Warped Tour, this time around I saw them for their entire set, and I'm glad I did. While I'm not a huge fan of them musically, I am a fan of what they do on stage. I think changing things up to put more of a focus on the overall performance and music helped gain them a few more fans in attendance that may have previously shrugged them off as being "lame" and "emo".
Our Exclusive Black Veil Brides Photo Gallery
The headliner and final band of the night was Bullet for My Valentine. Cheers of "Bullet, Bullet, Bullet!" were constant prior to the band arriving. Starting up with the first track from their latest release, "Temper Temper", was the song "Breaking Point".
Frontman and guitarist/vocalist Matt Tuck, who was wearing sunglasses on stage for most of the night, did not need to say much to get the crowd moving. Songs such as "Waking the Demon", "4 Words (To Choke Upon)," and "The Poison," all gave way to some massive circle pits and moshing.
I really have to give props to whoever was in charge of the sound mix during BFMV. The sound quality at The Paramount, even being a new venue, is not always great. For their set however, it was loud, but very, very clean. I could hear every word Matt Tuck sang perfectly, and every note of guitarist Michael Paget's solos were easily identifiable. Also the lighting… really cool stuff. During "Dirty Little Secret," the lights mixed in a red and blue mix that almost made me feel like I was watching something in 3D.
A hefty guitar solo from Michael Paget led way to a heavy mosh during "Scream Aim Fire." After tearing through it, Bullet for My Valentine left the stage for around 3 minutes. During this time, cheers of "We Want Bullet!" filled the venue, causing the band to return to the stage for "Alone."
"Hands down, the best fucking crowd so far," Matt told the crowd, who was sweaty and out of breath, but ready for one more. Cheers of "Tears Don't Fall, Tears Don't Fall!, TEARS DON'T FALL" echoed through The Paramount, which only meant the last, and most popular BFMV song was ready to be played.
Bullet For My Valentine Photo Gallery
The Monster Energy Outbreak Tour is really solid this year. Between a great opener, a main support that had just as many fans in attendance as the headliner, and a headliner that can get the crowd spinning for the entire night just by playing their heavy music, the tour is great for fans of any of the bands. Or, just hard rock music in general. Only thing I really wish was that Monster gave out some free samples; they had banners all over the place, and barrels full of their energy drink on the stage, so why not give out some for everyone else? Get on it!