Forecastle Festival 2013: Day 2 Review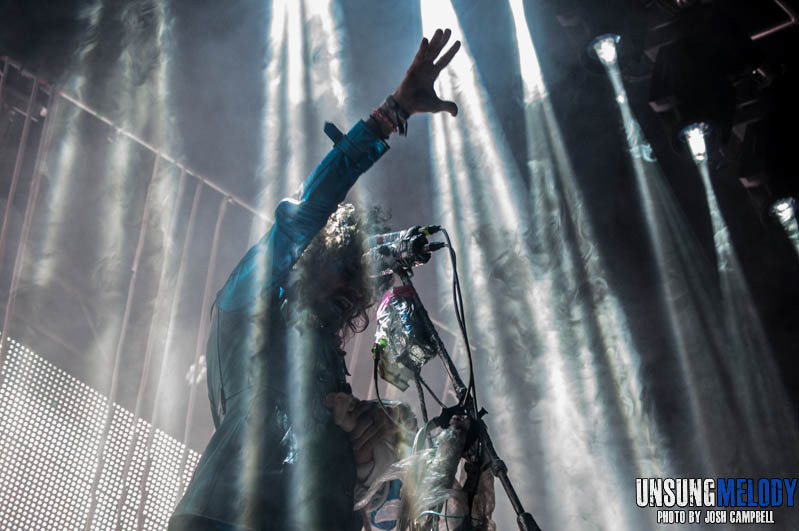 On Day 2 of of Louisville's Forecastle Festival, Sarah Jarosz kicked off the day on the Boom Stage with some good 'ol bluegrass. The interplay between this 21 year old bluegrass star and her band mates were fun, as they goofed off with each other while keeping up. Bluegrass at it's finest!
Following Jarosz's set, I made my way back to the Mast Stage to catch the husband-and-wife duo, Shovels & Rope. The raw quality of their alternative country music was full of energy, as they played off of each other. Between the raucous harmonica, raw drums, and the beautifully rustic strums off the guitar, it was as catchy as their country accents!
Click here to check out our photos from Day 2.
Shortly after the Shovels & Rope set, the festival grounds were evacuated due to "impending severe weather", which never happened. Once I had fought through the crowds, and made my way back to the Mast Stage, I caught the LA-based folk rock act, Dawes. These guys mesh the sounds of The Black Crowes, Wilco, and Neil Young into one indelible and unique sound of their own.
Thirty minutes after their set, the Alabama Shakes took to the stage. These media darlings could put on a show! Their blend of blues-based, Americana rock and soul brought out the crowd in droves. Brittany Howard (vocals/guitar) powered through with such excellent quality. The comparisons of her sounding similar to Janis Joplin are not unwarranted! As the band played cuts of their debut album, notably "Hold On", the crowd would erupt in sing-song along with her.
Later in the evening, back onto the Boom Stage, I got to check out The Flaming Lips. WOW! As eclectic as their stage presence and music is, this was an incredible show. Wayne Coyne's incredibly unusual stage presence, while cradling a baby doll had quite a creepy effect on me. Musically, they were spot on, and just as unusual as they are expected to be. Unfortunately, due to being on a smaller stage and less playing time, they didn't bring out the ball that Wayne will normally climb into and crowd surf with. Overall, it was an incredible experience!
Lastly, The Black Keys took to the Mast Stage later that night. Kicking off their set, they had opened with "Howlin' For You". Tightening up the set, they next unleashed "Tighten Up" and "Same Old Thing". Another great cut they played next was "Gold on the Ceiling", with the crowd once again joining in with them on the song. The Black Keys were a fun way to end the night, and certainly topped off a phenomenal second evening at the Forecastle Festival.