Dave Rawlings Machine at the Brown Theatre in Louisville, KY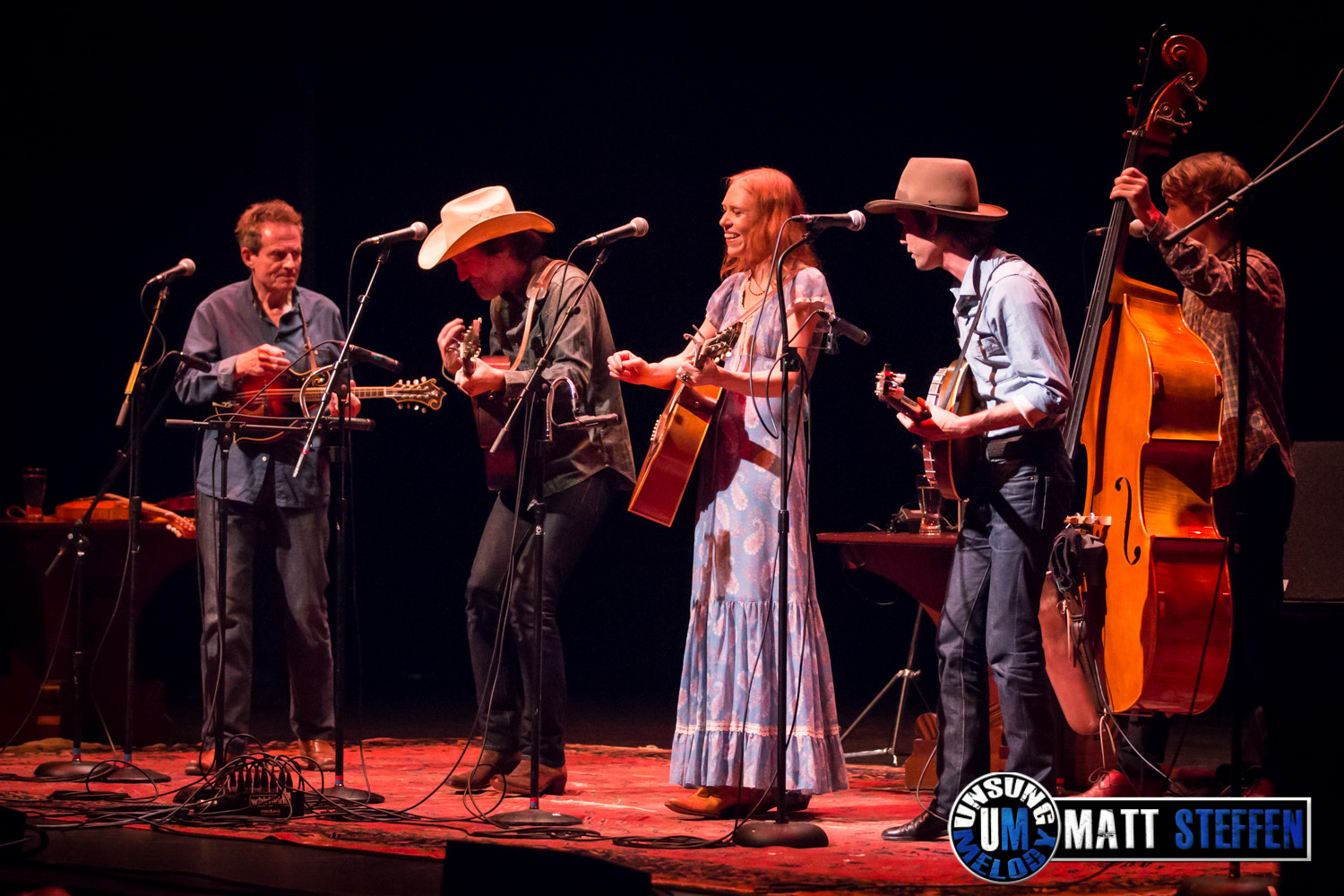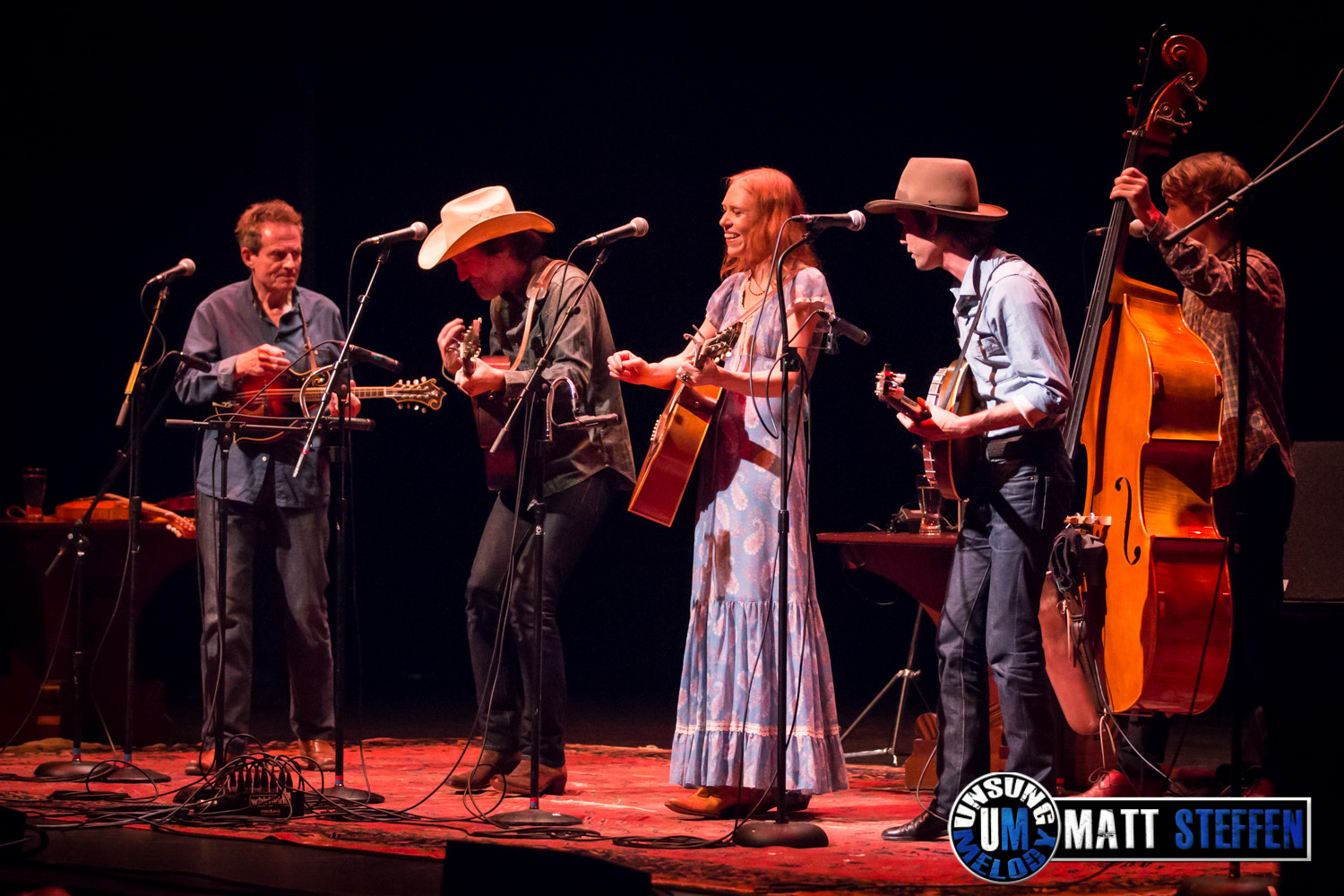 When Dave Rawlings put together his Dave Rawlings Machine touring band, he wasn't not screwing around. Known best for backing Gillian Welch with his fluid flat-picking guitar and pinpoint harmonies, stepping into the leading role could be a daunting task. Especially when you are leading a group comprised of Gillian, Willie Watson of the Old Crow Medicine Show, and Paul Kowert from the Punch Brothers. As if that were not enough to guarantee their supergroup status, on Mandolin was Led Zeppelin multi-instrumentalist John Paul Jones. Even with such talent on the stage, it was clear that Dave was holding the reigns. Stepping in with his renowned leads and vocal harmonies, he was quick to cast the spotlight on those around him.
Playing to the packed house of Louisville's Brown Theatre, it was apparent from the beginning that they were truly enjoying themselves. The lighthearted performances of songs like "Sweet Tooth", "Candy", and the interspersed crowd interaction kept things from getting too serious. Even a snapped high E string by Willie Watson on the first chord of Charley Jordan's "Keep it Clean" got a laugh as Dave fished a fresh one out of his ever present box of tools, dubbing Willie the "fastest string swapper this side of the Ohio". It was when Dave introduced the individual players that he showed his admiration. Called out over generous applause, lastly, with a grin of astonishment, he yelled what we were all thinking, "JOHN PAUL JONES!!!" The generous ramped up to thunderous.
The setlist was made up of Rawlings' originals, Americana medleys and songs crafted by the supporting musicians. With the knowledge and mastery between the five of them you might get a chance to hear the entire Great American Songbook, it's almost a musical history lesson. Mixing in his numbers with songs by Dylan, Jesse Fuller, The Band, and Woody Guthrie, it's easy to hear who has influenced Dave's work, but they are still delivered with his trademark rambling picking style. To hear him trade and overlay spectacular runs with the legendary John Paul Jones was amazing. Audible gasps and wow's were heard from the hushed, attentive audience. Playing two sets, each a little over an hour long, they mixed melancholy with humor but were still able to get the crowd roaring, most notably with a medley of Old Crow Medicine Show's "I Hear Them All" blending into Guthrie's "This Land is Your Land". Nearly 100 years after those lyrics were written, they never sounded more true.
After the two sets, they came out for an encore playing the classic Led Zeppelin hit "Going to California" in their trademark lilting, psychedelic Americana style. Rawlings was surprisingly in control of the challenging vocal range, with the whole band picking up the reverb soaked bridge. A second encore had everyone but Jones sing a verse for The Band's "The Weight". And not being known to call it an early night, they snuck back out for a quick, a capella "Didn't Leave Nobody but the Baby", made popular by Welch, Alison Krauss, and Emmylou Harris on the "O Brother, Where Art Thou?" film score. Dave Rawlings Machine stood around one mic and sang, clapped, and stomped, bringing it all back to how this music began.
Dave Rawlings Machine: