25 Years In The Making. Slayer featuring Gojira and 4ARM at Madison Square Garden In NYC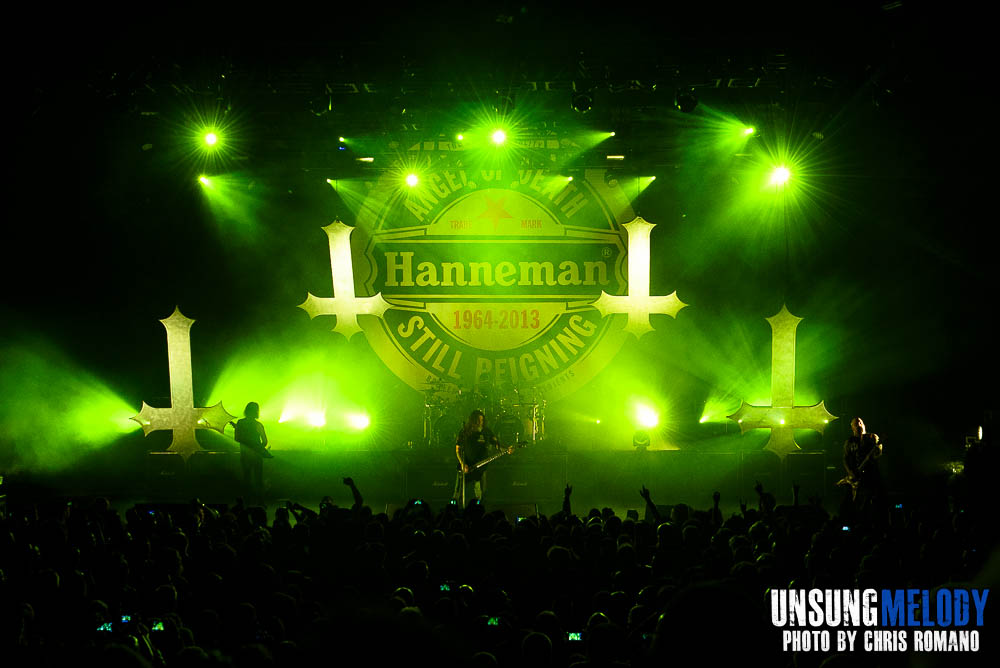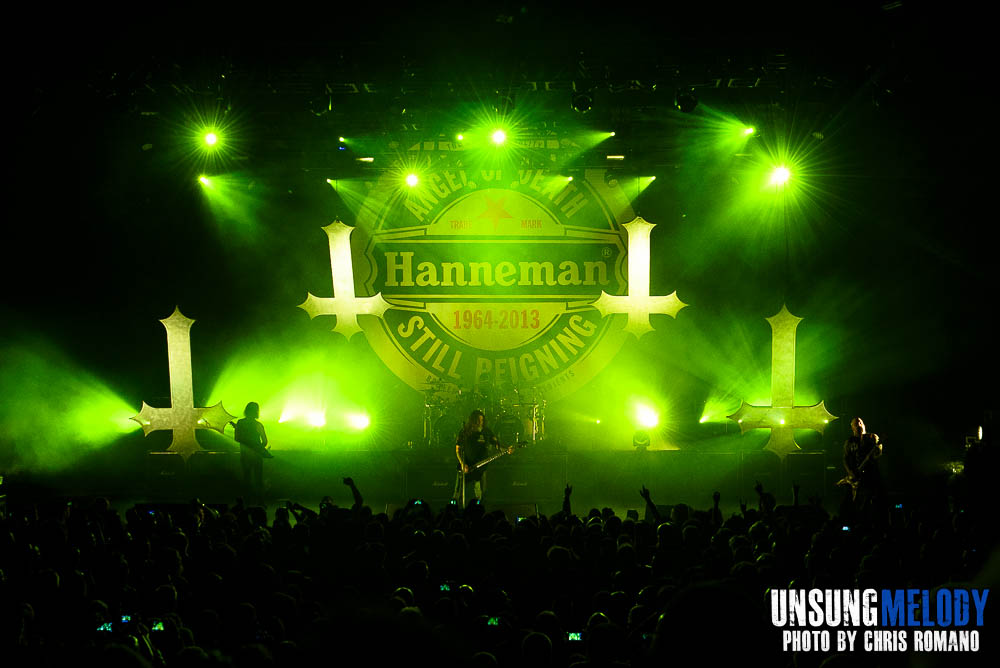 It's been 25 full years since the thrash metal titans, Slayer, have taken over Madison Square Garden. And that's just way too damn long.
This year, a few short days before Thanksgiving, but with two different band members than they had in 1988, Slayer returned to the Theater at Madison Square Garden's stage. For this "Still Reigning" tour (which is dedicated to the recently passed Jeff Hanneman, Slayer's second guitarist since the band's inception) they brought along fellow thrash metal band 4arm, and technical death metal titans, Gojira.
Opening for the night was 4arm. Earlier this year, 4arm was apart of Testament's "Dark Roots of Thrash" tour, which earned them a decent fan base with their heavy, speed-metal-by-the-numbers thrash. While they certainly put on a solid performance, they had one major negative against them: they were opening for Slayer. People are there for Slayer and it's a tough, albeit coveted, spot.
Throughout 4arm's set, I could hear constant screams of "Slayer, Slayer, SLAYER!" throughout the crowd. Even with this against them, they managed to press on, with vocalist/guitarist Danny Tomb even mentioning, "it's an honor to be sharing the stage with Slayer, and we thank them greatly for bringing us on this tour."
See the 4Arm photo gallery here.
4arm manged to get the crowd head banging a good bit, and I even felt that Tomb vocally reminded me of a younger Tom Araya, particularly on the song "Dying Time." They ended their set with "Spent and Bled" and were thankful to play the Madison Square Garden stage.
After a short turnover, the main support for the night, a band that can be best described as "the present and future of metal," the mighty Gojira, took the stage. Opening with "Explosia," the crowd was quickly head banging away to the unique heaviness and groove.
I last saw Gojira back in February, where they headlined a sold-out show at Irving Plaza here in NYC, and it was easily one of the top 5 most intense shows that I've ever seen. This time, with a larger stage, and a crowd that certainly respected them (as I no longer heard the constant cheers of "bring out Slayer!") things were a bit less intense, but certainly a bit more direct.
"New York, did you come here to nap, or to bang your fucking heads?" frontman Joe Duplantier shouted to the crowd. With his brother Mario behind him on the drums, standing and screaming along with him, they finally managed to get the crowd moving and moshing, just as they broke into "Love." The longer Gojira played, the more active they got on the stage. Frequently, Joe, guitarist Christian Andreu and bassist Jean-Michel Labadie would all rotate around the large theater stage, with Jean-Michel frequently flipping his bass guitar above his head.
As their set went on, Gojira grew more and more active, which drove the audience to become more and more active as well. The always heavy "Flying Whales" made those in the pit grow two separate mosh pits in to one giant circle pit. The always heartfelt Joe then went on to say, "that was awesome man," which earned many cheers. "This is really awesome, and its an honor to be playing with Slayer."
See the Gojira photo gallery here.
The next song in Gojira's set, never fails to give me the chills. Perhaps its the the riff, the way Joe sings it, or just the whole package, but since the first time I heard it, I loved everything about it. "This song is about how you need to keep your inner child alive all your life. This one is entitled L'enfant Sauvage."
Ending on the slow but heavy and distinct "Vacuity" was the perfect way to end Gojira's set. As the rest of the band left the stage, Joe stayed out a little bit longer, standing at the very front of the stage, throwing out his arms and fists while shouting "Slayer, Slayer, Slayer!" to get the crowd ready for the headliners of the night.
A giant white curtain stood between the stage and the audience, covering curious eyes from seeing one of the members of the Big 4 of thrash, the mighty Slayer. After roughly 10 seconds of the opening riff to "Hell Awaits," the curtain dropped (which to me seemed a bit earlier than it perhaps should have) and was dragged out.
In a bit throwback to how Slayer had not been at The Garden in quite some time, they played songs from a bit further back in their massive catalog. Opting with selections from 1990's "Seasons in the Abyss" and earlier, older fans in attendance must have been quite happy with the set.
However, its important to note that the Slayer that stood on the stage this night was not the same Slayer that was at The Garden in 1988. While guitarist Kerry King and vocalist/bassist Tom Araya remain the same, the drummer, Paul Bosteph (who was a member of Slayer for much of the 90s) and guitarist Gary Holt (who is the founding member of Slayer's thrash metal brothers Exodus) replace drummer Dave Lombardo and the recently passed guitarist Jeff Hanneman. "This is a great place man. 25 years later, and this is still a great place." Tom Araya went on to say. "I wanna thank the house owners for letting us show up again, and you guys for coming out to see us." But things were not all peachy and happy throughout the show, as a few times after songs, Tom stopped things to mention how certain members of the crowd, and of the security at the front of the stage, were not following proper etiquette of a metal show. Tom had no problems calling people out on them, going on the mic and saying, "You guys are here to have fun right? Well I don't mean to slow things down, but there is some shit happening here that I'm not cool with." In Tom's defense, if there is anyone that has a say in how people should handle themselves at a metal show, after over 30 years of being the front man of one of the biggest metal bands in the world, it's him.
It wouldn't be a Slayer show without a crazy mosh pit. During "Postmortem," I counted 4 separate pits going on, 2 of which had fights break out in them. Unfortunately, it also wouldn't be a Slayer show without a least a few fights.
After blasting through "At the Dawn They Sleep," Tom said to the crowd, "30 years ago, we released a record, and it's great to see some of you know the words to these songs." After gaining massive applause from dedicated fans, Slayer then broke in to another old but much revered tune, "Die By the Sword." For a 30 year old song, Tom seemed to belt the lyrics with as much ferocity as his did all those years ago.
With Gary Holt of Exodus, now Slayer's somewhat-official second guitarist in toe, they decided to bust out a cover (cover being a loose term, since it is Gary's song) of the Exodus tune, "Strike of the Beast." I saw much of the crowd was a bit confused by the song as it wasn't a Slayer tune, but Gary sure did seem to enjoy playing it. In addition, while I have seen Slayer with Gary Holt before, it was only here with the excellent sound that I really could hear just how different Gary's playing is compared to what Jeff's was. While Jeff was a bit sloppier (in a good sense), and Gary is very precise and accurate with his playing, Jeff's style added a certain groove to Slayer's playing that will be forever missed.
See the Slayer photo gallery here.
Speaking of Jeff Hanneman, my personal favorite points of the night was after the band busted through "Raining Blood," and "Black Magic", they left the stage for a few moments, and the stage went black. When they returned, the lights when a shocking green, and behind them was a giant banner, which read "Angel of Death, Hanneman 1964-2013, Still Reigning" in the style of the Heineken logo, Jeff's beer of choice. No words needed to be said, as the band finished with two Slayer fan-favorites penned by Jeff, "South of Heaven," and of course, "Angel of Death."
If you missed out on this tour, you certainly missed out on something incredible. Between Gojira's full control of the large stage and theater, and Slayer's always fantastic playing, this is one that I won't soon forget. 4arm did seem a bit out of place, but they at least worked well as an opener. Also, I feel like Gary Holt's excellent playing helps keep Kerry King's playing in line, as Gary has always been one of the greatest riff-lords of thrash metal. Hopefully though, it won't be another 25 years before Slayer returns to Madison Square Garden.