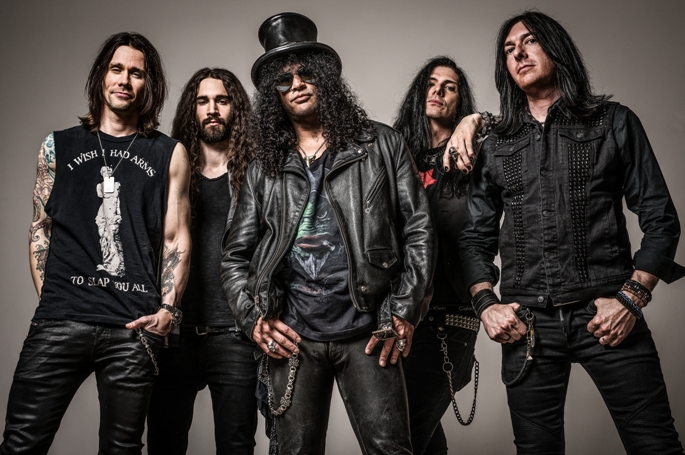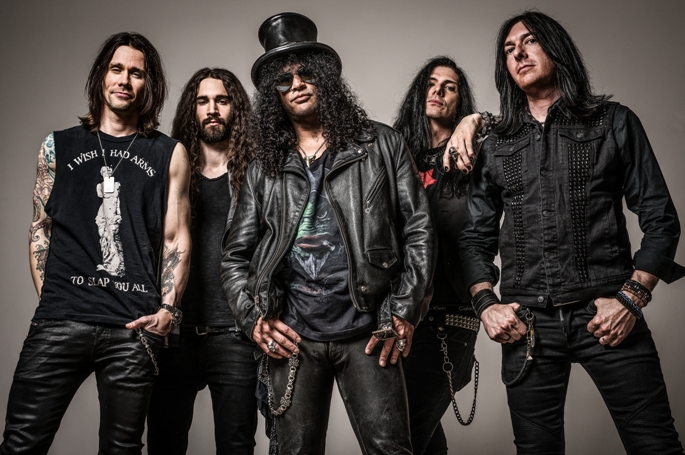 SLASH and his band Featuring Myles Kennedy and The Conspirators will kick off a U.S. tour Saturday, April 25 in Orlando FL. The month-long U.S. trek  encompassing headlining shows and festival appearances is the first solo tour supporting the group's acclaimed studio album WORLD ON FIRE which is SLASH's third straight solo album to debut in the Top Ten in the U.S and the second album with his official band The Conspirators which features MYLES KENNEDY (vocals), BRENT FITZ (drums), TODD KERNS (bass) andFRANK SIDORIS (touring guitarist). In addition to festival appearances at WJRR Earthday Birthday, Welcome To Rockville, Carolina Rebellion, Rise About Fest and Rock on the Range, the global rock heavyweights will headline New York City (Terminal 5), Baltimore (Rams Head Live), and Chicago (Concord Music Hall), among other cities, before wrapping Saturday, May 23 in Houston (House of Blues). Tickets will go on sale starting today, (February 17) at www.slashonline.com (see itinerary below). Expect more dates to be announced next week.
"The World On Fire tour has been nothing short of awesome," says SLASH, "so I can't wait to jump on these U.S. festivals in May. As well as mix in our headlining show for a bunch of dates along the way."  
SLASH Featuring Myles Kennedy and The Conspirators unleashed WORLD ON FIRE (Dik Hayd, Sept. 2014) to worldwide praise, garnering SLASH some of the best critical acclaim of his career (see a sampling below). The band and their new album continue to receive accolades including: SLASH was honored with the Les Paul Award during the 30th annual NAMM Technical Excellence & Creativity Awards (Jan. 24); "Artist and Album of the Year" from Ultimate Classic Rock; "Best Rock Album" from Guitar World magazine's reader's poll; "#1 on the Top 20 rock Albums of 2014" from Brave Words & Bloody Knuckles (BraveWords.com); and Loudwirenamed Myles Kennedy "Best Vocalist" and Todd Kerns "Best Bassist."
WORLD ON FIRE achieved over 12 Top Ten chart debuts around the world upon its release. The album's title track and first single"World On Fire" ascended to #1 at U.S. Rock Radio. Their new single "Bent To Fly"–showcasing SLASH's stellar guitar work and frontman Myles Kennedy's vocal command of both high and low ranges–is already in the Top 20 at Active Rock (watch the "CONAN"performance below). WORLD ON FIRE is the follow-up to the acclaimed Apocalyptic Love album (2012) which also stormed the BillboardTop 200 Albums Chart, debuting at #4 as the top rock album. Apocalyptic Love has the added distinction of spawning SLASH's first-ever#1 rock radio solo hits: "You're A Lie" and "Standing In The Sunday." And now with WORLD ON FIRE, SLASH Featuring Myles Kennedy and The Conspirators have now hit their stride at rock radio and with fans worldwide.
"The group [Slash with Myles Kennedy and The Conspirators] is now three albums into their career, and its latest, WORLD ON FIRE (Dik Hayd)—tracked as usual on analog tape–features some of the warmest-rock guitar textures, most dimensional and contrapuntal guitar arrangements, and most downright killin'riffs Slash has ever delivered. It also features camaraderie, chemistry, work ethic, and to use a rhythm section term, gelling that Slash-after paying more than his share of drama dues with those other two bands-certainly deserves. In Kennedy, Slash has found a lead singer who not only kills both the new stuff and the old, he also shows up to soundcheck on time. Guns, Revolver and Snakepit were all cool, but Slash, now playing huge crowds under his own name, and playing the music he wants to, has finally found his real dream band."
—GUITAR PLAYER, Jude Gold, COVER story (October 2014) 
"Slash's latest, WORLD ON FIRE, showcases the explosive chemistry that began to evolve among Slash, Kennedy and the Conspirators… Spiced with the occasional ballad, WORLD ON FIRE is nonetheless focused firmly on what Slash does best–delivering searing, guitar-drenched rock. In his nearly three-decade career, that consistency has never wavered."
— M MUSIC & MUSICIANS, Russell Hall, COVER story (Feb-April 2015)
To read more critical soundbites for the new album WORLD ON FIRE, click here: http://msopr.com/files/slash_world_on_fire–critical_soundbites.pdf.
Watch SLASH Featuring Myles Kennedy and The Conspirators perform their new single "Bent To Fly" "Conan" (HERE).
DATE
LOCATION
VENUE
Overseas Tour Dates:
WED

2/18

Wellington Central, NZ
Tsb Bank Arena
SAT

2/21

Melbourne, Australia
Soundwave Festival
SUN

2/22

Adelaide Sa, Australia
Soundwave Festival
TUE

2/24

Sydney NSW, Australia
Hodern Pavilion
THU

2/26

Melbourne, Australia
Festival Hall
SAT

2/28

Brisbane, Australia
Soundwave Festival
SUN

3/1

Sydney, Australia
Soundwave Festival
WED

3/4

Santiago, Chile
Teatro Caupolican
SAT

3/7

Buenos Aires, Argentina
Mandarin Park
MON

3/9

Lima, Peru
Parque De La Exposicion
WED

3/11

Quito, Ecuador
Agora De La Casa De La Cultura
SAT

3/14

Rio De Janeiro, Brazil
Fundicao Progresso
SUN

3/15

Belo Horizonte, Brazil
Galopeira
TUE

3/17

Brasilia, Brazil
Net Live
THU

3/19

Curitiba, Brazil
Master Hall
FRI

3/20

Porto Alegre, Brazil
Pepsi On Stage
SUN

3/22

Sao Paulo, Brazil
Espaco Das Americas
WED

3/25

Mexico City, Mexico
Pepsi Center Wtc
THU

3/26

Guadalajara, Mexico
Estudio Cavaret
SAT

3/28

Monterrey, Mexico
Auditorio Banamex
U.S. Tour Dates:
SAT

4/25

Orlando, FL
Central Florida Fairgrounds – WJRR Earthday Birthday
SUN

4/26

Jacksonville, FL
Welcome To Rockville (Festival)
SUN

5/3

Concord, NC
Rock City Campgrounds – Carolina Rebellion
TUE

5/5

Stroudsburg, PA
Sherman Theater
THU

5/7

New York, NY
Terminal 5
FRI

5/8

Hampton Beach, NH
Hampton Beach Casino Ballroom
SAT

5/9

Bangor, ME
Darling's Waterfront Pavilion – Rise About Fest 2015
TUE

5/12

Sayreville, NJ
Starland Ballroom
WED

5/13

Baltimore, MD
Rams Head Live
FRI

5/15

Columbus, OH
Columbus Stadium-Rock on the Range (Festival)
MON

5/18

Chicago, IL
Concord Music Hall
TUE

5/19

Sioux City, IA
Hard Rock Hotel & Casino
SAT

5/23

Houston, TX
House of Blues
European Tour Dates:
MON

6/1

Oslo, Norway
Sentrum Scene
THU

6/4

Solvesborg, Sweden
Sweden Rock Festival 2014
FRI

6/5

Nuremberg, Germany
Rock Im Park 2015
TUE

6/9

Hamburg, Germany
Sportshalle

6/12-6/14

Donington Park, England
Download Festival