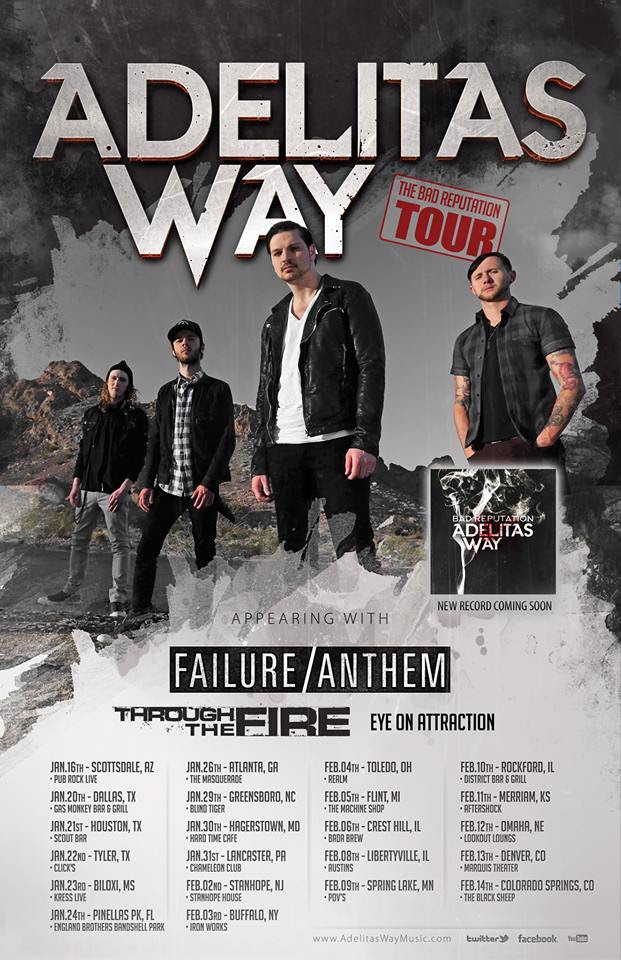 Adelitas Way Announces Dates Of "The Bad Reputation Tour"
New Single, "Bad Reputation", Premiered on Loudwire
FOR IMMEDIATE RELEASE:
Las Vegas, Nevada – Chart topping, Hard Rock band Adelitas Way have announced the dates for "The Bad Reputation Tour" which features special guests Failure Anthem, Through The Fire, & Eye On Attraction. The tour kicks off on January 16th in Scottsdale, Arizona and works it's way throughout the United States wrapping up on February 14th in Colorado Springs, Colorado. Adelitas Way will be touring in support of their brand new single "Bad Reputation" from their upcoming album due out early next year.
Tour Dates:
01/16 @ Pub Rock – Scottsdale, AZ
01/20 @ Gas Monkey Bar & Grill – Dallas, TX
01/21 @ Scout Bar – Houston, TX
01/22 @ Click's Live – Tyler, TX
01/23 @ Kress Live – Biloxi, MS
01/24 @ England Brothers Bandshell Park – Pinellas Park, FL
01/26 @ The Masquerade – Atlanta, GA
01/29 @ The Blind Tiger – Greensboro, NC
01/30 @ Hard Times – Hagerstown, MD
01/31st @ Chameleon Club – Lancaster, PA
02/02 @ Stanhope House – Stanhope, NJ
02/03 @ Iron Works – Buffalo, NY
02/04 @ Realm – Toledo, OH
02/05 @ The Machine Shop – Flint, MI
02/06 @ The Tree – Joliet, IL
02/08 @ Austin's Fuel Room – Libertyville, IL
02/09 @ POV's 65 – Spring Lake Park, MN
02/10 @ District – Rockford, IL
02/11 @ Aftershock – Merriam, KS
02/12 @ Lookout Lounge – Omaha, NE
02/13 @ Marquis Theater – Denver, CO
02/14 @ Black Sheep – Colorado Springs, CO
"Bad Reputation" is a song I wrote about how I feel. I've always lived my life just being who I am, and really in the past few years in rock I've built a bit of a reputation for being myself. On tour I like to drink a little wine, smoke a little pot. Music is fun, and too many in the business take it far too seriously at times. I also don't like to see people in the business constantly jumping off the rock bandwagon; I've heard heavy rock stations starting to play Bastille songs, so I spoke my mind. People say I'm uncontrollable, instead of taking accountability for what they are doing to help kill Rock-n-Roll. Even live shows were filled with more rules from the venues down to the bands we toured with. It was bullshit, and I hated what I was seeing happening to what was once the most rebellious group of humans I had ever seen. I have a bad reputation for not giving a fuck, always enjoying myself, and always being a advocate for Rock-n-Roll til the end. I wrote the song because that's who I am and how I feel.
This album is very important, I see it as the start of us taking back what is ours: a spot at the top of Rock-n-Roll. Fuel music offered me exactly what I was looking for, and that's a great partner. I want to make a statement with our indie release so other artists can follow, and not be afraid. Controlling your own destiny through hard work and great relationships feels amazing, It makes me love what I do that much more. It's also so exciting to feel that the possibilities are endless; on a major label things became so predictable, they believe rock is dead so you know that you'll get no attention. I needed to go indie for myself, my family, my band, and our music. To me it was the only option I was interested in. I was tired of being told to change my sound, that rock was dead. I felt really restricted, freedom is everything, and I also have the opportunity to make the best living from music I ever had. I'm at my best when my mind is focused on the songs, the plan, and the fans. – Rick DeJesus (Adelitas Way)
Purchase Adelitas Way's new single "Bad Reputation" Online:
Follow Adelitas Way: