Every Last Thing. An interview with Frogs McCormick from Stars In Stereo.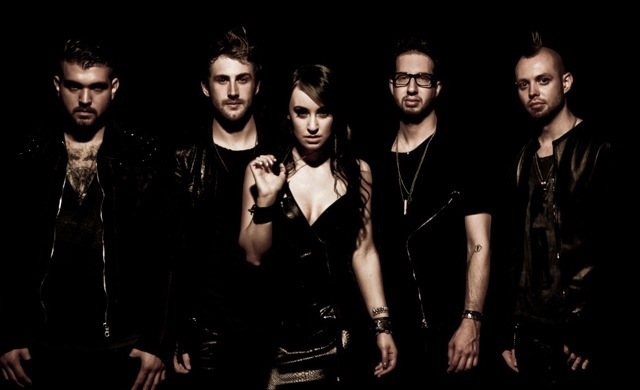 Stars in Stereo are a Los Angeles based band that has been making the rounds on tour of late. We caught them earlier this year on the Drowning Pool and Flyleaf tour. They are currently on the Hard Drive Live Tour with Bullet For My Valentine, Halestorm and Young Guns. We'll be covering the show tonight in Chicago, so if you are around say hello to Teresa Burke. With such a diverse range of tour mates, it's clear their sound will mesh with just about anything. The bands sound is a mix of their influences. With a rock core, blended with pop-oriented vocals delivered by the talented siren Becca Hollcraft, then mixed with some electronic elements, the band has created their own niche and are seemingly on their way to great success. I recently chatted with guitarist Frogs McCormick, below is a transcript of our conversation. I hope you enjoy!
Today, I'm welcoming Frogs McCormick to the Unsung Melody family. Frogs happens to be one of the guitarists from the band Stars in Stereo. First off, thanks for taking the time to speak with us today.
Not a problem!
You are currently on the Hard Drive Live Tour, so I know you are busy, I'll just jump right in. You're out in support of your debut full-length album. Give me every possible detail and don't leave anything out. Go!
Well it all started many years ago when my father and mother got together…
(laughter) No seriously, the album is self-titled and it contains some really great tracks. I'd like to dig a little into how the band works, so how long did this record take to write?
The album wasn't all written at once. When the band first formed, we wrote and recorded a few demos to get started. Some of those early songs, such as Every Last Thing, stuck around long enough to make it onto the album over a year later.
Some bands write as a whole, others have a main songwriter and others just fill in the gaps so to speak. How does the process work for Stars in Stereo?
We definitely write as a whole unit. While every song usually starts with a musical idea or hook from one of us, we all contribute together to flesh out the parts, solidify the arrangement, and make sure the lyrics are the best they can be.
Ok, so we know how long it took to get the album written and how it works. Did you record the album in your hometown of L.A.?
Yes. We did the bulk of the recording at producer Mike Green's studio in West LA. The drums were recorded at East West Studios in Hollywood. And Queen Of Catastrophe was recorded at Howard Benson's studio.
The album is a rock album at it's core, but there are many layers going on there. I hear some electronic elements, some pop-style hooks in the vocals, plenty of big open guitar riffs. Most bands tend to play it safe on their debut release, you guys busted out with guns a'blazin. Is that sort of a look at the mentality of the band? An all or nothing attitude if you will?
It wasn't necessarily a conscious decision. It's the only way we know how to do things in this band. We had a very clear vision that we all shared from the start, and that vision included all of those elements. It pretty accurately reflects our major influences I think.
Every Last Thing is the current single off the album. It too showcases some electronic elements. Vocally, that chorus is just massive. Does it seem that with every show, more and more people seem to be singing along?
Absolutely. Until recently we had been closing our set every night with The Broken. That had been the logical choice since we released it as a single along with a video last year ahead of the full album. That was the most familiar song to most of our fans. On this tour we're closing with Every Last Thing. The crowds really connect with it, especially that huge final chorus. It's been pretty incredible to watch that change.
Most people freak out when they start hearing their music on the radio, tell us about your "first time".
Haha! I quickly scrambled to record it by the end so I'd have proof… Don't judge me.
I would never judge! (laughter) All Together is one of my favorite tracks on the album. I love the groove and it's catchy as hell. Give us a little insight, a little backstory into that one if you don't mind.
Thanks! We love playing that one live. That one came from the idea of living as a team, dying as a team. It's easy to call someone your friend or partner in something but it doesn't matter if, when shit hits the fan, you don't do everything you can to help or go down with them trying.
For a band that has only been together for a couple years, things have really seemed to progress quickly for you. I'm sure it gets overwhelming at times, but what has your journey taught you so far as a band?
We're constantly learning lessons. Things like how to survive on the road, how important it is for everyone to communicate with one another, that we all should never lose sight of our common vision and goals for the band. We learn a lot from the other bands we have toured with. They've been doing this longer and have gone through all the same stuff. It's really great being able to have mentors like that right here in front of us on a daily basis.
As I mentioned you are out on the Hard Drive Live tour. A tour that features Bullet For My Valetine, Halestorm, Young Guns and yourselves. That's a lot of really hot bands on one tour. Have you guys been enjoying yourselves on this one?
Absolutely. Not only do we get to watch three other great bands every night, but we get to hang out afterwards. I'm having the best time of my life.
Continuing to surprise, it seems you are heading out on an acoustic tour after this one. How on earth did that come about?
We had talked to Anberlin about touring last year, and then again earlier this year. The timing was always off and things didn't work out despite both of us wanting to tour together. Fortunately the timing worked out perfectly for this one, and the fact that it is acoustic makes it really exciting for us. We really enjoy reworking and reinterpreting our songs, as we did for the acoustic video for The Broken we released over the winter break. This tour gives us the chance to expand that to a whole set of our songs. We'll also have an exclusive bonus acoustic EP that will only be available at those shows.
Sounds like a busy year for you guys and well deserved. Alright, I always end on a random question. It's a bit of a tradition for the site. What's worse, no shampoo in the shower or no maple syrup for your pancakes?
I'll answer your question with a question: what's worse, maple syrup in your hair or shampoo on your pancakes? Boom.
Mind=Blown. (laughter) Frogs, I thank you so much for your time today. The site and myself wish you and the band absolutely nothing but the best. We will have a photographer and writer covering the tour in Chicago, so be sure and smile pretty.(laughter)
Smiling costs extra, but can't wait to see you guys!
Keep up with Stars in Stereo below:
Official Website
Facebook
Twitter
Purchase the self-titled album below:

Check out the video for The Broken below: