Dreads and Double Dare. Wait, what? I Said It. An interview with Elias Soriano from Nonpoint.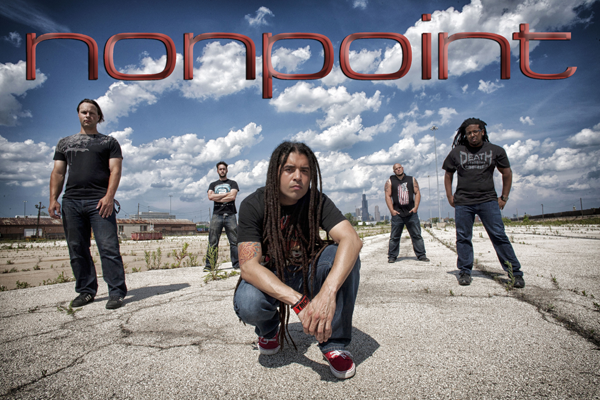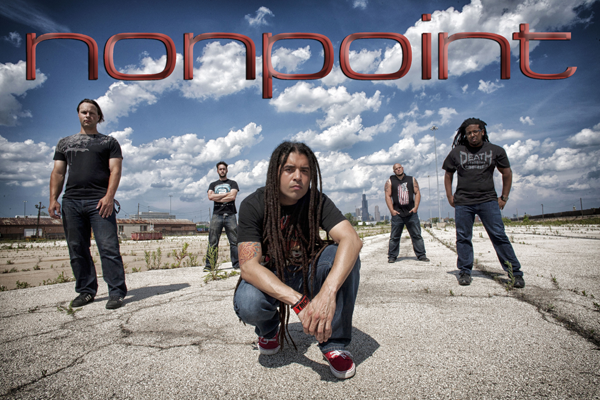 A staple in the rock scene for 12 years now, Nonpoint has brought their unique style to the masses. Has it been an easy road? Hell no! The band has changed labels, management and members several times over the years. Resting comfortably now on Razor & Tie Records, with a revamped line-up that has put out, what many consider to be one of, if not the best, Nonpoint record yet. As usual, the band are true road warriors and have been touring for the better part of the last six months in support of their self-titled release. With many more dates on the horizon, the band seems to be putting their head down and doing what they do best, and that's kicking ass at a concert venue near you. Check the dates, enjoy the show, thank us later!
Stream the entire interview with Elias Soriano from Nonpoint below:
[ca_audio url="http://www.unsungmelody.com/wp-content/uploads/2013/01/Elias-Soriano-from-Nonpoint-interview.mp3″ width="500″ height="27″ css_class="codeart-google-mp3-player" autoplay="false"]
Today, I'm joined by Elias Soriano. Elias is the vocalist of Nonpoint and the owner of the coolest dreads in music. First off, thank you so much for taking the time to speak with us today and welcome to the Unsung Melody family.
Thank you for the introduction.
Obviously we're here to discuss some music. So, let's talk a bit about the new album. It's a self-titled release. Left For You was the first single off the record and I believe it was your highest charting single thus far as a band. So, congratulations on that. Was that a bit of a surprise or was it simply a validation of all the hard work and member changes?
Well, you pretty much just answered the question. That's pretty much what it was. I guess we've been traveling uphill now for years. With management changes, label changes, member changes. With the addition of the new members and working with Johnny K, Brian Virtue, and Rob Graves and all those guys, it really made a difference. Our new members are really focused. They are great, great writers and are fun to work with. So, I think that allowed us to be able to sit down and work really hard and not let our frustrations get the best of us, and allow for the music that you guys here.
Sure. You talk about the member changes. I saw you guys last year with Call Me No One and Eye Empire. It was a fun show for me, and the word from everyone I know is that this is the best lineup you guys have ever had, especially live. Is it just a joy to go work now? (You can check out the Nonpoint photos here)
Absolutely. It's the hearts man. When your hearts in it and you can feel the other people on stage are there for the same reasons, really enjoying themselves. This is a blessing to be able to do what we do. I think it's when you start to take things for granted that the universe kind of snatches it away from you.
One of the hottest names in rock anymore it seems is Johnny K. You guys worked with him on this record. What was he like working with? What was he able to pull from you that you haven't had before?
I would say not so much pulling things out of us, he definitely pulled some great things out of the band, but more so than anything, I think he cleaned us up a lot. There was a lot of overthinking, and a lot of wasted space and time in some of our music. He really helped it get cleaned up. He has great perspective. He was really able to help us hone in on the meat and potatoes of the song. Then he allowed us to dress it and garnish it as we wanted.
You just released a video for I Said It. It's a live performance video of you guys. Having been on the road for as long as you have, plus having an all new lineup, was this more of a chance to showcase the new guys or did you feel the live treatment just fit the video best on this one?
Yeah, that was the live performance that we did in Madison, WI at a venue that we play there called The Majestic. It was just the concept of a live performance. Our fans really like to watch us live and we wanted to connect the two videos together. We were shooting them on the same day. That was pretty much the live one and then it goes into Left For You. That concept is a little more about the emptiness and all that stuff. This one was just mainly about chaos and mayhem, and really having fun with our fans.
Just out of curiousity, I know Robb has always played his drumset sideways onstage, but where did that originate? I couldn't really find a clear answer out there when I was doing my research.
I forget what band it was, way, way back when. The drummer played sideways and Robb saw that. Robb's very visual and he likes to come off the kit a lot. He likes to move around on stage. Him set up that way, visually people can really see him tear into the drums. So, he sets up that way because it looks really cool and it allows us to interact with each other onstage even more.
I had a reader that had an interesting question. I alluded to it when I welcomed you to the family. You've got the coolest dreads in music. So, the question was, how long has it taken you to get your dreads to the current length?
I've been growing my hair for about 15 years now. It's been a long, slow, steady race.
You're about to head West it seems. Tell us about the upcoming tour.
It's with Candlelight Red and Digital Summer. A couple of bands that people have been asking us to go out with, so we're heading out West and hitting a lot of the Northern Midwest and Northwest. Then we're going to be hitting a couple of cities in California, over to Vegas and I believe we're hitting Texas. So, it's going to be a Northwest by Southwest kind of deal.
I know Digital Summer is from the Phoenix area. I reviewed their album this year and we've actually got an interview with a young fella that's been on tour with them. Austin Rios, he's a 12-year old drummer that gets out there and smashes with them every now and again.
Very cool.
Alright, as if the dread question wasn't random enough, I always end on a random question. I like to get reactions from people. Yours isn't too bad today. You're given the opportunity to go back in time. You're allowed to do a guest spot on any show from your childhood. What would it be and why?
Double Dare! That was the coolest show ever made. Double Dare on Nickelodeon. Marc Summers.
You'd have to get hit with the green slime huh?
No man! I want to take the physical challenge dude!
(laughter) Too cool man. Elias, myself and the site we wish you and the band, nothing but the best out there on the road and hopefully, we can catch up again soon at a show.
Keep up with Nonpoint:
Nonpoint.Com
Facebook
Twitter
Preview or purchase the self-titled Nonpoint release on Amazon by clicking the album cover below:

Check out the video for I Said It by Nonpoint below:

Check out the video for Left For You by Nonpoint below: