You can't keep a good band down. An interview with Nick James of Throwing Gravity.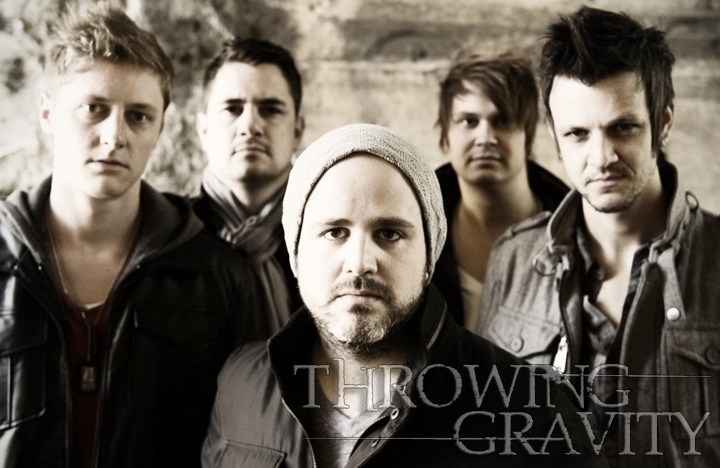 Throwing Gravity is a band based in Nashville, Tennessee. The band has recently been out on the road with Royal Bliss in support of their release It's Not The End. The album was released over a year ago, and is one of the more underrated releases that we've heard in some time. After a long hard journey, including the ever popular label drop, Throwing Gravity is poised to do there thing, and do it with a renewed focus and more drive than they have ever had before. The band was kind enough to grant us an interview.
Today we're interviewing Nick James, vocalist and guitarist of Throwing Gravity. We would like to thank you for joining us, and welcome to the Unsung Melody family.
Appreciate it, man. Appreciate you having me.
We're glad to have you. First thing I'd like to talk about is your current album, It's Not The End. It was released in December of 2011. From what I understand, it's been a bit of a rollercoaster ride to get that album released. What are your thoughts on It's Not The End?
It was a rollercoaster ride that lasted about a year and a half. We were going to put out a record with Lava/Universal. Obviously we were signed onto them at one point, and that was back in 2010 or 2011, and that record never got released. That was part of that rollercoaster ride. Basically, that record right there, we took a few songs off of that, such as What She Wants, Here We Go Again, Missing You and Wake Up. We took those songs and re-recorded those, and wrote another six songs and put it on this record, It's Not The End. This is one of those records that's totally loaded, where you can listen to it front-to-back. It just has that feel to it. A good balance of songs on this one, with active rock songs, and with a good blend of ballads as well. I feel like this record is ten times better than what we were going to put out with Lava.
I did listen to the record, and I was very impressed with it. Also, I hope to hear more from you all. What influences, environmental and musically, contributed to the sound of the album?
I would probably have to say from the band standpoint, there's a little bit of a lot of things, I'll have to say. Me and John, our producer at the time, actually took a trip to east Tennessee, or South Carolina and basically rented out a cabin for this record. Just basically got out in BFE, with nothing really around, away from the distractions to write this record in a weekend. We actually cranked out three or four songs in this weekend. They were 'Best Time", 'The Inside", 'Giving Up On Giving Up On You", and working on one other one that didn't make the record. Journey and Boston influenced me, and some Led Zeppelin. Boston was the first concert I ever went to, and yeah, that was a long time ago. Nirvana was a huge influence on me. The grunge scene was the 90s, and I love the 90s music. It seems like it was a forgotten era. There was a lot of really great music and bands that came out. A lot of one-hit-wonders. Bandwise, the Foo Fighters, and stuff like Tonic and the Goo Goo Dolls were a big influence on me.
I can hear a little bit of the Goo Goo Dolls, particularly in the ballads.
Yeah, the ballads. That tends to be my bread and butter. Lost In You, the last track on the record definitely has a Goo Goo Dolls feel to it.
Missing You is quite a ballad, musically and vocally. I can hear what some would call the Nashville sound, that has that country-crossover appeal and sound to it. It's a great song. Honestly, I could see a country artist covering that song at some point. How would you feel about that?
There's a couple of them. That's one of them, too. Nobody got to hear it, but I turned on my twang. I did a country version in the studio as we were laying vocals down. Yeah, it's very possible that song could possibly do that. There are a couple of them that could cross over. You can hear that a little bit in my voice, just talking, obviously. I would never have a problem with it. If it fit something, it is what it is. Lost In You could cross over as well. If you look at Taylor Swift, some of those songs are very pop-ish, and they throw a steel slide guitar on there and some mandolin, and call it a day.
That seems to be what's coming out of Nashville these days.
Yeah, some of that stuff is pretty rocking. You listen to it, and you think Is this country? You really can't tell these days.
Another song off the album, Here We Go Again, is a relatively well known song these days. It recently hit 50,000 views on YouTube. How do you feel about that accomplishment?
It's awesome. I like that. It's definitely not a bad thing. I love that song, and playing it live is a lot of fun. There's a lot of energy in it. It's the first song we did a video to because it was so energetic. For the video, we did about 50 or 60 takes, and we were worn out after every one of them. Love that song. It had a journey itself. That song was remade. If anyone has our old EP back from when we were called The Rust, there was a song on there called 'Broken", and that was the song in its very early form. It didn't become the form that it is now until we were working on the Universal record. We kind of transformed that song when we sat down to write stuff for the Universal record. I fell in love with the song. It's powerful, and I like it a lot. That's good news on that. It means that others like it a lot as well.
Speaking of others, what are your thoughts on TNA Final Resolution using it as their theme song? Did it bring you new fans?
Yeah. Those guys are awesome. They're in Nashville, as well. They used The Inside in May, and used Here We Go Again in December. Our producer, John, wound up getting the pay-per-view, and we had a wrestling party at his house. Hadn't watched wrestling in years, and it was fun. Not only that, but hearing your music in the background, that's a pretty cool accomplishment.
I'm sure it was very surreal.
Oh yeah. To hear it on TV and not only that. Hearing it rolling in the background while the commentators are talking and before the wrestlers come out, it was pretty insane. You could hear it for 3 hours straight. I thought it would be just a little bit, but no. It played in the background the entire time. It was incredibly surreal.
I'm going to change gears for a moment here. You all are based in Nashville. Has the music scene fostered you all and treated you all well? What did you think of the music scene?
The music scene here is, well, the persona is that people think it's country, and it's not. Now, if you go down Broadway, then yeah, you're pretty much going to hear primarily country. As you venture right off the side roads, you'll come across a lot of venues that play hard rock. There are so many different types of bands playing here. Nashville just seems to be booming, 24 hours a day, 365 days a year. And not just country. Yeah, the music scene is great. Had some amazing shows here, sharing the stage with bands such as Chevelle and Evans Blue. We just played here with 12 Stones. It's just a fun town to play. You do get a different vibe here than you would in, say, smaller cities with a music scene. Your audience here is primarily musicians, with their arms crossed. You can see it in their eyes that they're thinking 'Yeah, I can play that". If you haven't played in Nashville, you should.
I think it's good to have musicians there. It pushes each other to try harder to write better music.
Absolutely! It gives you more incentive to say 'I want to impress you". It's not only that, after the show you get to meet some people you'd probably never met before, and build more relationships and people to work with. The opportunities are here. Three Days Grace came to see our show. You never know who you're going to meet in Nashville. It's not just country, it's a big rock town as well. A lot of all the large touring acts, such as Nickelback, keep their tour buses here. They fly in and leave out from Nashville. They just keep their stuff here, and leave from here. You never know who you're going to meet downtown and right off the strips. It's pretty awesome. It has a bit of an LA vibe.
You toured with 12 Stones. Was that a good experience?
Man, that was probably one of the funnest tours we've ever been on. Those guys were awesome. 12 Stones, Blameshift, and Digital Summer were there. We've become good friends with those guys. It's always fun playing with them. If it wasn't one night playing corn hole, or drinking beer after a show, or just going out camping. We camped out, had two days off, just grilled out and stuff like that. There was never a dull moment on this entire tour. And the pranks. I don't know if you got to see the video that we did of the last show. It was a massive prank. (You can watch the prank here) We're all pretty close, it's like family with those guys. It was definitely a good type of experience. Can't wait to do it again.
Speaking of touring, do you all have anything lined up for next year?
Yeah. Downtime is no fun, but it's definitely given me and the guys a chance to catch up and get stuff done around the house. I'm trying to use my time wisely, and writing for a new record right now as well. A little writing while I'm at the house. At least get 15 or 16 songs, so we can have maybe another record ready for next year. It's never a bad thing to have too many songs to go over. That's been fun as well. You can do it on the road, but it's tough. Doing the memo thing on the iPhone just trying to jot those ideas down. Maybe jump into Garage Band, and lay those things down, but it's hard. But yeah, we're working on that right now, hopefully for next year. It's going to be an action packed next few months, that's for sure.
You actually just answered my next question! I was going to ask if you had started the creative processes for a followup album.
That's exactly what we've been kind of doing. Not changing styles or anything like that. It's definitely, when you hear the new stuff, it will have that same type of melody and ballads. I just can't help it, I love my ballads. Probably some more adult contemporary and active rock songs on there. It pretty much just comes down to rock. I've just been busy trying to get this tour stuff done, but literally, I wrote 4 songs in a few days. We're pretty much getting ahead of the game so far with 7 or 8 songs. It's moving along, and we'll just keep pumping em out. Once we get to a stopping point for a new record, we'll get in the studio and track them. So, I'm looking forward to that. It's always fun to get into the studio and do that. Letting those creative juices go and working off the other guys as well. I'm a studio cat, I love working in the studio. Just seeing how those songs are built and put together, it's a fun moment to watch all of that stuff happen. We've actually played one new song called 'Candlelight". We did it on this tour, and we thought, 'Let's play a new song." It's not really a new song, it was supposed to be included on the Universal record. Nobody's ever heard it, it was just one that we just overlooked and thought it was such a good song. Now, it may be one of the new songs to be included on the record. Alternative Addiction had put it up on their podcast so people could hear it, kind of a little teaser.
We're looking forward to hearing some new material. I'm sure you'll have some great stuff to work with.
There's one song actually called Missing You This Time, because it sounds like a combination of Missing You and This Time. It'll have to be reworked and renamed a little, but I'm kind of excited about it. It's got that ballad feel, you know. It's kind of funny because it sounds like those two songs got married and had a baby.
We're going to change gears a little bit. A few years back, actually. You have come a long way in the last few years, especially since you were once signed to Lava/Universal. You happened to work with Josh Abraham and Chris Lord-Alge. Plans for that album, ultimately, didn't work out. What was your experience with them?
Josh and Ryan Williams. He mixed that whole record. It's a shame, really. The only song that got released was the single Bring Me Down, which is now Here We Go Again. We had to rename it for technical reasons, Universal was one of them. It's a shame that nobody got to hear that record. Sonically, it was amazing. This new one, though, is stronger song-wise. We did that record in his studio in LA, where he's based out of. You get to work with someone who worked with Limp Bizkit, Courtney Love, Staind. All of these top acts from back in the day. It was a cool moment. He's a real nice dude. All around good guy. It went by quick, that's for sure. Alge, basically, was a bucket-list for me. I look back on that record and all the troubles that we had being dropped and all. The definite highlight was working with Chris. Just watching him work. It was fast, and he has assistants and all, but the guy has an ear for songs. It was one of the coolest moments. When you walk in there, his studio is in the old Death Row Record Studio, in Burbank. He said that there is still tape in the attic that Dre did and Snoop did, and never got put out. I thought that was CRAZY. It's like a museum there. Platinum records of everybody's everywhere. Pinball machines in the live room. They don't do any tracking anymore, he just does straight mixing. There were '58, '57 Les Paul guitars there. Just tons of old, classic guitars. Yeah, he was playing air guitar and drums while we were playing it back. It was a real trip to watch him do it. I took some mental pictures watching him do it. Every now and then I tend to do a little bit of mixing myself, and I'm nowhere near doing what he's doing. I don't mind seeing what he's doing, so I can get an idea of things myself. Man, it was an awesome time getting out there and working with him. It was a definite surreal moment. I had to step back and say 'What just happened?". It's not every day you get to work with somebody in that big of an industry who has made that many platinum records and singles. It was a really incredible moment.
Sounds incredible man. Well, we're going to wrap up this interview. We have started a bit of a tradition by asking a random question. This question took me a while to come up with, mostly because I was thinking too hard on it, but here goes: If you could be any character in the Star Wars universe, who would you be, and why?
In the Star Wars Universe? Hmm. Man, I don't know. That's a freakin' tough one. Holy crap. I'll have to think about that one. I wouldn't be Luke, that's for sure. Let me think of something. I'd probably be Han Solo. Yeah, I'd probably be him. It's just because, if you look at him, he's kind of a rebel. I'm not saying that I'm a rebel, but he's confident in everything he does. You get that vibe from him that he's willing to take on any challenge, head on. He kind of has that willpower to never give up, and keep moving forward. That's how it comes across to me. I would say Han Solo. Either that, or R2-D2.
Your singing would be very different!
Yeah, Haha. It would be a lot different. Either that, or C-3P0. But yeah, Han's persona was a strong character and had a good heart on him. He had some romantic tendencies and stuff like that as well. That would probably be… me. Haha.
I'd say that's a pretty good answer. I think Han would probably write a few ballads. He probably has a little soft spot for it. Well, Nick, that's all we have for you today, so we at Rock… Nothing But would like to thank you for taking the time to participate in this interview.
It was fun. Thanks for having me!
Throwing Gravity members:
Nick James-Lead Vox/Guitar
Adam Gooch-Lead Guitar
Sam Hindmarsh-Bass Guitar/Vox
Eric Bice-Drums
Keep up with Throwing Gravity below:
ThrowingGravity.Net
Facebook
Twitter
Check out the video to Here We Go Again by Throwing Gravity below: