Heritage. An interview with Fredrik Akesson from Opeth.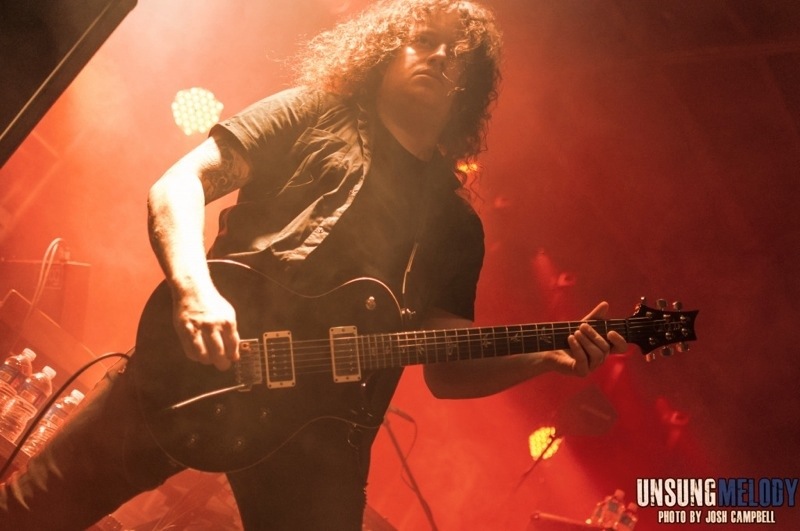 We've been expanding our metal coverage of late. So, when it was announced that heavy metal giants Opeth were coming back for a third US tour in support of their album Heritage, we had a mission. Let's include the band on Unsung Melody. So, we interviewed tour mates Katatonia (Which you can read here.) to start off our coverage. Then, we covered the tour stop in Lexington, KY. (You can read the review and see the photos here.) The only thing missing…an interview with Opeth. That's what brings here today. I recently had a chat with guitarist Fredrik Akesson. Below is a transcription and audio of our conversation. I hope you enjoy!
Listen to the entire Fredrik Akesson interview below:
[ca_audio url="http://www.unsungmelody.com/wp-content/uploads/2013/05/Fredrik-Akesson-from-Opeth-interview-2.mp3″ width="500″ height="27″ css_class="codeart-google-mp3-player" autoplay="false"]
Today I'm joined by Fredrik Akesson. Fredrik is the guitarist for the band Opeth. First off, thank you for taking the time to soeak with me today.
Cool. Thank you.
You're a busy guy, so I'm just going to jump right in. I had a couple people at the recent show in Lexington, KY at Buster's. We actually just posted that review and the photos earlier today. To my knowledge, that was Opeth's first show in Lexington. I hope my town treated you well.
Very well. It was great show. It's fun with this tour. We play a lot of different cities we haven't played. It's nice to get to finally get to some places that we want to play.
Awesome. It's great to get in front of new faces as well. Heritage is the new album from you guys. It's much more of a melodic album than previous releases. Tell us a bit about the writing process of this record. Was the idea of keeping the vocals mainly clean, the goal from the beginning or how did the album take shape?
Well we had the goal to play the heavy riffs. Like the neck pick-up positions, is a bit more muddier sound. Mike wanted to do something different from the beginning. That is for sure. He wrote a couple of songs first. They were more in the same vein as the previous album, Watershed. Then, he deleted those and started off new. The edition of the song Heritage was created then I think. Where he wanted to go. The recording process, Mike does a really good demo, so we kind of carbon copied the demo and tried to spice it up a little bit.
You guys have always been known to take chances and the end result is seemingly always positive. I'm really intrigued by your fan base, because when most bands change their sound as radically as you guys do, there's generally a strong backlash. Why do you think your fans are more receptive to change than most?
I think all Opeth albums are different than each other. So, that's always been a part of Opeth. Maybe they expect that we do that, where every album sounds different. I still think the Heritage album has a lot of the Opeth sound to it. It's not like we did a pop album or anything like that. It's very dark, moody and intense in different spaces, but in a different way of course. I think a lot of the bands fans aren't quite open minded, maybe it takes the a little bit of time to digest each album. Which I can understand. I think it was very important to do a different album, for Mike at least and the whole band as well.
It's always good to re-invent yourself. With your fans, there never really seems to be any disappointment and that's awesome. So, that's very cool.
Yeah, the set that we play now on this tour, I think a few people thought that Mike did not want to go back to doing the growl vocals I think. But on this tour, we play a lot of those songs. It blends well. It's good dynamics when mixed with the songs from the Heritage album and we mix it up with a lot of the old stuff.
You're now quite a few dates into this US tour. Are there any of the new songs that seem to have a little better crowd reaction than others live or has everyone taken to the new material very well?
I think, we started off touring in America, right after we released the album and now it seems much more appreciated than before. Like it has sunken in. On this tour, we only play two songs from the Heritage album. The first one we play is The Devil's Orchard and that always goes along well. It's a great song to open up the set with.
Heritage was released in September 2011. So, most bands seem to do a two to three year cycle of touring for an album. If that's the case with you guys, have you began writing for the next album or can we expect much more touring?
No, this is the last tour we are doing with Heritage. This is the third American tour that we do. We are doing four festivals in the Summer in Europe, meanwhile we are going to continue writing. Mike has already demoed three songs, so it's cooking. It's a bit too early to say what it's going to be like. Our goal is to start recording in September or October this year.
A lot of bands are turning their buses into mobile recording studios. Do you guys write on the road or is that something where you are more comfortable at home?
It happens more back home, I would say. On the road, we have a lot of stuff going on. There you have a place where you can be sealed off. It's more difficult on the road. I guess we could pull it off, just too many distractions really.
You co-wrote a song on the new album. Do you do a lot of writing yourself?
Yeah. I'm working on some ideas. I'm going to continue to work on when I get back home. We will see what happens. If it ends up on the new Opeth, we'll see.
You are obviously a very accomplished guitar player. Any chance you may release a solo record at some point or are you just happy doing what you are doing?
Absolutely, I have thought about that a lot. I have a few, a lot of ideas actually. Definitely going to focus on the new Opeth album when we get back home, but that is still in the back of my head as well. I may have to do like a collaboration album or something like that.
I know a lot of people would be interested in hearing your particular style. You've had success everywhere you have been, so that would be awesome.
Thanks. I'm going to put some work into that.
Awesome. Can't wait, I'll be waiting on that.
You're hovering around the five year anniversary date of joining the band. Looking back, how has your experience in this band differed from say your time with Arch Enemy or even Talisman?
I think it's more than six years now. More than six years actually. I guess I joined in 2007. April '07 I think. Somewhere around that time. Well, it was very different because I got to record an album before I started touring with Opeth. I got more involved in the songs. Arch Enemy, we only played their songs and I never got to record an album with them. Mainly just playing the parts as they are. With Talisman was more on and off. A couple of weeks of touring in Scandinavia or something, so you can't really compare it to this because it's so much more work.
Much more involved.
Yeah. It's seems very solid playing with Opeth. I know the band and I have played together for so many years and it works really good chemistry-wise and I think we can reach new levels music-wise too.
Kind of sounds like you found home.
Yeah, that's a good term. (laughter)
Alright, I always end on a random question. So, here's yours. You guys travel all over the world spreading your music. You've encountered countless numbers of great food items. Do you have a favorite snack that you've found, that you always look forward to?
Not so much a snack, but we are always looking for good Indian restaurant. A friend of mine is drum tech and is a big chili freak, so we are always looking for dishes. Quite spicy. I'm a bit of a chili freak sometimes. You have to be careful with that out on the road sometimes. It could have it's complications.
(laughter)Absolutely. Fredrik, I thank you for your time and we wish you nothing but the best and continued success. You guys be safe in your travels.
Keep up with Opeth below:
Official Website
Facebook
Twitter
Preview or purchase your copy of Heritage below:

Check out the video for The Devil's Orchard below: