SOLD OUT! Beth Hart at 3rd & Lindsley in Nashville, TN.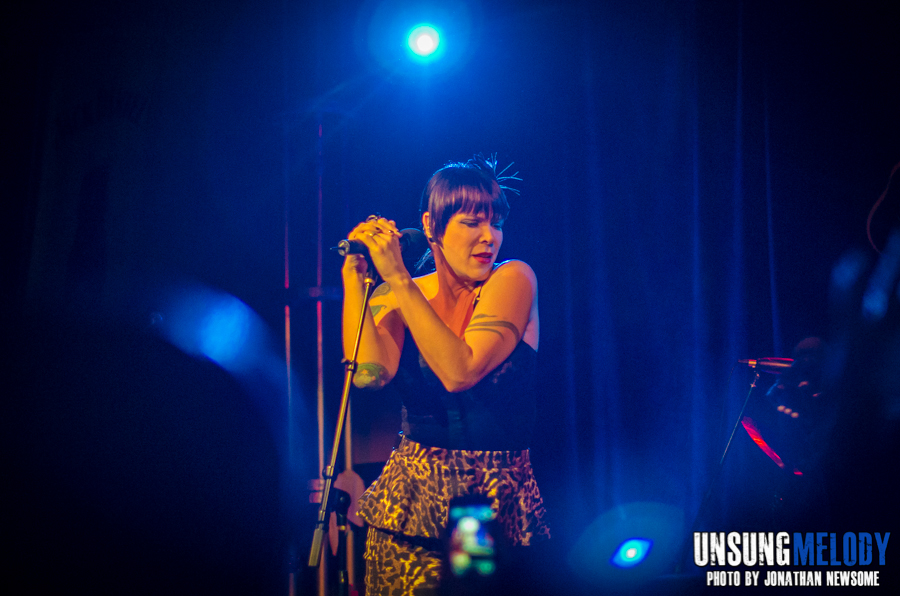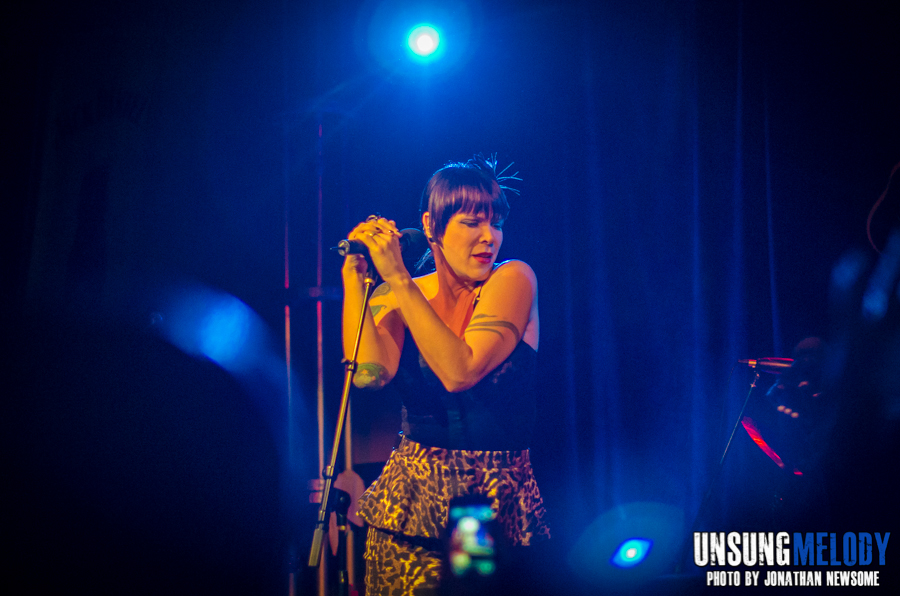 After leaving the sunshine in the Bluegrass and it's 72° weather, I made the trip to Nashville. Somewhere along the way, the rain began. I was determined to have a great time though. The rain may dampen my clothes, but it can't reach my spirit and nothing was going to spoil this show for me.
This being my first time at 3rd & Lindsley, I was eager to see what all the fuss was about. The venue itself sits in a bit of a strip mall, which is usually not a very promising sign to be honest. Here though, once inside, I was met with essentially three levels and a ton of tables. The main floor housed the majority of the tables, while the upper balcony and smaller "crow's nest" held the others. The floor in front of the stage was lower than the main floor. The layout was quite nice and there wasn't really a bad spot in the room.
Opening up the show was Sonia Leigh. Her stripped down acoustic set was exactly the kind of singer-songwriter sets you'd expect in Nashville. Her voice had a beautiful innocence and seemed to go over extremely well the capacity crowd. I particularly enjoyed her song Alabama.
Next up was a veteran musician who's had many successes in the past. He fronted bands such as Billy Satellite and Big House. He was also a member of Eddie Money's band at one point. I'm of course talking about Monty Byrom. He took the stage with his black Takamine acoustic guitar and belted away. Singing originals and a couple covers, Monty held his own with the anxious crowd. He even had a special guest join him. Bekka Bramlett sang duet and even played the tambourine for a tune. Monty's greatest ovation came when he mentioned the he had co-written Better Man with Beth Hart. I'm not saying that to take away from Monty by any means, I'm saying that to give you an idea of just how anxious the crowd was to see Beth. While Monty and Bekka kept the crowd enthused, even they were seemingly acknowledging that everyone was there for the same reason.
That reason was obviously Beth Hart. This being her first US your on over 10 years, the anticipation was very high. I asked Beth in a recent interview, which you can read here, why it had taken so long to get back on the road in the US. Her response was both humble and truthful. She said, " I was beyond reluctant because I felt ashamed. I felt like I didn't deserve it, because I pretty much had blown everything down back in the late 90′s with my addictions and some of my problems. So, I just felt ashamed and through a lot of work, finally I was able to come up out of that and really by coincidence, right when I came up out of that, the next thing I knew I was getting offered a deal here in the States to release a record." So needless to say, her fans have been waiting for a long time and they were ready to explode on this night.
Beth hit the stage with a mad rush of adrenaline. Her sexy dancing had many men and women cooing in the audience. She blasted through the beginning of the set with a commanding presence and really ignited the crowd with Well, Well. The first of quite a few songs from the Joe Bonamassa collaboration album titled Don't Explain.
Delicious Surprise was up next and it definitely lived up to it's name. The song is positioned just before L.A. Song on Beth's debut album, Screamin' for my Supper. So, the crowd obviously knew every word and they happily obliged her requests to be her backing vocalists.
The Baddest Blues is one of my favorites from the new album, Bang Bang Boom Boom. The performance of the song was everything I expected…multiplied by 1000. Beth's voice was so full and beautiful. Not that her voice wasn't tremendous on the first few songs, but this is where her voice was fully warmed up and she absolutely hit her stride. The dynamics of her performance were out of this world.
She followed The Baddest Blues with Bang Bang Boom Boom, just like on the record of the same title. The quirky tune was definitely a crowd favorite and the extremely well-dressed band was outstanding. Up to this point, this song was the loudest the crowd had gotten.
Trouble kept the momentum high as the jazz-infused rocker broke into a sexy sing-a-long with Beth leaning across the piano and encouraging the fans to get even louder. With its funky backbeat, the crowd was finally fully engaged. As Beth asked everyone to raise their hands and "shake it up", jazz hands style. It was quite the sight for everyone there.
Beth broke into Better Man next, the song is a great one and the performance was spot on. Yet as awesome as the performance was, the highlight for me was looking over side stage and spotting co-writer Monty Byrom beaming with pride and singing along to every note. His enthusiasm and pride were something special and it was a moment that I won't soon forget.
Slowing things down was Don't Explain. Which is yet another from the Joe Bonamassa collaboration. The fact that Joe and Beth are filming a DVD together soon, is not lost on me. While still keeping the fans happy, Beth is obviously gearing up for that performance and who can honestly blame her? I'll be honest, the band was a little off on this song, but it didn't seem to matter to most in attendance. As the sheer joy of seeing Beth after so many years had the crowd punch drunk, myself included. The mood and the lighting for Don't Explain, really almost seemed to transport us all back in time to a 1920's speakeasy. Beth was stellar and she had the crowd exactly where she wanted them.
Be sure and check out my Beth Hart photo gallery here.
I'd Rather Go Blind was another song from the Joe Bonamassa compilation. Her version with the legendary Jeff Beck performed live at the Kennedy Center Honors to honor Buddy Guy was also included on her new album. This song should never leave Beth's setlist. If there ever were a song written by someone else that fit someone as perfectly as this song does her, I'd love to hear it. Because it would have to be phenomenal. Beth was extremely comfortable by this point in the show and she really seemed to focus on connecting with the fans. As she made eye contact with many fans, engaging them, and pulling them closer to her and the stage.
I want to mention Lifts You Up for simple reason, the scatting was fantastic!
Okay, once the band finished Lifts You Up, they left the stage and let Beth revel in the moment of L.A. Song. Possibly her biggest hit thus far, the crowd sang every word as she played her piano and basked in all the glory of the well deserved spotlight. As intimate of a performance of any song that I have ever seen. It was strikingly beautiful.
After Beth left the stage, the crowd was simply not done and they weren't about to let Beth and her band be done either. With an absolutely rousing ovation, Beth and the band came back to perform three more songs. Kicking off the encore was Spirit of God. Which is one of my favorite songs on the new album. This performance was very spirited, sans horns of course. Beth took the time to give a little backstory, which she also shared with me in our interview. Essentially saying that this song captures her experience as a child discovering a Baptist Church and how that experience has stuck with her, her entire life. Great energy.
Monkey Back is song that was a pleasant surprise for me. It's one of my favorite older songs from her catolog and I for one was ecstatic to hear it in the setlist. The song allowed me to understand just how much her voice has actually improved over the years and it was never more evident than on this song.
Ending the night was a song co-written with James House, who was apparently also in attendance. The bluesy Caught in the Rain was the closer. This, for me, was the highlight of the night. A sweaty Beth, effortlessly oozed with sexiness as the slow jam simmered until being willfully controlled in the chorus. Closing out the song, Beth began trading vocal notes with spirited guitar licks from Jon Nichols and that brought the intensity level to a whole new height. Mind=Blown.
All in all, the performance was spectacular. There were a few hiccups here and there, but if I took away anything from this night, it's the sheer ease that Beth Hart delivers vocally. Like a fine wine, her vocals just seemingly pour so fluidly from her soul. Do yourself a favor and support one of the best voices on the planet.
Keep up with Beth Hart below:
Official Website
Facebook
Twitter
Preview or purchase Bang Bang Boom Boom below:

Check out the video to Bang Bang Boom Boom below:

See Beth's performance with Jeff Beck in honor of Buddy Guy below:

Check out Beth's performance on Conan below: