REVIEW: Prepare For Hell. Slipknot with Korn and King 810 at Rupp Arena in Lexington, KY.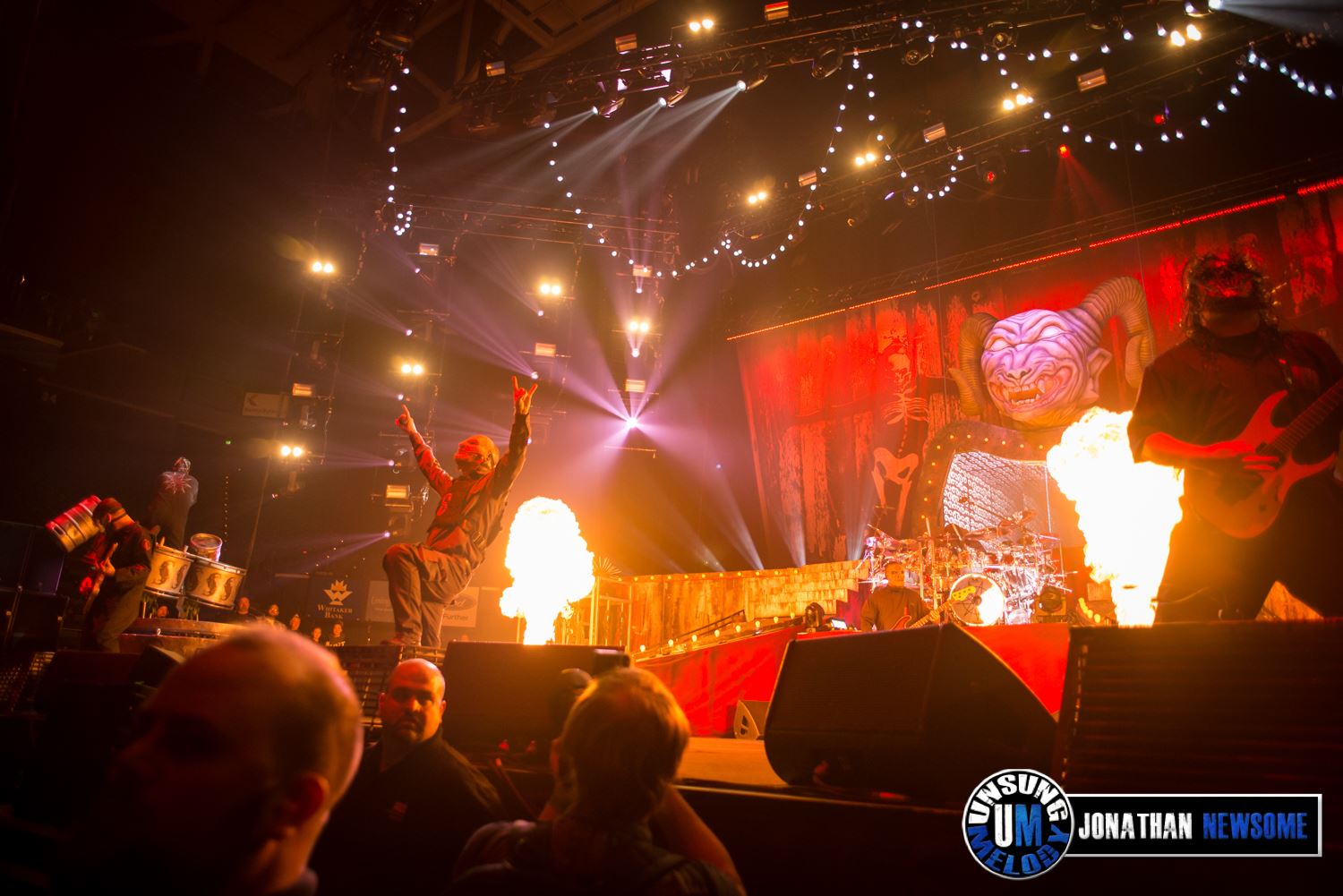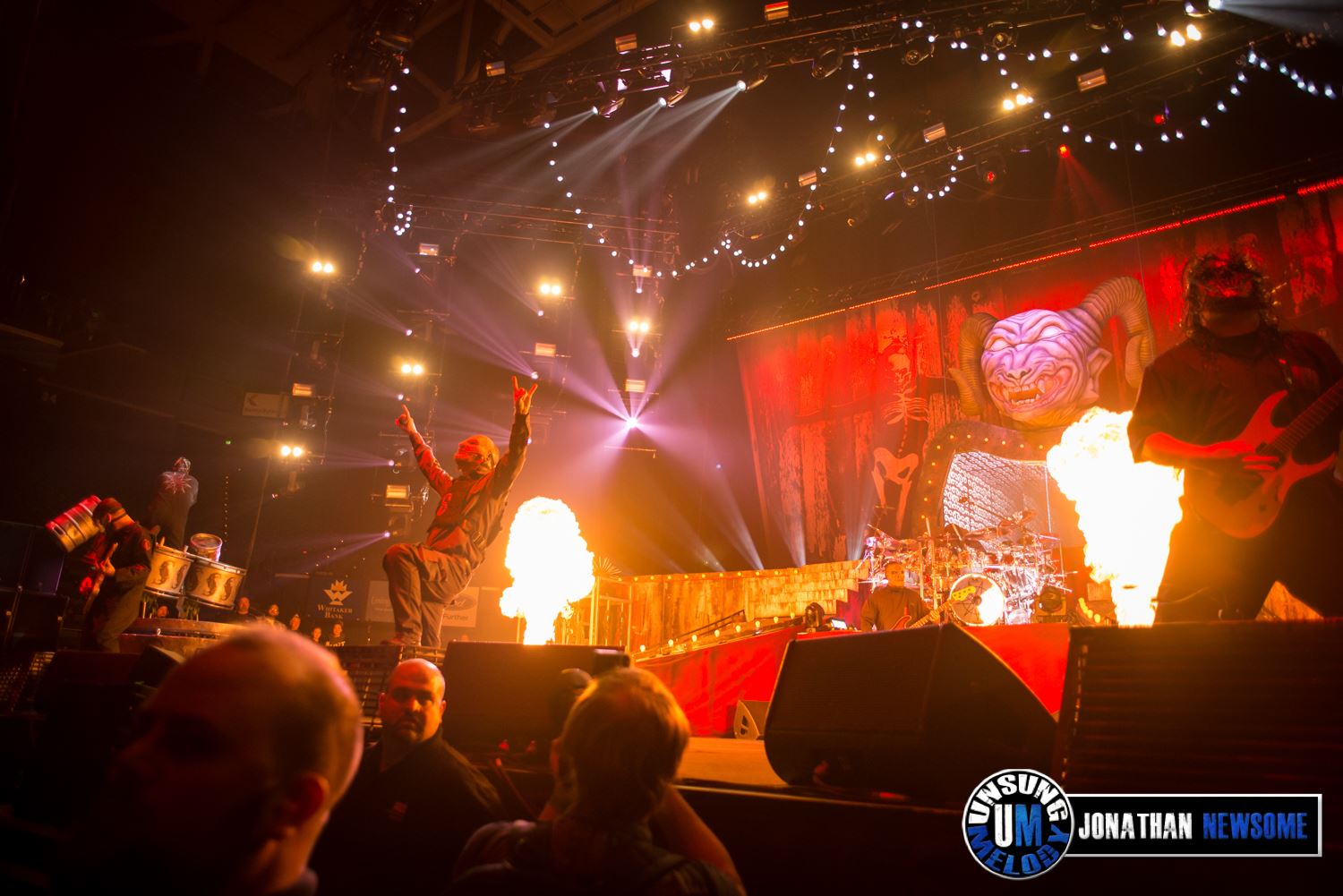 *Be sure and check out the sweet photos from Jonathan Newsome here.
Rupp Arena is located in downtown Lexington, KY. The people who live in the area, love it. Often times referring to Lexington as little New York City or Lex Vegas. While Rupp Arena is home to the hottest thing in college basketball, the Kentucky Wildcats, on this day though, our metal fans were braving the crazy Kentucky November weather for another hot act, lining up to Prepare for Hell.
Prepare for Hell is the name of the tour that includes Slipknot, Korn and KING 810. Hot on the heels of their latest release, .5: The Gray Chapter, Slipknot returns to deliver their horror themed metal. Complete with masks, jumpsuits, guitars and enough percussion to make a marching band jealous. Though, we had two acts to enjoy before the titans did their thing.
First up, we had our new kids on the block, KING 810 from Flint, MI. Performing a 30 minute set-list, front-man David Gunn got the show on the road without any hesitation starting with Killem All. Which is off of their debut album, Memoirs of Murder. As soon as I heard the first song, what immediately came to my head was "Oh joy, another angry teenage band". Especially with Gunn running and rolling around on the stage as if he was on fire. Throw some water on yourself and chill, man. Underneath all that, the lyrics seemed to be very catchy and by the looks of the crowd, they seemed to be enjoying it too. There were plenty of fans head banging and swaying to the grooves the band delivered. During their fourth song, Treading and Trodden, they got a little more hype reaction from the crowd with some "mini moshing" and some fist pumping, which you could tell was getting Gunn hyped. As he started the stop, drop, and roll again, I was actually surprised that he didn't jump off the stage to dive into the crowd. As soon as they finished performing their last song, Fat Around the Heart, the crowd went wild. I don't know if it was because they were finally done for the night or because they enjoyed the show. I know I had mixed feelings on their performance.
Shortly after KING 810 hopped off the stage, I introduced myself to some people around me and asked for their opinions. Rock DJ, Pat Smith from Kill Your Radio on WMMT said "They have some work to do because not very many people have heard of them. They have a very good stage presence, but they do need more crowd involvement which will help them have a better show experience. They were better than I expected." With such a specific sound, I wonder who they'll be touring with next.
Next up were Nu-Metal Icons Korn. With the crowd going ballistic, it makes KING 810 look like… well you know. Starting off with the song Twist from their album released in '96, Life Is Peachy, JD or Jonathan Davis takes the stage and mesmerizes the crowd with his BEAUTIFUL dreads that everyone wish they had, alright not everyone, but you can't say that his dreads aren't pretty freaking sweet. With his guitarists James "Munky" Shaffer and Brian "Head" Welch, bassist Reginald "Fieldy" Arvizu, and drummer Ray Luzier, Korn makes up a historical team and thry add a unique flare to the metal genre with their beatboxing and thunderous grooves.
I noticed that bassist Fieldy would make Nike jealous with all if his Adidas attire. It should come as no surprise though, as the band had an early hit titled A.D.I.D.A.S. As the stage got dark and quiet, you could see Jonathan Davis bringing out a little surprise, as the band played Shoots and Ladders, he came out with his the bagpipes. Talk about igniting the crowd, especially when it slid into a nice tidbit of One from Metallica's album ..And Justice for All. It was the perfect touch and I'm sure the whole crowd would agree, bringing back kick-ass memories of the ORIGINAL Metallica and making James Hetfield proud. Feelin' like a freak on a leash, the crowd started to get into the music, with the grooving of the funky bass and crisp beat of the drums laid down by the beastly Ray Luzier.
As if bringing their show back full circle, the band topped off their set-list with the song that started it all, Blind. With all the hair whipping and foot stomping, JD lets a little boy that's basically his 'mini-me' jump on the stage to join in on the fun. With the little boy's long locks whipping back and forth along with JD's, we didn't know who was going to end up falling over first. This kid was raised pretty damn well, kudos to the parents. As they ended the song, all the members went to the edge of the stage to throw out guitar/bass picks and drum-sticks. The crowd was jumping and running on top of one another hoping to catch one of these souvenirs to take home. A great gesture, albeit a bit scary watching the crowd fighting over the mementos.
Introducing myself to more new people, Steve "Hollywood" Hines was able to give me an opinion on Korn, "I loved Korn, my favorite song they performed was Blind. I personally like them better than Slipknot, but in concert, it will be a tough decision. One could definitely headline for the other. But the energy in Korn's performance was amazing. It really is worth the extra money to be up front. Best $120 I've spent on a concert so far."
Finally, it was the moment we'd all been waiting for! As 9:20 hits, the curtains start to roll up and there they are from Des Moines, Iowa…Numbers 1 through 9 with their mask of terrors, creating an outrageous appearance! The show kicked off with Sarcastrophe from their newest album .5: The Gray Chapter. With rotating, floating tin drums, to fire bursting out of the stage, to a massive goat head lighting up; There was a visual onslaught, just as powerful as the audible attack on our hearing. All that left me with one burning question; What can't this band do?
Front-man Corey Taylor crouched down, pumping up the crowd. Staring, glaringly at his "maggot" followers. While his usual, "American Horror Story" crew behind him, were devouring the crowd with their hardcore oscillate high volume metal music. Member #4, guitarist Jim Root, pumped up the right side of the stage with his head banging and pick throwing, alongside Chris Fehn. Who is known as member #3, with his long Pinocchio nose, joker mask mesmerized with his tin drums spinning in the air as they were lifted high above the stage.
By the time the fifth song played, a super fan favorite in Psychosocial; the crowd is beyond excited and ready to rage all over the floor. Here is where I began to notice an uptick in the crowd surfing. Watching from the side of the arena, it looked like one big metal dance party.
At this point, I couldnt help but begin to wonder, do the songs from The Gray Chapter seem not so heavy? Is this the same Corey Taylor from their self-titled album back in '99, 04, or 08? Is Corey Taylor trying to turn Slipknot vocals into a Stone Sour type deal? While i listened to The Negative One, it felt a little heavy, but not the same as their older songs. Heading back to an older album, All Hope Is Gone from 2008, we were treated to the popular Dead Memories. That song introduced Slipknot to many new fans. I remember watching and seeing that music video on Fuse, seemingly hour after hour. It was pretty popular. It wasn't the heaviest song, but that's what made a lot of people convert into Slipknot fans, even if it was just for one song.
Right after Dead Memories, they played a song from my personal favorite album back in 2004 Vol. 3 The Subliminal Verses, Before I Forget. Yes, you could say that I got pretty excited over this song especially since Jim Root was hanging out on my side of the stage.
The 13th song on the set-list was the crazy Spit It Out from '99. During this song we had a little session in the middle where Corey Taylor calms the crowd down and talks to them about what he wants them do, and that's to "jump the fuck up!". You can hear him singing and on cue he screams, "Are you sick of me? Good enough- had enough.. JUMP THE FUCK UP!" The crowd had never been so alive and energetic until now. It was a sight that I won't soon forget!
Winding down the main set was Custer and afterwards, the band said their goodbyes. Leaving the stage empty, but of course the crowd doesn't budge a bit. They all just stand there cheering for them and start chanting "Slip-Knot". Then a few minutes later, the lights start to go dim again and here they come rolling out with their encore . Playing three more songs; (sic), People = Shit, and Surfacing, the band said their REAL goodbyes as they threw out flowers to the crowd in memory of their bassist, Paul Gray. Gray was known as #2 and he tragically passwd away in 2010. The Gray Chapter is dedicated to his memory.
Overall, the Prepare for Hell Tour at Rupp Arena was one of the most energetic concerts that I've ever attended. If you sat in your seat during the whole show, something is definitely wrong with you and you should probably see your Doctor.
Best metal concert to ever hit Rupp Arena!