Listen To Metal. Newsted at the Highline Ballroom in NYC.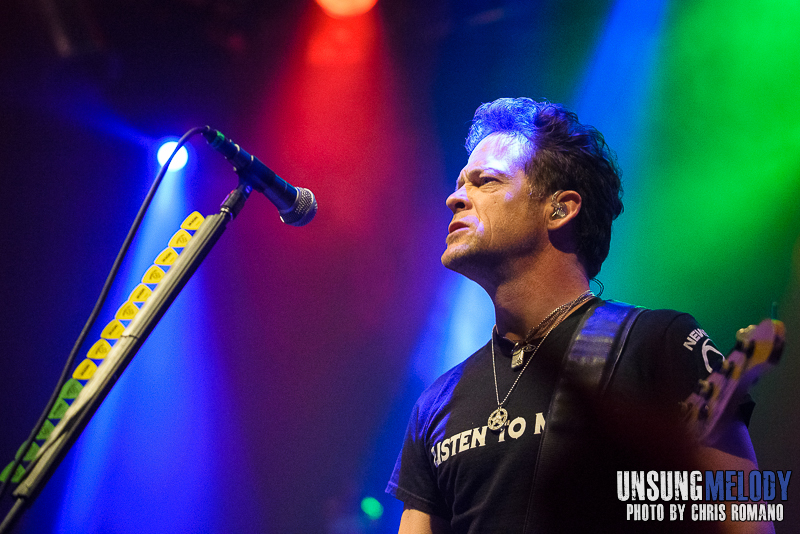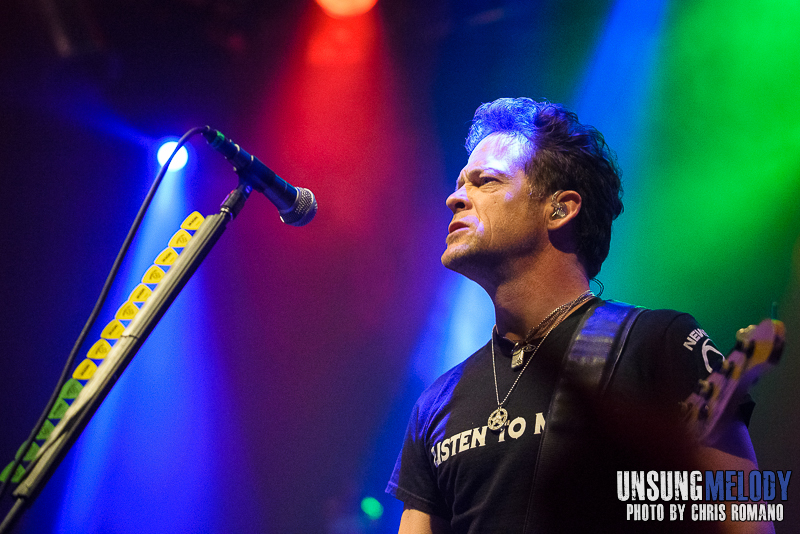 Jase, Newkid, Jasonic; Over the years, the man has had a lot of nick names, but if there was only one word used to describe Jason Newsted, it would be metal. Jason is back and just as metal as ever, and not time, age, or drunken stage divers will stop him on his quest for heavy metal glory. I didn't really become a fan of Metallica until a few years after Jason had left the band, but while I was growing up, I remember seeing him right there alongside James Hetfield, Kirk Hammet, and Lars Ulrich on MTV, VH1, and really anywhere that Metallica was. Naturally, when I finally discovered just what made the band great, I wanted to learn why Jason would part ways with a band he had been such a huge part of for 14 years.
While I could go on and on as to what those reasons were, the short explanation is that he felt it was time to leave, and he was completely justified in doing so. Unfortunately, I never had the chance to see him perform live in person, pumping out that signature energy and sound that he had worked so hard to perfect…until today. It's been 12 years since Jason Newsted departed from Metallica, and today would be the first time in a long time that he was playing thrash metal live and in my area. The Highline Ballroom, a venue situated in downtown New York City, is where Newsted (the simple name to the band he fronts in which he is the vocalist, bassist, and primary song writer) would be playing. While I didn't have a chance to catch the opening acts of the tour, I did make it right in time for Newsted's entire hard rocking set. The last thing you may expect at a metal show is hip hop music, but sure enough, Newsted's intro music had a simple beat and some rapped lyrics. The catch however, was those lyrics were, "Newsted, Jason Newsted, motherfuckin' Jason Newsted!". Once Jason himself entered into the spotlight with a massive grin from ear to ear, he himself was lip-syncing along to them. Once Jason felt the crowd was ready, he kicked into AMP, a mostly instrumental heavy metal song, and the first showcase of his two side by side guitarists, Mike Mushok (also of Staind) and Jessie Farnsworth. A little of "Hey!" and a bit of "Yeah!" is all that drove this straightforward metal song. Mike's experience and stage presence shined through instantly, as he was jumping, headbanging and working the crowd right from the get go.
Check out the Newsted photo gallery here.
"Heavy metal music is alive and well!" Jason snarled out. Continuing on with Soliderhead, the first single released from the Metal EP, the crowd finally had a song they could sing along to. At one point, Jason did make mention of the fact that they were playing a lot of new songs. Other than the four songs that are available on Metal and a few covers Newsted played, songs such as Heroic, As the Crow Flies, Long Time Dead, and Twisted Tale of the Comet, which were all freshly written tunes. "I know it's a lot to take in, thanks for hanging in there.". Luckily, the songs Newsted had built were very simple to latch onto for any heavy metal fan, and had plenty of people headbanging for the entire show.
From watching plenty of videos of the past, I've had a chance to see what traditions Jason used to have when playing at Metallica shows. Many of the fans in attendance certainly did as well, as Jason said, "I've got something to show ya! When you know it, show it!". Shortly after, drummer Jesus Mendez grooved into a very familiar steady drum beat. Fans quickly caught on, and began shouting out "Die, die, die!" When Jason and the guitarists joined in, it was clear they were playing the infamous breakdown from Metallica's Creeping Death. For years, Jason had led this buildup/breakdown that would have entire arenas shaking from the constant shouting of the word "DIE!" As Jason once again led the chant, it was almost as if he had never stopped doing so. "This song puts the heavy in heavy metal," is how Jason described the next song, Nocturnus. For most of the Newsted heavy metal songs, the influence in the writing drew heavily from Jason's love of Motörhead, but this one was clearly influenced by early Black Sabbath. A slower, sludgy song, Nocturnus was filled with an incredibly deep bass tune that saw Jason channeling his inner Geezer Butler. I can quickly see this one becoming a favorite, if only for being incredibly unique.
Another Metallica favorite that Jason used to lead was the fast-paced thrasher Whiplash. Once again channeling the old days, Jason drove straight into the classic piece of thrash metal, which had the first bit of moshing from crowd. Right before the guitar solo however, a fan jumped up on the the Highline Ballroom stage, in an attempt to stage dive. In doing so, he ran headfirst into Jason, who was busy jamming away, and pushed him from behind off the stage. While the rest of the band continued on with the song, Jason was helped by many back onto the stage, while the stage diver was promptly removed from the Highline, to a mass array of jeers and boos. Once he was back on the stage, he signaled to Jesus, Mike, and Jessie to stop playing. "Not in all my years, in all my thousands of shows, has that ever happened. That was a first for me". It seemed however, the reason Jason stopped the song was not because he was angry at being pushed off, but rather in the act, his wireless attachment to his bass came loose and needed to be reset. Once the road crew helped Jason get his rig back together, he gathered the band together quickly and picked up back into Whiplash, where they were before being interrupted. The entire band left the stage momentarily, and only Jason returned. Walking over to the same spot he just fell off from moments earlier, he began to play one of the few riffs that he had written in his years with Metallica that was used…the bass intro to My Friend of Misery. Surrounded by fans who all held their cameras and phones high to capture the moment, Jason was clearly not about to let the actions of one spoil his love for the many.
As Jason switched to an electric guitar, Jessie Farnsworth switched over to bass. Holding the guitar up, Jason told the crowd, "Don't worry all you New York City guitar experts, I only play the big ones (referring to the strings),  Growing into another from Metal, Newsted shredded through Skyscraper. After one more quick break from the stage, Newsted finished up with a straight forward dedication to one of his biggest influences; A cover of Motörhead's, We Are the Road Crew.
The songs Newsted has written seem to be constructed around one thing: Banging your head. It was only three months ago that Newsted was assembled together as a vision. Jason had to show his undying love for heavy metal music and his appreciation for his fans. With years of experience on his side and some great, hard hitting tunes, Jason and his friends in Newsted are certain to succeed in their quest for one thing: To keep heavy metal alive.