KICK: Why They Have My Attention and Why You Should Care!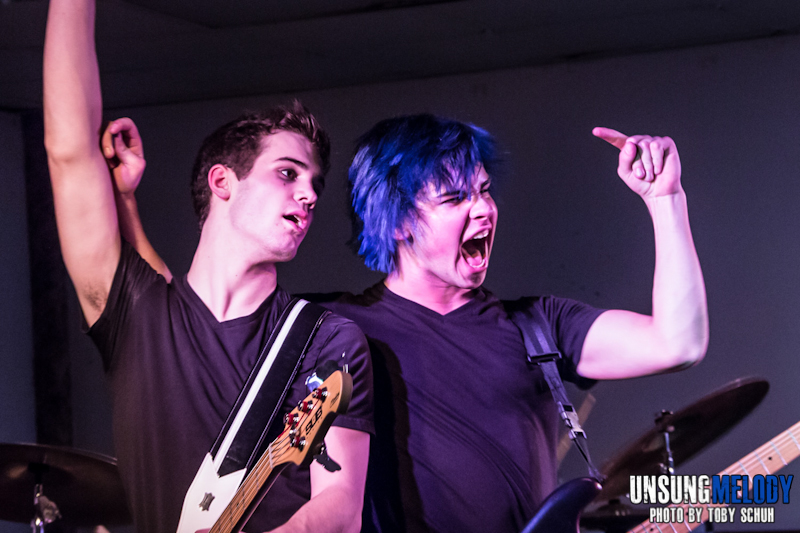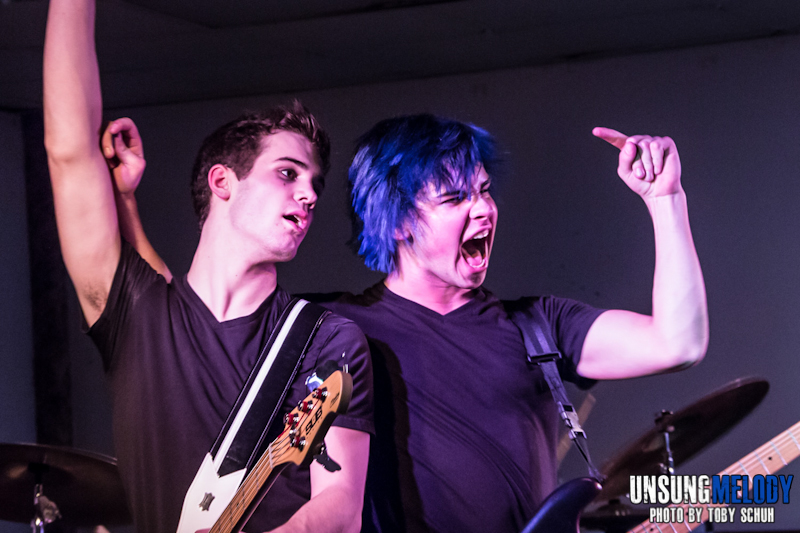 *Don't forget to check out Toby Schuh's photos from the show below the article.
On a cold winter night I buckled my 5-year-old daughter in her car seat and took the hour long trek to a small town in west-central Iowa. While I would have rather stayed warm at home, I reluctantly made the trip to check out a high school rock band. Not one to dismiss local bands of any caliber, but most of the bands I write about, and thus see perform, are national touring acts.
Why did I take that trip? I couldn't contain the buzz in my ears any longer. I'd became Facebook "friends" with the band members. I'd listened to their one recorded single. I'd watched a YouTube video of them performing. They seemed interesting, different than some others in the music scene. But still my interest was
only mildly peaked, until a comment made by a local music fan, intriguing me enough I couldn't get them out of my head. "Jake Kemble can shred like no other." That seven word statement spurred the journey. I looked at their show calendar. Most were located in towns hours away. All except the one show in a small Iowa town in a fairgrounds building, on a cold Saturday night. A battle of the bands, with the winner given the opportunity to play a town festival later in the year.
I pulled into a packed parking lot surrounding a plain white building, with no apparent windows. After paying $5 at the door, my daughter and I sat down in brown, metal folding chairs near the stage. A strange venue for a rock band. All the other participating bands were covering country songs. Much of the audience wearing Wrangler jeans, oversized belt buckles, cowboy hats and shit kickers, and the dance floor was full of two steppers.
So when the band KICK walked onto the stage, the crowd seemed in a state of shock. Jake Kemble, the shredder mentioned in the comment which propelled me there, happens to be the front man of KICK, as singer and guitarist. Drummer Kyle Kennedy and Bassist Adam Dooley make up the other parts of the three-piece.
Their inspirations come from Foxy Shazam, punk rock and they mix other rock influences into their sound, performing covers as well as originals. Kemble's full head of razor edged insanely vivid blue hair matched well with his blue framed sunglasses. They wore matching black v-neck shirts, with Kemble in red and black striped pants, and Dooley in zebra print pants. Black makeup smudged around Kemble's and Dooley's eyes.

Impressive performers from the minute they stepped on stage, with an energy that never allowed them to stay in one spot for very long. The most energy I'd seen from a band all year; honestly what 30+ year old man, or even many in their 20s, can keep up with the stamina of 18-year-olds. Their antics included Dooley on his head playing bass while he opened and closed his legs in a clapping motion, and once upright he held his bass up in the air like a rifle, pretending he was shooting it after each pull on the strings.
The band couldn't dismiss the fact they're strangely displaced. Kemble remarked to the crowd they probably wonder why they are playing a country show, and someone in the crowd shouted back, "well then why are ya?" For those that were there to see them – myself, a group of high school groupies hugging the front of the stage and their family members – it didn't matter what the rest of the crowd thought.
When I made eye contact with a man dressed in cowboy attire he said, "are you with them?," pointing to Kemble and the rest of his crew on stage. When I responded, "no," he and his friends all replied "good," laughter ensued, as well as jokes about Kemble's blue hair, their tight colored pants, and their music. When the chuckling died down, I remarked, "but I came here to see them," a comment effective enough to quell the mockery.
As my daughter and I were sitting alone in the crowd after the show, all three members of KICK pulled up chairs around us, making faces at my daughter, dancing for her, and talking openly and honestly with me about future plans, music and school. Their remarkable stage presence, the way they interacted with the crowd, their talent at such a young age, the level of coolness they exude, and the way their groupies screamed when they performed made me feel like "I can't believe these guys are talking to me." The whole aura of the experience set them in a category similar to some of the more famous bands I've covered the last year. But their humbleness was part of their appeal. They made us feel welcome and they seemed genuinely happy to have us there. An expressed appreciation for their fans more experienced musicians sometimes forget to convey.
Kemble is the star. Not that Dooley and Kennedy aren't talented. In fact, they put every ounce of energy into their show, and are skilled musicians. But Kemble has something extra special. The other guys have college on their mind if this music thing doesn't work out, while Kemble plans to take off to LA if he can't make it in Iowa. He can't imagine doing anything else. This is a kid who lives and breathes performing and playing music. And when he's on a stage, he's at home.
KICK didn't win the battle of the bands. They didn't have a fighting chance with that crowd. But I'm going to categorize them as one to watch. They've also inspired a desire in me to check out more local music.
Why should you care? A band just like KICK is playing somewhere near you. Someone that is undiscovered, or may never be discovered, but may have talent just as big as you could see at any arena. Support live music, all levels of it. Because you never know what you may see, or who those people may become. How many of us wish we had seen Led Zeppelin, Jimi Hendrix, Metallica or any other legendary musicians perform in a setting where we had the opportunity to get up close and personal, and then someday be able to say "I saw them when…?"
This was also my 5-year-old daughter's first rock show. She dressed appropriately with a purple hair extension and a Lynyrd Skynyrd t-shirt, and I told the guys "you have to make it big, so in 20 years my daughter can say her first show was someone famous."
Keep up with KICK below:
OfficialKICK.Com
Facebook
Twitter
Listen to one of KICK's original songs, Don't Let It Be.
Check out photos from the show taken by our very own Toby Schuh: