The Pixies featuring Best Coast at the San Jose Civic Auditorium in San Jose, California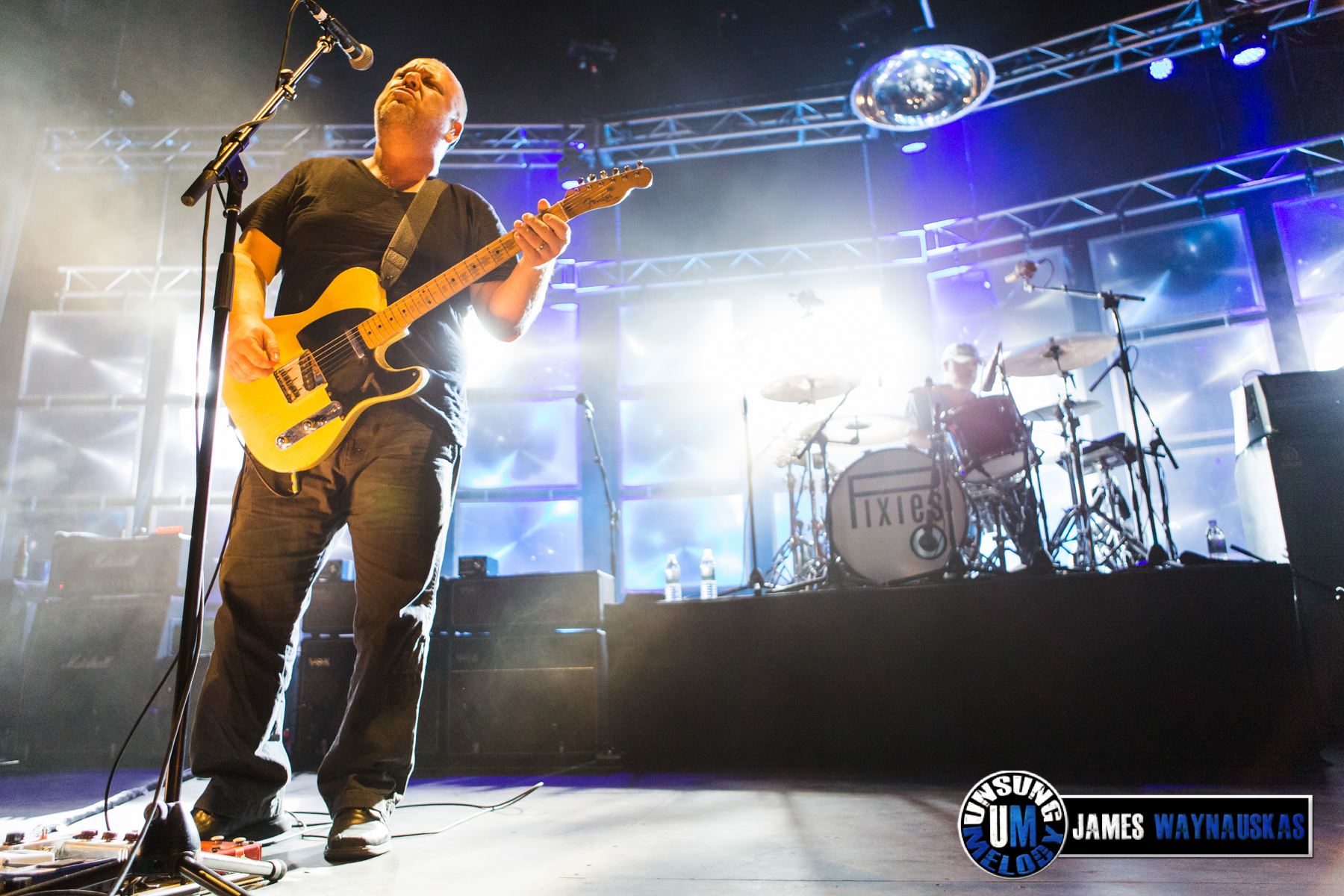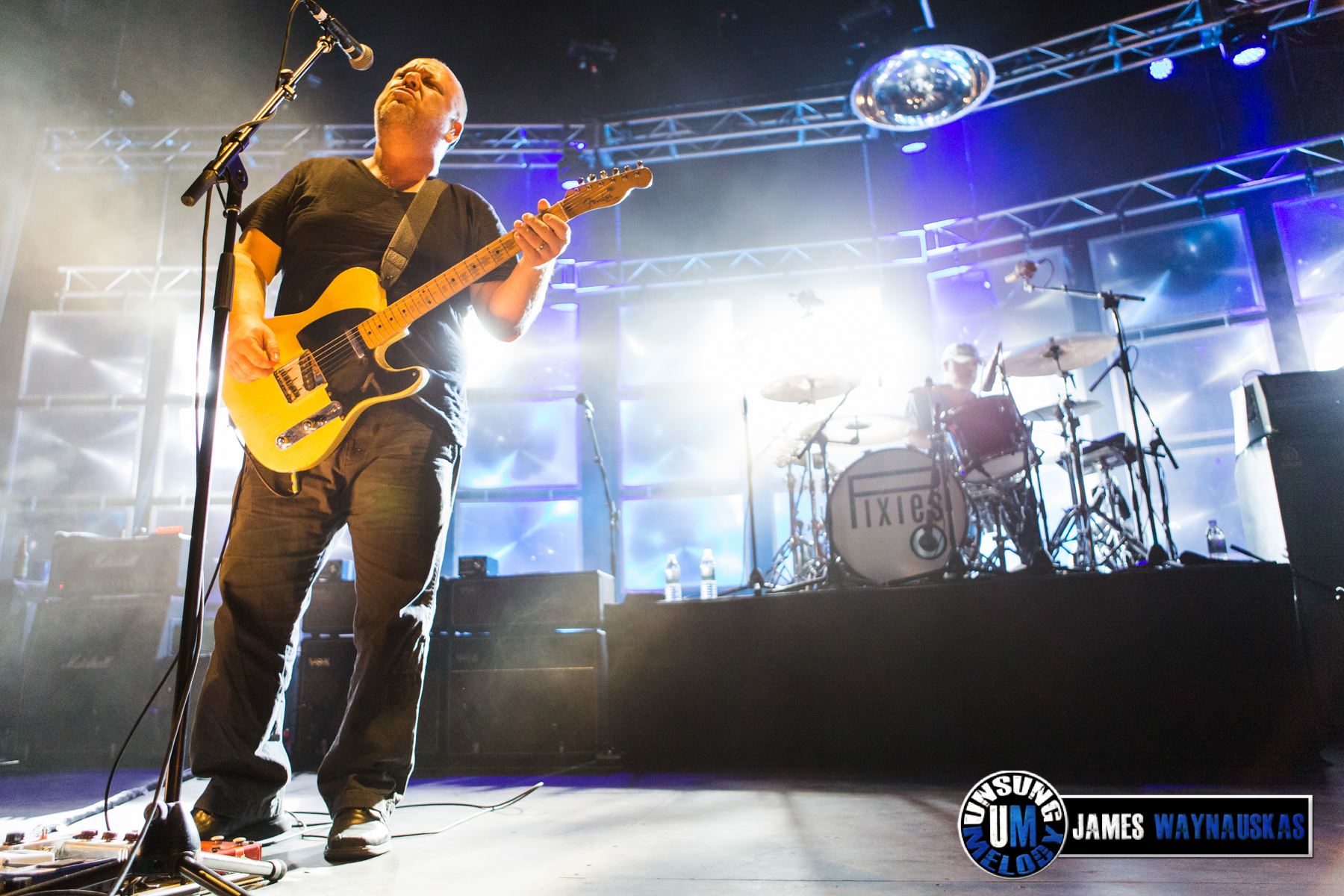 Recently The Pixies came to San Jose to perform along with Best Coast. They are two of my favorite bands and seeing them both in the same night was something I was looking forward too. I started listening to The Pixies after I read that they were Kurt Cobain's favorite band and immediately fell in love with their mix of loud and soft, interesting guitar work and Frank Black's vocals. Over a decade later I heard some of Best Coast's work from their early EP's and could not stop listening to their cover of Lesley Gore's "That's the Way Boys Are". I've seen both bands multiple times before and knew to expect a strong show from both.
Best Coast got things started around 8 pm. They opened the show with "This Lonely Morning" from their new Fade Away EP and continued on with "Last Year" and "The Only Place" from their most recent album of the same name as the latter. I don't think I'll ever get sick of seeing Bethany Cosentino on one side of the stage playing and singing her personal lyrics with Bob Bruno opposite of her rocking out while playing some smooth guitar riffs. They now are a four piece with a bass player opposed to a three piece with two guitarists like they used to be. From there they played the trio of "Crazy for You", "Goodbye" and "Summer Mood" from their first album. One of the most enjoyable things for me is to see them play the new tracks they've put out since the last time I had seen them. This time in addition to the show opening "This Lonely Morning" they also played "Fade Away" from the new EP. Other highlights of the set for me were "Do You Love Me Like You Used To", the slow building "I Want You" and the set closing song that was featured in the slideshow from my wedding "When I'm With You". It was a great choice to end the set.
Best Coast:

Shortly after 9pm The Pixies opened with "Bone Machine" and started set that would include over 30 songs and last two hours. They played songs from their entire career. The dramatic and always changing lighting went well with their aggressive style of rock and added an intriguing element that I had not seen in their shows before. Frank Black's vocals were as good as ever. I don't know of many bands that can go from beautiful soft vocals to intense screams quite like he can. Kim Deal, wasn't part of the show. She is no longer playing with the band and while there has not been a full time replacement, Paz Lenchantin, who has played in A Perfect Cirle and Zwan in the past was filling in. It was my first time seeing them without Kim and I did miss her. I wondered if they'd play any songs where she sings lead, they didn't, and how her absence would affect the songs in general. Paz did a really great job and fit in with the band well. Her singing on Kim's usual backing vocals were just about perfect. The band played a handful of their newer songs from EP1 and EP2 including "Andro Queen", "Indy Cindy" and "Magdalena". The new songs have a very similar feel to the old Pixies work and fit into the set with no problem. "Nimrod's Son" received a very warm response with the crowd yelling along. During "La La I Love You" the crowd did the reoccurring whistling parts and the song ended with a spotlight on drummer David Lovering as he finished singing and received a loud round of applause from the crowd. A highlight for me was "In Heaven (Lady in the Radiator song)". If you aren't familiar, it is the song sung by the lady in the radiator in the David Lynch film Eraserhead. On the original recordings Frank Black does the vocals but the last couple times I had seen The Pixies, Kim was still with them and she had taken over the vocals. This time it was Frank Black singing it, making a nice calming moment in a show that was otherwise pretty rocking. Their set included hits like "No. 13 Baby", "Monkey Gone to Heaven", "Ed is Dead", "Break My Body" and "Here Comes Your Man" which the crowd sang along with the whole time. Another personal highlight was "U-Mass". The first time I saw them live they sold CDs of the performance afterwards. I always preferred the live version from that cd to the original version of "U-Mass". It had more passionate vocals and sounded more full. It had been roughly 10 years since that show but their performance of the song did not disappoint, it was as great as I remembered it being. The band continued playing crowd favorite after crowd favorite before closing out the main set with "Caribou" and receiving a loud and long standing ovation. The band returned for an encore and started it off with "Where Is My Mind". I know of many people who had their introduction to The Pixies by hearing this song at the end of the film Fight Club and it was clear from the reaction it got that it is still one of their most popular tunes. They then closed the show out with a long performance of "Vamos" with guitarist Joey Santiago playing a long extended guitar solo consisting of a lot of feedback reached in various manners of holding and swinging the guitar and theatrics such as holding the guitar above his head. Eventually the song got back onto its normal track and the song and the show came to a close. The Pixies received another big ovation and the house lights came on and people made their way out.
The pairing of Best Coast and The Pixies is like 3 hours in indie rock heaven. Both bands are strong performers and mix great pop sensibilities with grunge and great riffs. Both bands played older material that made me fall in love with them as well as newer material that shows why they continue to be some of the best at what they do and shows there is no reason to expect them to stop anytime soon.
The Pixies: