Shinedown at the Colorado Springs City Auditorium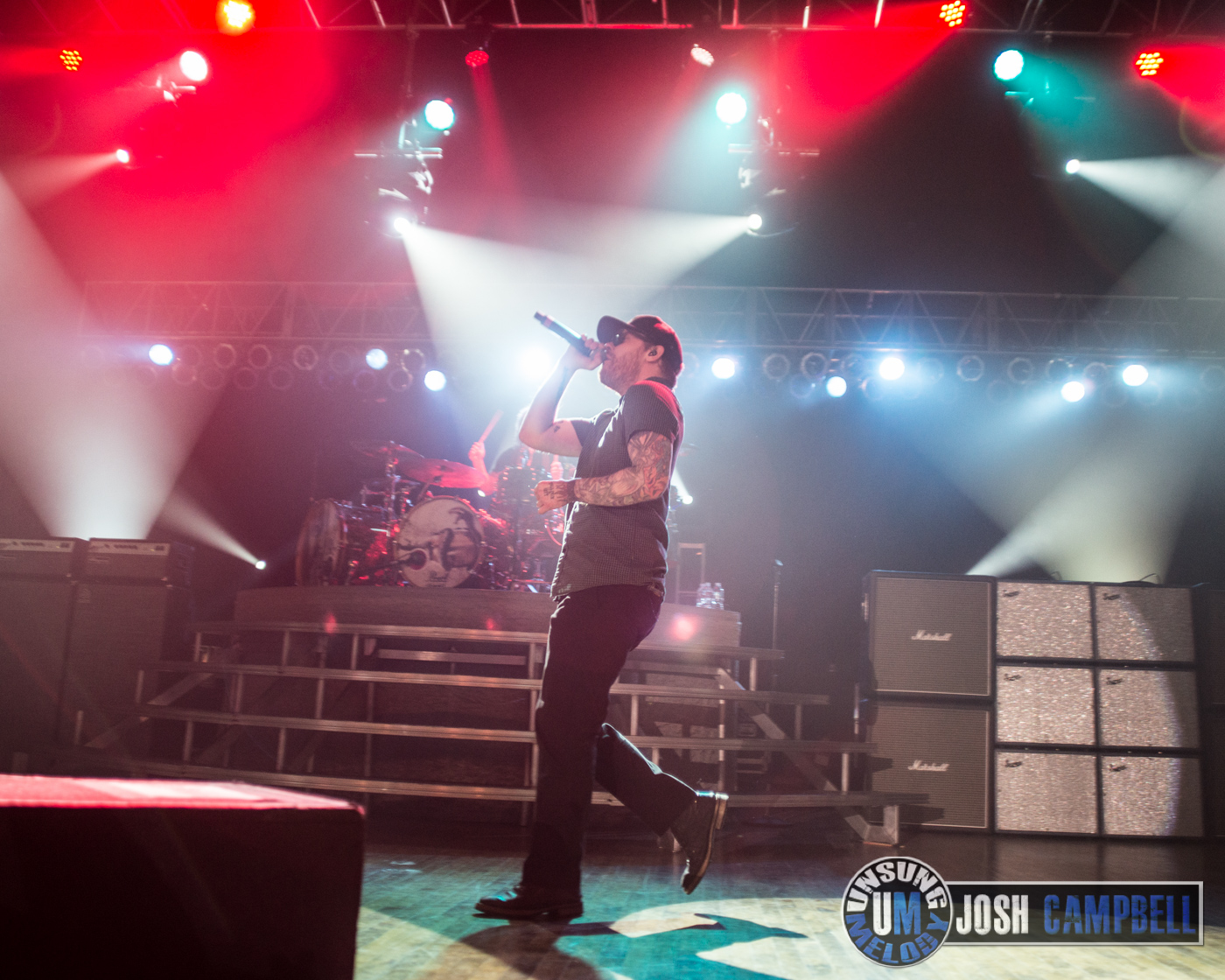 Rock is coming back to life in Colorado Springs, and Shinedown has helped usher it in this year. The bombastic, raucous hard rock that they bring to the table is enough to get any crowd pumping.
Gearing up to hit festival dates this summer, Shinedown has been touring in smaller markets to tighten up the band and just break in the songs. Kicking off their set was Unity; a song about uniting with others to overcome, was an excellent start. Fly From the Inside and Diamond Eyes upped the ante in terms of energy and had the crowd hopping.
Slowing things down slightly, they launched into If You Only Knew after the thunderous pounding of Diamond Eyes. The musical ups and downs, the band had the crowd in a tizzy. Two more songs from The Sound of Madness capped off an immediate threesome of some of their biggest hits and deep cuts. Cyanide Sweet Tooth Suicide and The Crow & The Butterfly kept the momentum going, providing the sonic dynamics that the band is well known for.
The next four are hits and deep cuts off the album, Amaryllis. Through the Ghost was prefaced with how Brent had woken up one day, took a look in the mirror and didn't like the person he was. After stating, "That's alright", he continued to explain that you can always better yourselves if you work hard. Enemies, I'll Follow You, and Amaryllis followed the heavy-hitting, back-and-forth dynamics that thrilled the crowd!
Two cuts from Threat to Survival continued to rally the audience. Cut the Cord and State of My Head kept the fans chomping at the bit, just before the band slowed things down a tad. Second Chance and .45 incited a sing-along, that was completely heartfelt and thoroughly enjoyed.
Rounding up a stellar set was fan-favorite staple Simple Man and the incredible and indelible The Sound of Madness catered to the masses. The acoustically diverse set provided plenty for all fans of Shinedown, and perhaps created a more rabid fanbase.
Although the show started out a little loose, the band tightened up and put on a spectacular show. Riling up the crowd for a good, old-fashioned rock show is what they know how to do best. For that, I hope they continue to keep it up!
Shinedown will be heading out on the Carnival of Madness tour this summer with Halestorm, Black Stone Cherry, and Whiskey Myers. Check out the tour dates and attend a show!