Review and photos from Minus the Bear, featuring Now, Now at Headliner's Music Hall in Louisville, KY.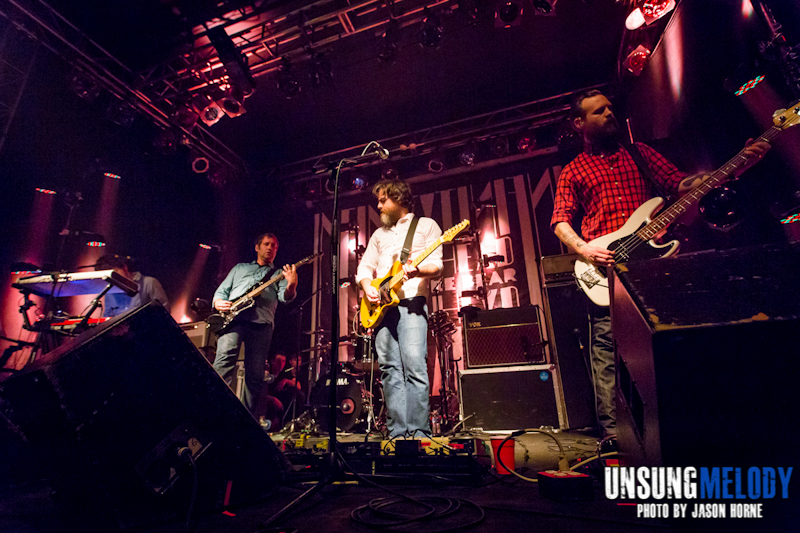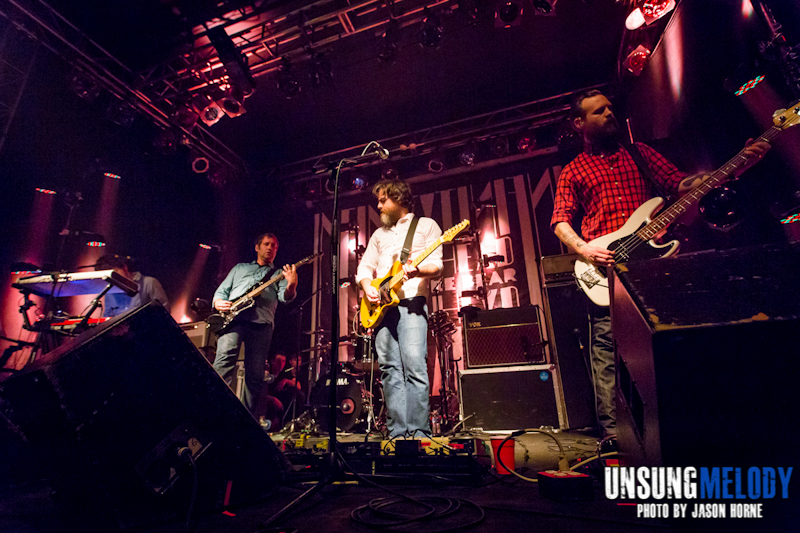 On a cold Monday night in Louisville, Kentucky, Headliners Music Hall was blasted with a very unique and eccentric sound that sent an intimate crowd into a mesmerizing state. Headliners hosted an amazing show opened by Now, Now and co-headlined by Circa Survive and Minus the Bear. Unfortunately, Circa Survive had to cancel their set for an unknown reason. However, they are going to make it up on April 1st at Headliners for free for those with ticket stubs, along with a meet and greet.
While I am always engulfed with anticipation when heading to Headliners, Monday night I was exceptionally giddy, for I was about to witness two bands I've never seen before in concert. As soon as I walked in, I knew it was going to be a good night. Immediately I noticed a large section of merchandise that almost solely consisted of vinyl and t-shirts. Minus the Bear encompasses a nostalgic sound that takes you back in time, which is very fitting for vinyl lovers.
Minneapolis-based, indie rockers Now, Now gave an interesting first punch with their meek and mild sound, full of girly grunge. Performing as a three piece, Cacie, Bradley and Jess seemed to win the crowd over immediately with their ambient undertones and melodic vocals and guitars. You can tell from Cacie's lead vocal delivery that there is a lot of emotion felt through her lyrics. I was especially impressed watching her juggle between playing guitar and keyboard while she sang every song. They were all very much into what they were playing, very focused and emotive. Now, Now only played a 7 song set, and I know I wasn't the only one left wanting more. I am definitely going to check out their discography for sure.
Next up on stage, was yet another successful band out of Seattle, Washington, Minus the Bear. They came out and got right into it with Steel and Blood from their current release Infinity Overhead, which got everyone moving about and bobbing their heads. Next, they played The Fix, which to me, is a very technical and intricate song, but that is true with much of their music. Minus the Bear is a band who can flawlessly change tempo, speed, and direction at any time, which is a quality their fans feel sets them apart from other bands in the indie genre. By the third and fourth song, Secret Country and My Time, the crowd was really coming alive. Then they played Absinthe Party At the Fly Honey Warehouse, a song from their 2002 debut album Highly Refined Pirates. As expected, their dedicated fans in the crowd let out some loud applause for that song. With its upbeat tempo, there wasn't a still person in the place. That theme continued on for much of the hour and twenty minute set. They did a great job on constructing their setlist for the night, covering some of each of their five studio albums and a few from their EPs. One other thing I noticed was how spot-on everyone's musicianship was in the band. They all sounded really good live, not missing a single note. As a whole, sounding very tight, on key, and I guess very professional comes to mind.
Overall, the concert was enjoyable and fulfilling, especially for a Minus the Bear fan. Those guys gave it their all in every song, no matter if they were playing the old stuff from Highly Refined Pirates, Planet Ice and Menos El Oso, or the newer songs from Omni and Infinity Overhead. Everyone in Headliners seemed to enjoy the show, and none of which left until the last song ended. If you're a fan of Minus the Bear or just a fan of good music, I suggest you go see one of their shows. They're going to continue this tour with supporters Now, Now and co-headliners Circa Survive through the first week of April, after which they will head off to Europe for about a month.
Minus the Bear gallery:

Now, Now gallery: