Megadeth Featuring Fear Factory And Nonpoint At The Paramount In Huntington, NY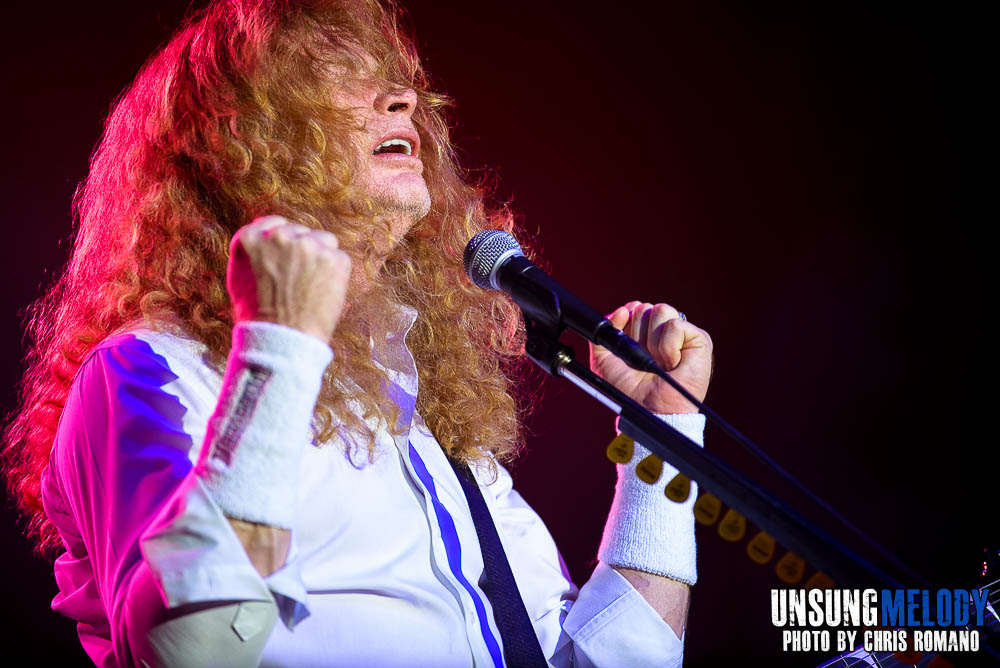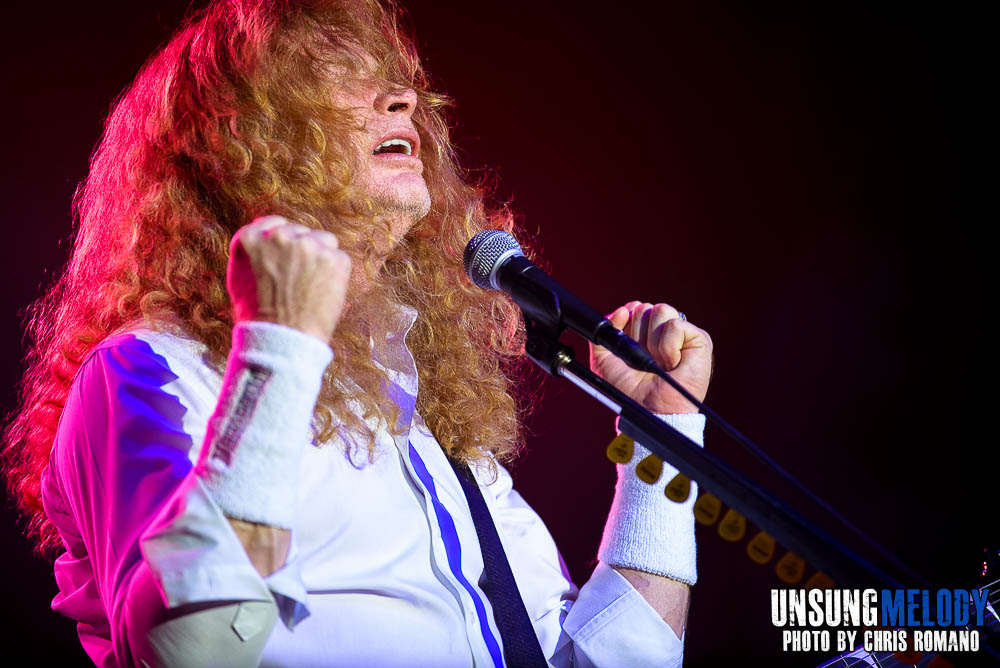 One week previous to this show, I had the honor of covering Slayer. This week, I'm covering Megadeth. In a perfect world, I would cover Metallica and then Anthrax, but since they're both off writing new albums, I can't complain.
The last time Megadeth performed at The Paramount in Huntington, New York, there were some technical difficulties with the video screens set up behind the band. It seemed to be a problem with the venue's ability to provide proper power and projection, which caused the show to be delayed by over 45 minutes, mid set! This caused Dave Mustaine, the band's primary songwriter, and overly talkative front man, to be pretty upset about the whole thing, and It felt really hurt the show overall. Honestly, I'm surprised he was willing to come back, but I'm glad he did.
I've seen Megadeth live quite a few times, and while I've seen great shows from them, the last two have certainly been sub-par. However, I decided to give them another chance, because it is Megadeth, and because of their legacy, they deserve it.
Opening the night was groove metal band, Nonpoint. I arrived a bit after they kicked things off, and missed out on the first two songs, but did manage to watch much of their high-energy set.
As this was my first time I caught Nonpoint in their over 15 year career, I found myself enjoying the energy of the entire band, but particularly vocalist Elias Soriano. Often during a song, he would switch from hand holding a mic, to standing back by the drummer, singing at a mic stand, driving attention to many different parts of the stage.
One thing I found weird was how their drummer, Robb Rivera, had his drum kit turned 90 degrees. If you've seen Nonpoint, you know what I'm talking about. Seeing a drummer set up in the center of the stage, but facing stage right instead of out at the crowd, was something I don't think I've seen before and to be honest, it was a little distracting for me.
They ended their set with "Bullet With a Name," which I quite enjoyed. The song is a bit groove metal, and a bit nu-metal, and a catchy song that was a hit for the band a few years back. The audience seemed to agree with how I felt, as many of them were singing the chorus along with Elias, who at one point mid song shouted, "get your guns in the air!" Gun-hand fist pumping is certainly something new to me.
Before Industrial metal pioneers Fear Factory took the stage, Fingers, a dj from local rock radio station WBAB came out, and thanked the Long Island heavy metal crowd. He mentioned how important the Megadeth fan base was to him, and "if it wasn't for you guys listening, and calling in every hour and requesting Megadeth, I don't know where we would be." He even tossed out some t-shirts to a few lucky members of the audience.
I last saw Fear Factory a few months ago, headlining a show in a smaller venue just a few miles away from The Paramount. When they started off, from a few brief looks, I felt like the crowd wasn't that in to them. However, by the second song, "Shock," a massive circle pit had formed in the crowd near the front of where vocalist Burton C. Bell stood. "You guys are some rowdy punks tonight," he would later mention.
A single crowd surfer kept coming over the barrier during the set, managing to grab the attention of Burton twice, and guitarist Dino Cazares once. A fourth time, he tried to come over and slap hands with bassist Matt DeVries, but Matt didn't notice him in time before security nabbed the guy and pulled him out from the pit between the barrier and the stage. I feel like Fear Factory is the kind of band that loves interaction like that, but The Paramount is probably not the kind of venue that does. Especially not this night.
"The first time we played this song, was when Megadeth took us out on tour back in 1995," Burton explained, before they went in to "Demanufacture." They finished up with "Self Bias Resistor," and "Replica," but not before Burton had cheers of "Me-ga-deth! Me-ga-deth!" going.
At about 10:15pm, Megadeth finally took to the stage. Drummer Shawn Drover was the first to ascend to his kit, followed by guitarist Chris Broderick, bassist David Elefson, and eventually the man himself, Dave Mustaine. They quickly opened with fan favorite riff monster, "Hangar 18."
Without much delay, they quickly worked in to the classic "Wake Up Dead," and continued without pause in to "My Darkest Hour." Once they started up my personal favorite 'deth song, "Tornado of Souls," I quickly I realized this was likely to be a set packed full of fan favorites.
Typically, Mustaine likes to speak a lot during sets. However, maybe it was time permitting, or maybe he didn't have much to say, as he only spoke to the crowd twice during the night. The first time, he said, "thanks for coming down tonight. We're going to play a really, really, really old song for you," which was followed by one of the first songs Dave Mustaine ever wrote on his own, "Set the World Afire." As this was the first time I'd seen the song performed in all the times I've seen Megadeth live, I wasn't sure what to expect. At times, the song felt real solid, and in others, it seemed a bit disjointed, particularly during the solos. Perhaps I'm just used to the 2004 digital remaster of the song, which is slightly different from the original.
For the most part, I ignored the video screens playing behind the band, but during the only song from Megadeth's latest album, Super Collider, the speedy "Kingmaker," the screens were filled with a very cool looking King playing card, which as the song went on, had its face melt away into a green horror face. Where the concept for that came from, I'm not too sure, but it sure was cool. To top it off, "Kingmaker," sounded great live as well.
View the Megadeth photo gallery here.
"Trust, "She-Wolf," and of course, "Symphony of Destruction," all had their usual sing-alongs. An intro clap along from David Elefson gave way to the classic bass line of "Peace Sells," which really got those in the pit moving and moshing.
The band left the stage temporarily, and after a few minutes, Mustaine came out on his own for a bit to view, and talk to the crowd. "You have no idea how much I enjoy playing in New York," Mustaine said, "About a year ago, we were here after Hurricane Sandy hit." He then went on how he was amazed how New Yorkers took the persecution and still bounced back, before breaking in to the final song of night, "Holy Wars." That bit of pumping up made the moshing almost out of control until the last note.
When all was said and done, I enjoyed myself. I actually went in with a negative attitude, and left a good bit more satisfied than I had been previously. I could tell the security and the staff at The Paramount were prepped before hand and told "this one must go PERFECTLY," as they were all on high alert, particularly during Megadeth's set. The show went very smooth; with the one exception of Mustaine mocking whoever was in charge of the spot lights blinding him when he was trying to look out at the audience. Nonpoint and Fear Factory are both solid openers, and Megadeth seem to be back on track to putting on the high energy, high quality, riff-tastic shows they are known for.
Click here for more Megadeth tour dates.