LET'S GET READY TO RUMBLE! Volbeat, Danko Jones and Spoken at Aragon Ballroom in Chicago.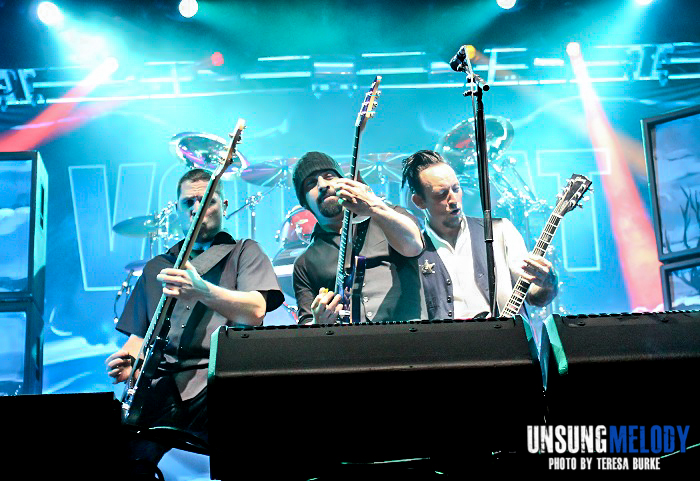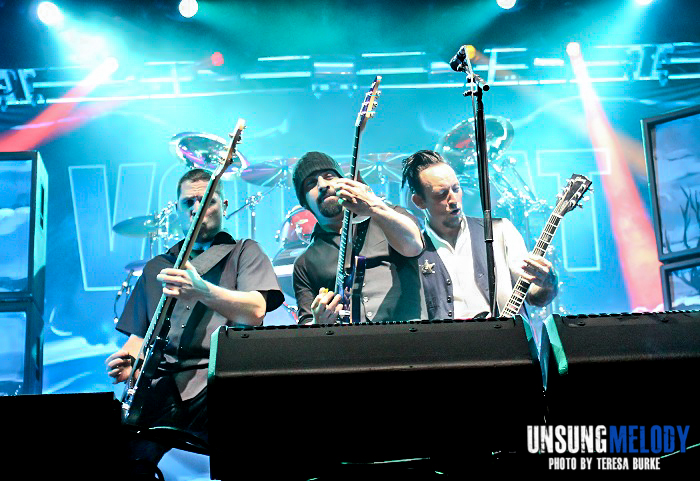 The Aragon Ballroom in Chicago, or Brawlroom as some call it, has had its fair share of bands grace its stage over the years. After having an opening slot in 2012 for Gigantour with Megadeth, Danish rockers, Volbeat, were back to claim the stage as the headliner. Bringing along Canadian band Danko Jones and Christian rockers, Spoken, fans were in for a night of non-stop rock!
Spoken started off the night with a fairly heavy 30-minute set, including songs from their newest release Illusion. Singer Matt Baird commanded the stage right from the get go. With one foot on a monitor, he would lean towards the crowd as he sang or screamed his vocals and often showed as much emotion with his hands as he did with his voice. Song after song, the crowd cheered in acceptance. A couple songs in, Matt commented that they had recently sold out of all copies of their new CD. (currently available online.)
As they continued with their set, drummer Oliver Crumpton played with the look of a crazed madman. Before playing their last two songs, Matt thanked Volbeat and Danko Jones and dedicated the next song to Volbeat. Halfway through the song, he was down in the security pit interacting with the crowd. It didn't take long before I noticed he was actually holding onto a fan's hand since he was now standing on top of the security rail. After the song ended, I thought he'd head back to the stage, but he sang one more song while standing on the security rail. As Matt moved around from one side to the other, he would balance with the help of various fans. The stage at the Aragon is pretty high, so it was very cool to see him get up close and personal with the crowd.
Check out my Spoken Photo Gallery here.
After a 20-minute break, the lights went down and music started playing over the PA. Eventually the lights came up and Danko Jones took the stage, playing their entire first song in nothing but white lights. Bassist JC was all smiles as the Chicago crowd welcomed them to the stage. Midway through the song, Danko and JC met in the middle and rocked out before Danko finished the song behind his mic.
Danko Jones has been around for 15+ years. In case you haven't seen them live before, know this; Danko plays with an attitude. You came to see a rock show? He was going to give you one. Part serious, part sarcastic, part Rock 'n F'N Roll, Danko was not messing around. Before the start of their third song, he told the crowd, "If you're not sure who we are, we're the band from Canada that sings songs about fucking." He went on to talk about how they had to change the original lyrics in First Date. With its catchy chorus and a beat running throughout that made you want to move, the band was on a roll.
Next up was Just A Beautiful Day from their newest album Rock and Roll Is Black and Blue. If you haven't seen the video for this song, be sure and check it out. It has a cool concept and a great capture of the energy of their live performance. The middle of their set seemed to appeal to the majority of the crowd, with two songs from Below the Belt, Full of Regret and I Think Bad Thoughts. Both are part of a video trilogy released a couple years ago. Again, be sure and check them out. The Diamond Bros. know a thing or two about making videos.
Check out my Danko Jones Photo Gallery here.
Danko spoke about the origins of Lovercall and noted it started with bass. JC played those funky beats a few times over before Danko called for drums. Atom Willard obliged as JC continued to play. I should note, all night Atom Willard played as if he had eight arms. The man was an animal! Danko continued and mentioned that he played guitar and sang, but yet maybe we didn't know his name. He stood back from the mic as JC and Atom played a few more notes. Once they stopped, he moved forward and yelled out, "My name is Danko Jones!"
From one funky song to another, Cadillac was another fan favorite. They ended their set with Mountain. After the song started, Danko asked, "How many Rock 'n Rollers in this room tonight?" After hearing cheers from crowd, he said, "Let's talk about Rock 'n Roll." He mentioned that after all the Rock 'n Roll bands had come and gone and he started his climb to the top of the highest mountain, he was going to look down. Who would he see? Everyone that had ever put him down, cheated on him, or talked behind his back. When they looked up at him, he would have both arms in the air.
At this point, both arms were in the air. He continued, "In this hand, I'm going to have the hand of Mr. Dimebag Darrell and in this hand, Mr. Cliff Burton." Many cheers came from the crowd after he mentioned these two. He continued and started naming other legends that had already left this world, pausing briefly after each name as the crowd cheered. "Mr. Bon Scott, Mr. Randy Rhoads, Mr. Eric Carr, Mr. Ronnie Van Zant." He added, "Ronnie will be holding hands with Mr. Tupac Shakur." He continued with, Mr. Johnny Ramone, Mr. DeeDee Ramone, Mr. Joey Ramone." Again, the crowd continued to cheer after each name was mentioned. Then came Mr. Johnny Cash and Mr. Phil Lynott. Danko felt there were not enough cheers for Phil, so he told the crowd, "No, no. When I say, Phil Lynott, you cheer louder than that." He paused then yelled, "PHIL LYNOTT!" The crowd cheered louder than before. He went on, "Mr. Ronnie James Dio, Mr. Adam Yauch." Lastly he called out, "And a man that left us 21 days ago. Mr. Clive Burr from Iron Maiden."
"Because when you get on top of the mountain, the only place to go is sky high."
Danko continued speaking to the crowd, this time telling us of his personal mantra. Whether you were unhappy with the person you saw looking back at you in the mirror or if you needed that little extra push to go for what you wanted in life, he told everyone to repeat after him. "This heart gets stronger. This skin gets thicker. This mouth gets louder." He repeated this a few times before ending their set.
It was almost 40 minutes before the lights went down, with only a dim white light on the drums, and AC/DC's Born to Raise Hell started playing loudly over the PA. Not a bad way to get the crowd pumped for the start of the show. Once the song ended, the stage lights turned to blue and an instrumental piece I was unfamiliar with started to play over the PA. Fans were more than eager for the band to take the stage.
Volbeat tend to modify their amps on stage depending on the art for the particular album they are touring. This time was no exception. The left side painted a picture of a night with dark clouds and a full moon, while the right side showed a graveyard with a church off in the distance. After almost a minute, there were quick white flashes of light amidst the dark blue lighting. As the music played on, the flashes became quicker, taking on an almost a strobe feel. Every once in a while you would catch the large Volbeat name on the backdrop behind the drum kit. As the music started to build, fans cheered a little louder and eventually, drummer Jon Larsen could be seen behind his massive kit.
As the final notes of the instrumental ended, immediately the pounding drums for the opening song could be heard. One by one, Michael Poulsen (vocals/guitar), Anders Kjølholm (bass) and Rob Caggiano (guitar) took the stage and they launched into Hallelujah Goat. Between the massive sounding drums and those chugging guitar notes, this song was a great way to start off their highly electrifying set. The crowd went wild! There were so many speakers on the floor at the base of the stage, my feet were constantly vibrating the entire time I was up front. Not to mention, I could still feel the floor moving when I was back by the soundboard.
They went into A New Day from Beyond Hell/Above Heaven, a catchy, up-tempo song, before playing the title track from their 2009 release, Guitar Gangsters & Cadillac Blood. Right before the guitar solo, all three guys gathered center stage and started rocking out, smiling and head banging. These guys were having fun!
Check out my Volbeat Photo Gallery here.
For those that have never seen Volbeat live before, Michael sings and plays at every one of the three mics on stage. Anders also sings backing vocals at any one of the various mics, along with making angry menacing facial expressions. He also tends to sing along off mic and really engages with the crowd. Jon, on the other hand, is a bit trickier to see on stage. Sitting behind his massive kit, and depending on where you are standing, he's mostly unseen. However, his contribution to Volbeat's music can be heard loud and clear. He is a key player, as they all are, in contributing to the massive sound that is Volbeat. From time to time, I was able to catch a glimpse of him peeking over the top of his kit. Hearing Rob's take on the guitar licks in Heaven Nor Hell was pretty awesome. Seeing him and Michael trade off during the song and smiling at each other from time to time, you could really tell it was a great decision to have Rob in the band.
It didn't take long before an acoustic guitar was brought to center stage. I knew exactly which Volbeat song was coming next, as did most of the Chicago crowd. A flood of yellow lights filled the stage as Michael strummed the acoustic while the band played along to Johnny Cash's Ring of Fire. Michael sang in a deep voice,
"Love is a burning thing
and it makes a fiery ring
bound by wild desire
I fell into a ring of fire"
They stopped playing and the crowd cheered. Michael asked, "What is it? Is it because you like Johnny Cash?" There were more cheers from the crowd. He continued, "Me too! You're good people. Let's play a song for Mr. Johnny Cash. I want to see some action out there. I know you can do it." They continued with Sad Man's Tongue. People were clapping along and Michael started singing. When he got to the line, "And the story keep on rollin'," Michael yelled out, "SING IT!" and the crowd yelled at the top of their lungs, "OUT FROM A SAD MAN'S TONGUE!" The acoustic guitar was then taken away, as the song went into overdrive and the crowd went crazy!
Michael asked the crowd how many were seeing Volbeat for the first time. When quite a lot in the audience cheered, he followed up with, "That's a lot of people. Where were you? Just waiting?" Then he asked who had seen Volbeat before, and there were ever more cheers. He said everyone was welcome to the Volbeat family and it was good to see them all. He mentioned they had a new family member, a new guitar gangster. He introduced Rob Caggiano. During the first song of the night, I noticed the sheriff's badge on Michael's vest. There was indeed a new sheriff in the town and he had brought his band of gangsters to rock this Chicago crowd!
Lola Montez, from the new album Outlaw Gentleman and Shady Ladies, was the first new song played that night. A tune with a steady rock beat that made you want to react by moving your body in some way. The crowd seemed really receptive. Once again Michael asked for crowd participation during 16 Dollars by having the guys put the ladies up on their shoulders. Quite a few obliged as Michael was pointing them out one by one. Once the song ended, the band left the stage for a minute before blasting their way back. Michael yelled out, "LET'S GET READY TO RUMBLE!" A Warrior's Call, originally written for Danish boxing champion Mikkel Kessler, is such an energetic song, especially with Anders yelling out, "FIGHT, FIGHT, FIGHT, FIGHT!" They played a teaser of Slayer's Raining Blood and Michael joked, "We don't need God. We need Slayer and Johnny Cash and Judas Priest." Then they went into a teaser of Breaking the Law.
Check out our review of Outlaw Gentlemen & Shady Ladies here.
Michael spoke about how it was an honor to be on the road with Spoken and Danko Jones and asked for some help from his good friend on the next song. It may have been a surprise for some that night, but Danko walked out and sang on their cover of Angelfuck by the Misfits.
I was pleasantly surprised to hear Another Day, Another Way from their 2005 release The Strength/The Sound/The Songs. Once again, here we had pummeling drums and driving guitars. The best part of seeing Volbeat live is the energy they project from the stage. Song after song, they bombard you with such a force that you can't help but become engulfed in the music they make.
Next up were two more fairly heavy songs from the new album. The guitar work between Michael and Rob was outstanding during Dead But Rising and The Hangman's Body Count. An interesting thing I noticed during the latter was when Michael wasn't singing and the focus was on the guitar parts, there were white lights aimed directly at the mirror ball hanging halfway back from the stage. This was a very cool visual to go along with a very cool song. Volbeat have really stepped up their game in regards to their light show. It was as much a part of the show as a whole as the music they played. The entire night the band was engulfed in a multitude of lights, not to mention the cool effect of, what I'm calling reverse spot light action, that was taking place off and on all night.
They ended the main part of the set with another of their more popular songs, Still Counting. Before leaving the stage, Michael joked, "If you cheer loud enough, we may come back." It was only a couple minutes before the sweet sound of Elvis Presley started pouring out over the PA. There was no band on stage, but Elvis could be heard, "Hush little baby, don't you cry…" The mirror ball was lit up with the same white light as earlier in the night, and before long we heard Elvis continue, "Glory, glory Hallelujah, his truth is marching on." As if on cue, the band came back out and literally ripped into The Mirror & the Ripper.
Michael dedicated Fallen, a very touching song, to his dad and all the other lost souls. At one point, I spotted Anders joking around playing bass with one hand on his head or behind his back. Much to my surprise, the second cover of the night was Young the Giant's My Body, another track from the new album and they nailed it. Their hour and a half set was quickly coming to an end. Michael started everyone in a "VOL-BEAT! VOL-BEAT" chant before ending the night with Pool of Booze, Booze, Booza. Picks were thrown out, thanks we given, and Jon tossed his sticks to people down front. He even sent a drum head sailing through the crowd to a lucky fan.
What a night. I've seen Volbeat a handful of times and I have the same reaction after every show. I immediately want to see them again. Their set is electrifying. It's almost as if their songs have an element woven into every note, lyric and chorus that makes your body crave a second helping. Volbeat are the real deal and give 110% every time they play. Do yourself a favor; Pick up the new album, heck, even their old albums, and go see them live. I promise that you won't regret it!
Keep up with the bands below:
Volbeat Official Website
Danko Jones Official Website
Spoken Official Website