Legends In The Making. Halestorm featuring Whitener at Buster's in Lexington, KY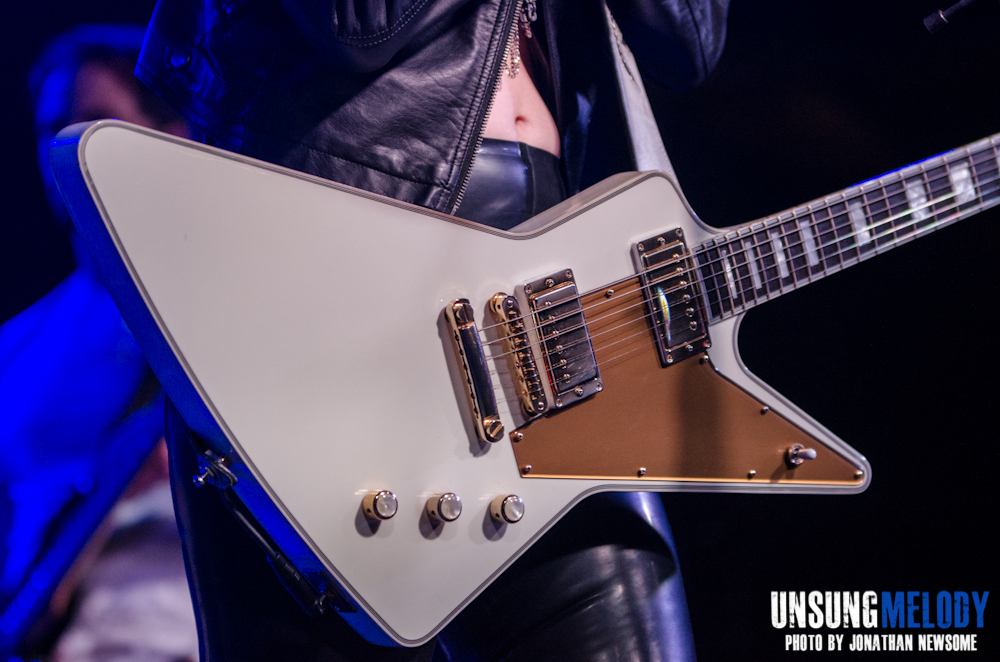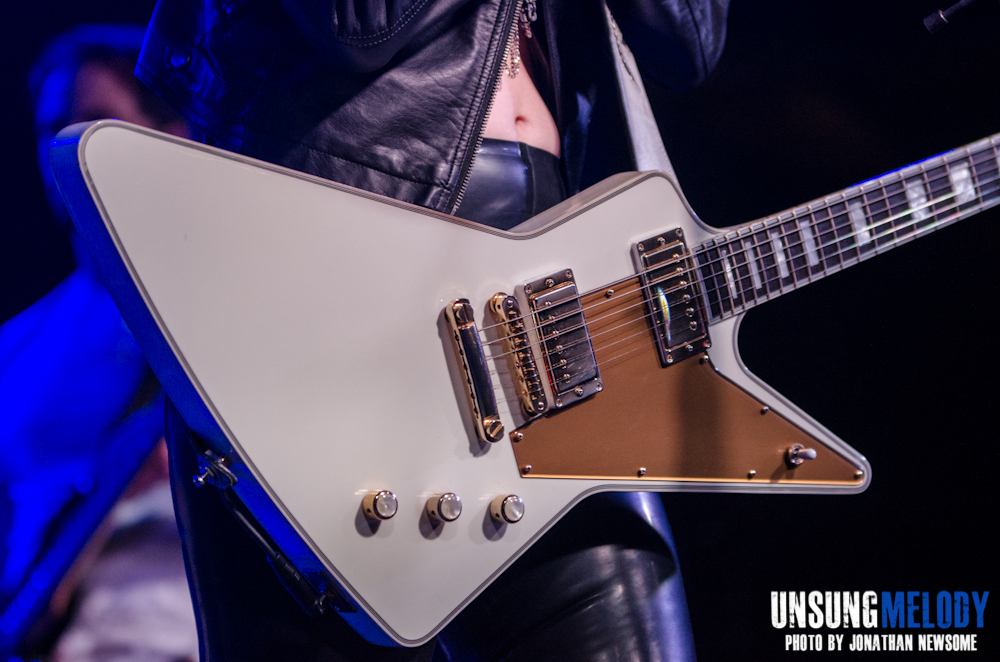 As I rolled into Buster's around 4:45pm to deliver my wife's cupcakes that I had promised Joe Hottinger from Halestorm, what I saw really surprised me, there were roughly 25 people in line at the door. This was over three hours before the doors opened and over four hours before show time. I should have known better, Lexington, KY is home to the University of Kentucky Wildcats. And the Big Blue Nation, myself included, camp out for days to get free tickets to Big Blue Madness. That's just the first college basketball practice of the year. So when a bonafide rock band rolls into town, it really shouldn't be that surprising.
Opening up the show was a new band from Louisville, KY. The band is called Whitener and that name may sound familiar to some. Todd Whitener is a name that many will know from his days in Days Of The New and also Tantric. Having listened to few songs online, I was excited to see Whitener and what they had to offer. What I saw were the beginnings of what will be a tremendously solid band. Todd and boys brought well crafted songs and a ton of hooks. Now I mean absolutely no disrespect here, but the highlight of the show for me, was watching all the crazy faces that drummer Terry Harper was making. Terry's tongue made more appearances than Michael Jordan's ever did. The band played a nice set of all originals, minus one Prince cover. I'll give them props though, the band certainly made Little Red Corvette sound like one of their own though. A solid set from a band that we are certainly keeping our eye on.
You can check out my Whitener photo gallery here.
After a relatively quick change over, Arejay Hale led the band onstage. Complete with a skull bandana across his face, as if he just gotten here from a bank robbery. The lights were dim, the fuse was lit and the crowd was poised to explode. Once onstage, the band wasted no time appeasing the hunger of their fans, ripping straight into the high energy Love Bites (And So Do). Lizzy was adorned in leather pants with high heels and I think I heard every guy in the house scream like little school girls simultaneously. It was honestly quite comical. Keeping the momentum going, and one of the highlights for me was Freak Like Me. This one made getting photos difficult, simply because it's one of my personal favorites and I got lost in the moment. Good times! Then During Dirty Work, Lzzy took the initiative to get the crowd worked up and the energy was suddenly ten fold. A great song and an amazing response.
Always looking to be the one to inspire, Lzzy asked for the ladies in the house to show some her some support for the next song. Banging out Daughters Of Darkness, the band was really beginning to kick it up a notch. With the sweat flowing and the voices warm, Halestorm held this sold-out crowd in the palm of their hands, and like play-doh they sculpted them into the loudest 1300 person backing band you've ever heard. I will say this, this was the first song that I did notice something a little off with Lzzy's voice though. Turns out she was a little under the weather, but it wasn't going to keep her from giving her all, as evidenced by her tweet below.
So, I may be a little raspy tonight Lexington…but I will still give you my all;) Love you Freaks!

— Lzzy Hale (@LZZYHALE) July 28, 2013
Paying homage to her hero, Lzzy and the boys pulled a rabbit out of their collective hats. That rabbit was a Ronnie James Dio tune called Straight Through The Heart. When they started I had my doubts and I never thought I'd say it, but they nailed it. It's a cover that I never expected Halestorm to do and it blew me away. If I ever had any doubts about this band, they were just squashed. Following that rendition, anything was sure to be a let down. Right? Right? Wrong. Out came the only song that could've possibly made sense, Rock Show. It's the reason we're all here and it was perfectly appropriate.
Bringing a valley in the action to allow the crowd, and themselves, to catch their breath. Halestorm mixed in two beautiful songs in the balladesque Let Me In Your Room and then I'm Not An Angel from their debut album. Lzzy dropped the guitar for a couple of songs and proved to be just as powerful without her Gibson Explorer as she is with it. Staying with their debut album, Familiar Taste Of Poison was thrown in for good measure before the band then left the stage to allow Arejay Hale to be the red crayon that he is. Killing his drum solo, he brought all the tricks. Including his big sticks. In what must be the largest set of drumsticks anyone has ever played a solo with, Arejay transitioned the band into the 2nd half of the set and straight into Mz. Hyde. Back onstage after a quick change of clothes, this time a leather skirt for Lzzy, the band was about to hit full stride. After tearing through Mz. Hyde, Halestorm went straight into You Call Me A Bitch (Like It's A Bad Thing). Listen, I'm no record label guy, but the reaction that song got from the crowd, this one should be considered for a single.
You can check out my Halestorm photo gallery here.
Dipping from the first album well again, the band played a double dip. Starting it off, Lzzy gave her all on It's Not You and delivered another of my favorites on the night. No backing tracks. No tricks. Just talent. That my friends is what it's all about. The second track was the song that started their radio career. I Get Off was the first time most people ever heard Halestorm and it's been a rapid ascension since. As with a band and their older hits, sing-a-longs are common, but Halestorm is far from common and this very rambunctious crowd made it a scream-a-long. I was quite proud of the patrons at Buster's. They proved that if you bring the rock, they'll bring the energy.
On a cool note, the band took a moment to acknowledge their crew member Noah. It was his birthday. They presented him with a cake and the crowd obliged by singing him happy birthday. It was a nice moment to acknowledge someone who does the grunt work, but to also help foster the family atmosphere that the band is so known for.
For what turned out to be the three song encore, Halestorm delivered another cover. Churning out Gold Dust Woman by Fleetwood Mac. They followed that with the massive single, I Miss The Misery. Then eventually, it was time for the song that has brought the band a ton of attention. It was time to end the set with Here's To Us. Lzzy, sans guitar once again, took to the front of the stage to interact with anyone and everyone that wanted it. It was fantastic and a no-brainer of a song to end the night on.
Overall, Halestorm brought an energetic show that included a couple of surprises, but the one thing that kept entering my mind, was that I was seeing a legend in the making. Just like the women that blazed the path before her, Lzzy Hale is carrying the torch now for Ann Wilson, Grace Slick, Stevie Nicks and even Pat Benatar (Just to name a few). 25 years from now, the sold-out outdoor shows featuring a female fronted band with a ton of hits, will be Halestorm. With that being said, I highly advise you to get to a show and enjoy the ride.
…And a message from Lzzy herself. Glad to see that she enjoyed herself as much as the sold-out crowd did.
Thank you sooo much Lexington!! Love you! I had such a great time, I forgot I was a lil under the weather! Thats what u do to me! Rock on!

— Lzzy Hale (@LZZYHALE) July 29, 2013